The Independent's journalism is supported by our readers. When you purchase through links on our site, we may earn commission.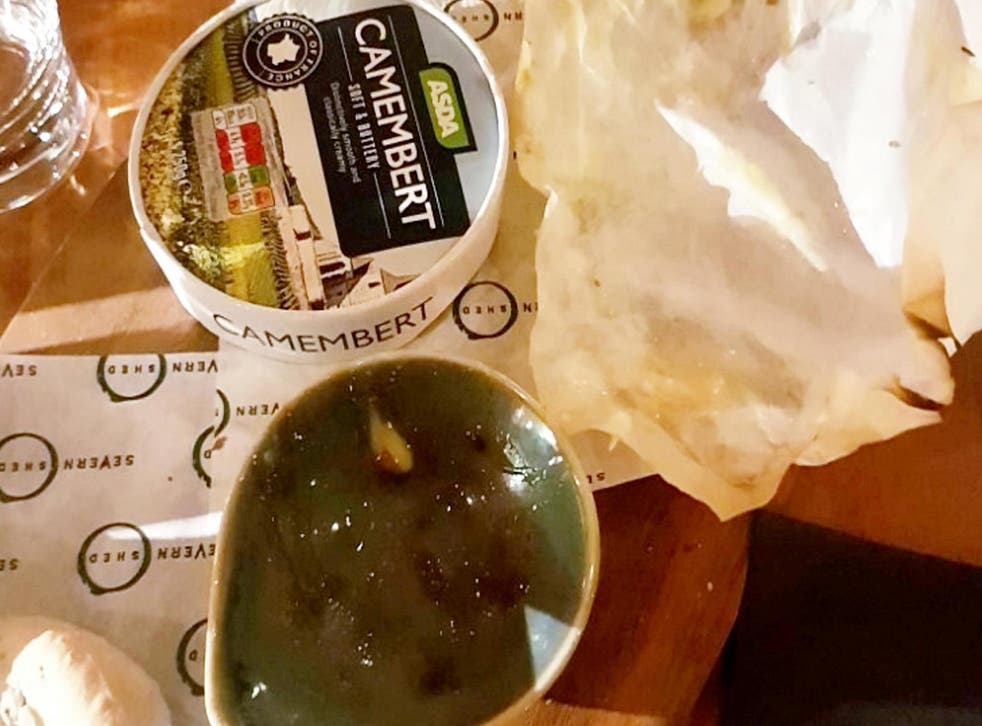 Chef fired after serving customer £1.15 Asda own-brand cheese in original packaging
'Even when I cook it at home I cook it in a terracotta dish!'
A restaurant in Bristol has come under fire after a customer who had ordered baked camembert was served Asda's own-brand of the French cheese in its original packaging.
The cheese usually retails at the supermarket for £1.15, but the dish Emma Daniels was given was priced at £13.
Writing on TripAdvisor, Daniels gave the restaurant, Severnshed, a measly two-star review, explaining how she'd expected more from the upscale restaurant.
"When we go out to eat we realise you pay for more than just the ingredients, you pay for atmosphere, staff, cooking etc etc.
"What I didn't expect was to order a sharing starter of camembert and to be served Asda's own-brand camembert in the original packaging!
"Even when I cook it at home I cook it in a terracotta dish!!"
She went on to scathe the main dishes as "bland", adding that she could've cooked them better at home.
Daniels also criticised the service charge, which she claims is "added sneakily on your bill so you don't really notice".
It wasn't all bad though, as she did compliment the riverside restaurant on its cocktail selection, labelling them as "tasty" and "nicely presented".
The chef who "prepared" the baked camembert dish has since been sacked.
Chef Kamrul Islam throws chilli powder in the face of customer David Evans
"We have taken action and the chef who was responsible is no longer in the business, manager Ashely Kirwan told The Caterer magazine.
"This is absolutely not normal practice. We don't do that and there was a genuine mistake. I am not prepared to comment on the ins and outs of it but it happened.
"I have spoken to the guest and explained the situation to her and she is going to come back and dine with us in the future to restore some faith.
"We care about this kind of thing – it is our reputation and my reputation as well and it is going to take a bit of time to build that back up."
Register for free to continue reading
Registration is a free and easy way to support our truly independent journalism
By registering, you will also enjoy limited access to Premium articles, exclusive newsletters, commenting, and virtual events with our leading journalists
Already have an account? sign in
Register for free to continue reading
Registration is a free and easy way to support our truly independent journalism
By registering, you will also enjoy limited access to Premium articles, exclusive newsletters, commenting, and virtual events with our leading journalists
Already have an account? sign in
Join our new commenting forum
Join thought-provoking conversations, follow other Independent readers and see their replies