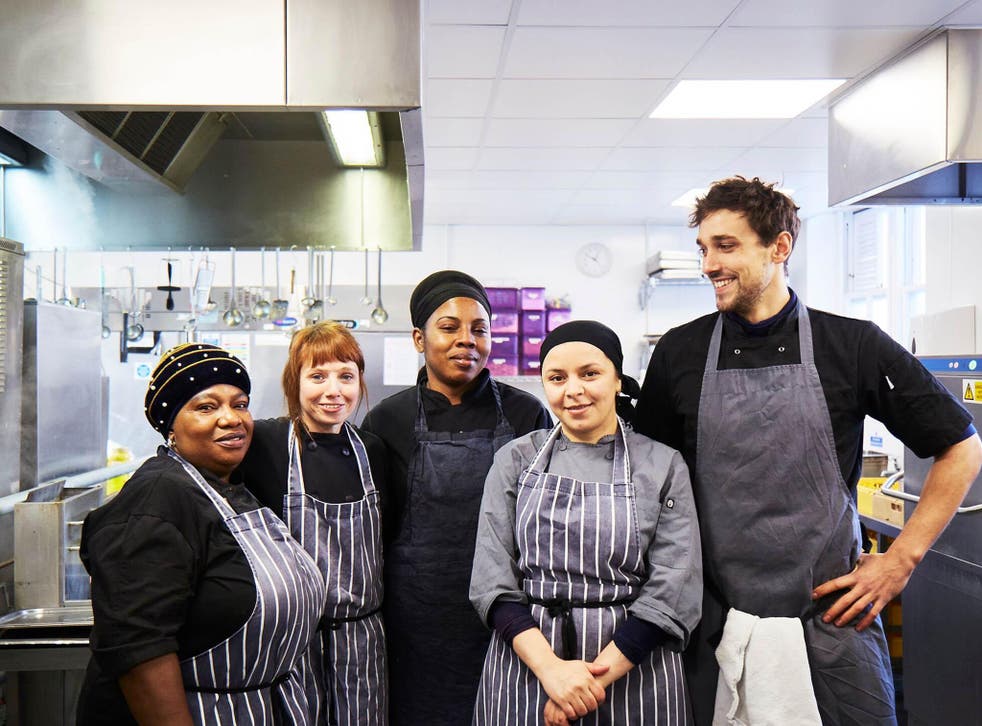 Chefs in Schools: The charity bringing top chefs in to make school dinners
First, there was Jamie Oliver. Now, a group of top restaurant chefs are hanging up their whites to help transform school dinners once again – and it's going down a treat with pupils, teachers and parents alike
Julia Platt Leonard Comments
Want to cook for kids? Then better think like a four-year old. That's one of the lessons Nicole Pisani learnt when she hung up her chef whites at London's Nopi restaurant and took on the job of cooking for 450 students at Gayhurst Community School four years ago. Now she's sharing the lessons she's learned at the Hackney primary school to help other professional chefs make the move from restaurant to school as part of a new programme called Chefs in Schools.
Chefs in Schools was created by Pisani, Henry Dimbleby, food campaigner and co-founder of Leon, and Louise Nichols, executive headteacher of the Leap Federation of Schools in Hackney. Their goal is to place 100 professional, restaurant-trained chefs in 100 schools by 2023, but that figure could grow based on overwhelming response from both schools and chefs when the programme launched earlier this month.
It all started four years ago with a tweet from Dimbleby saying that Gayhurst – the school his children attend – needed a new chef. A co-worker told Pisani about the job. "I thought this could be exciting because it ticks two boxes which is the love of food but also loving kids as well and being around kids rather than being in a restaurant where it's just pumping out a volume of plates," Pisani says.
Nichols says she was looking for someone who cared as much about food and cooking as her teachers do about teaching. "Nicole definitely had that passion in spades," she says. But preparing food for 450 students plus teachers and serving that food in only an hour and a half was totally new. Pisani says her first tour of the Gayhurst kitchen was like "falling into something out of Twin Peaks".
Like Pisani, Oli Pagani is a chef who worked in restaurants before making the switch. He was at another London school before moving to Gayhurst a year ago. He describes being surrounded by packets of powdered béchamel and yoghurt-flavoured sachets, chock full of E numbers. "I walked into the dry stores and I thought, 'Oh my god, I'm not even sure if this is food'."
The first challenge was to get rid of the packets, buy fresh food and prepare meals from scratch. But Nichols knew that change comes slowly and that winning kids over to freshly prepared food wouldn't happen overnight.
"The chefs try new flavours and they have to do it step by step. They can't go straight away into something completely random. Children just won't do that – they react against it." Early wins were simple, like adding five-spice powder to carrots, introducing sharing platters and having bowls of pea shoots on the table with a pair of scissors so the students could garnish their own food.
Pisani realised that it was key to make sure there was at least one familiar thing in a dish of food. "You look at the plate and scan it for something you recognise and then horror overcomes you as you realise there are about eight things you don't."
It takes time, patience and trial and error to get it right. But today, kids at Gayhurst happily eat roasted sweet potatoes with tahini dressing, quinoa and purple sprouting broccoli. Yes, the kids still eat fish fingers but now they're made from just-caught fish from Devon. "The same fish you'd get in top restaurants in London," Pagani says.
It's not only the food that's changed but also how food is served. "Treat the children as customers," Pisani says. One of the first changes was getting rid of the compartmentalised plastic trays traditionally used in schools. Pisani wanted china but Nichols says they compromised with smart-looking plastic.
Food and drink news

Show all 35
Unfortunately, flight tray-style dining is still the norm in many British schools where lunch is like a military exercise designed to feed the troops and get them back into the field. "The children don't eat, they're fed," says Dimbleby. "They're like cattle coming in and it's about chucking the food onto plates."
What Pisani and Pagani and the Chefs in Schools programme aim to do is to make lunch an integral part of the day. At Gayhurst, food is plated for the students, just like you'd be served at a restaurant. Meals are free for staff as long as they eat with students. The effects are amazing, says Nichols. "If you've got teachers and you've got support staff sitting in the dinner hall, talking to children while they eat, helping them with manners, helping them with passing things around and sharing, the whole thing becomes a lot more civilised."
In the kitchen, staff have gone from opening packets and heating food to learning how to cook. Not everyone stayed when Pisani took over the kitchen but those who have are cooking at a high standard. "They could manage in any restaurant in London," she says proudly. While food costs have gone down, Nichols says staffing costs have increased but it's worth it. "You've got happier staff, better trained staff and at the end of the day, better food."
And it's not just about improving the quality of food. The chefs are responsible for delivering the national curriculum for cooking which is now statutory for all children aged seven plus, says Nichols. At Gayhurst that means Pisani and Pagani hold cooking classes in the kitchen, visit science classes to talk about nutrition and healthy eating, and even provide vegetables for kids to draw in art class.
Now Chefs in Schools plan to match prospective schools with chefs and provide support to make the transition smoother, all as part of their expansion plans. Dimbleby knows it takes a special kind of chef to cut it in a school kitchen. "It requires dedication and a lot of work to cook good food for children but also to educate, cajole and persuade and encourage children to eat that food."
But for Pisani the choice is clear and there's no doubt the hard work is worth it. "They're kids. They need the most we can give at this stage in their lives."
Schools and chefs can get in touch via chefsinschools.org.uk
Register for free to continue reading
Registration is a free and easy way to support our truly independent journalism
By registering, you will also enjoy limited access to Premium articles, exclusive newsletters, commenting, and virtual events with our leading journalists
Already have an account? sign in
Join our new commenting forum
Join thought-provoking conversations, follow other Independent readers and see their replies