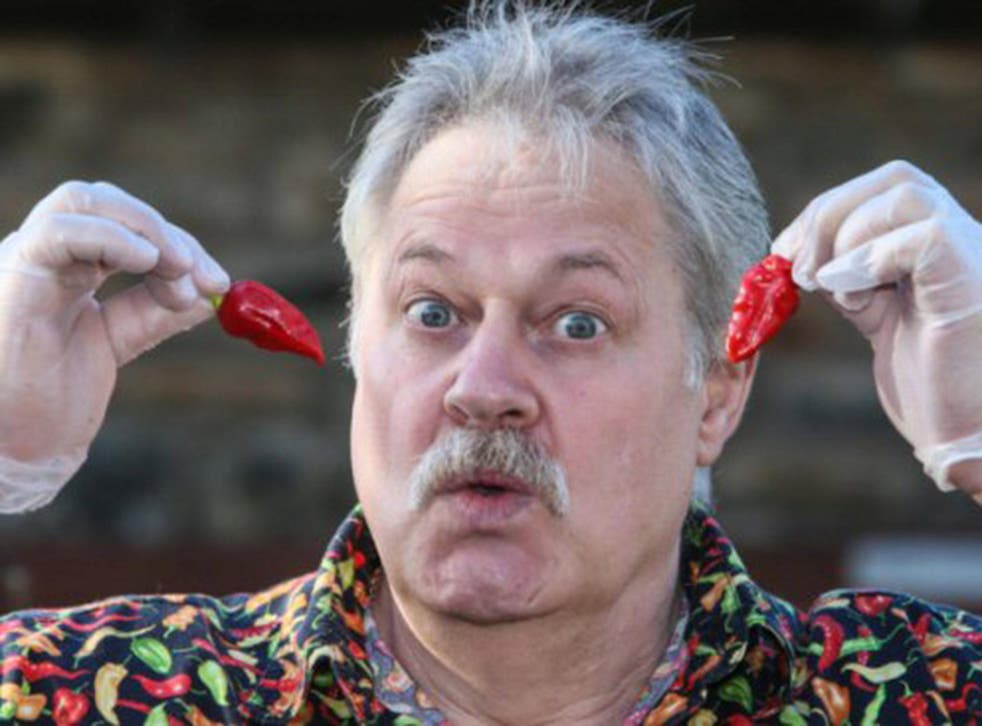 Expert chili farmer on what happened when he ate the world's hottest pepper
Chilies can be so hot that they make people's ears ring, but that hasn't put off chili farmer Gerald Fowler from devoting his life to the plants 
A parrot named Murphy is to blame for Gerald Fowler becoming obsessed with chillies. In the mid-1990s, his uncle gave his father the parrot and a chilli plant to feed him, because the birds can't feel the heat.
"We took some seeds out chili and grew a plant and advertised them on the Internet and went from there," Fowler, from Cumbria, tells The Independent.
More than two decades later, he is still running The Chilli Pepper Company. The firm grows around 50 varieties of chili, including the gnarled Carolina Reaper which in 2013 was named the world's hottest, by reaching 2.2m on the Schoville Scale (SHU). They also stock the Naga Viper chili which hits 1.3m. As well as selling seeds to growers, the company also offers "extreme chilli products", from sprays to a vial of pure capsaicin which has a heat of 16 million.
Clients range from those addicted to hot sauce, to gym-goers looking for an endorphin rush before a heavy workout, or those with chronic pain looking to sooth their aches.
Fowler explains that stress is the key to growing extremely hot chili peppers. He uses a greenhouse to exert the perfect levels on his plants.
"The plant's main purpose is to reproduce and sew its seeds, so if you put them under stress the hotter the chilli gets reacts to that. They like being cool at night and getting plenty of sun and warmth. If you restrict the watering that puts the plant under stress. If you pick the flowers and thin the plant out then it gets stressed."
As part of the process, plants are bothered to the extent that they droop and fall over. Fowler compares the resulting leaves to an elephant's ear. The team might then overwater the plant, and will leave it until it dries out.
"Then next day we give them a bit of water, and they get straight back up," he says. "It's about getting into the brain of the chilli that something's attacking and not right so let's start producing something hotter."
The world's biggest food fights

Show all 11
Chilies have "perfect flowers", meaning they have both male and female, but need to be segregated in the greenhouse to ensure the seeds are pure. "They are remarkable," says Fowler.
And after all this time, he still eats chillies nearly every day. "I cant think outside of chill to be honest. I like a steak and pasta but with chili in. If I have a fried breakfast I'll have chili on it. In the morning I might have chili honey and toast, chili marmalade and strawberry jam with chili."
But even he struggles to handle the hottest varieties, like the Carolina Reaper. It is, however, possible to build up a tolerance to a certain extent, but not without a lot of sweating and enduring bizarre side-effects.
"It does take a few years to train yourself," says Fowler. "When you are eating something hot, your body is telling your brain this is hot so it starts trying to reject it. When you sweat and sneeze, that's your body trying to cool itself down.
"A lot of people have ringing in their ears when they try the hottest varieties," he says with a laugh.
Chili pros, says Fowler, are able to pick out the fruity notes between different varieties before the heat takes over.
"The Carolina Reaper has chocolate and raspberry notes," but he admits: "I've never been able to pick up notes, just the heat."
"I ate a chocolate Carolina Reaper and I had to eat three bananas and a pint of milk after. The burning takes over your brain and you start panicking."
"But then you get the endorphin rush. If someone has something hot a couple of seconds later they're smiling."
Join our new commenting forum
Join thought-provoking conversations, follow other Independent readers and see their replies