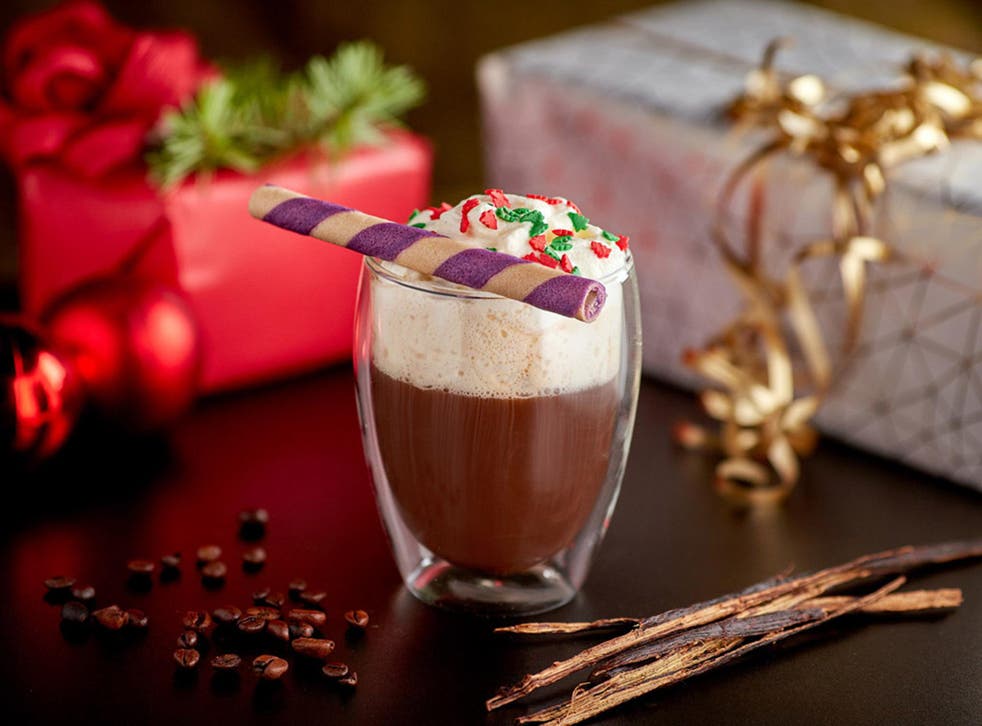 The 12 cocktails of Christmas
Leighanne Bent rounds up the best festive cocktails, from tipples in actual baubles, to cocktails dedicated to the Grinch, these drinks are sure to get you into the festive spirit
Ping Pong have created some limited edition tipples in their time but they've really outdone themselves this time around. Available only for the month of December, the Naughty Elf is a smooth blend of Jameson, Mozart chocolate cream, coffee with homemade spicy vanilla and whipped cream, all of which is then further decorated with edible Christmas trees and a chocolate stick for good measure (obviously).
The Grinch may have stolen Christmas, but Dirty Martini are gonna steal your heart with the tipple that's dedicated to him. Made with Havana Club 3 Year Old Rum, Briottet Crème de Cacao, Crème de Menthe, butterscotch schnapps, double cream, dark chocolate pencils and fresh mint leaves, you don't need us to tell you that the Dirty Grinch is an absolute must try, you already know.
With a stylish rooftop and some of the best sushi in town, Aqua Kyoto is one of London's best bucket-list restaurants. For the festive period, the bartenders have decorated their cocktail menu with a couple of new additions, including the Sloeberry Snowsnaps. This merry mix combines gin, grenadine that's made from pomegranates and lemon juice, a generous splash of soda, and it comes garnished with dehydrated lemon and seasonal redcurrants.
The Cinnamon Club is housed in a Grade II building that was once the Westminster Library and while it specialises in Indian cuisine, it's the Library Bar that you'll want to hit if you're after a festive tipple. Their T'was the Night Before Christmas is made with Opihr Oriental Spiced Gin, cranberry, fennel, rosemary and tonic, and it comes garnished with an orange peel in an actual Christmas bauble.
Cool Runnings fans might want to hop on your bobsleigh and make your way to Manchester. Cottonopolis Food & Liquor have created a festive tipple titled Cool Runnings, and it's basically like Christmas in a glass. Made with Aluna Coconut, Mozart white chocolate, spiced pineapple syrup, sherry and rosemary, you'll be ordering round two quicker than the pull of a Christmas cracker.
Oxford Street is like hell on earth come December, but if you think you can handle the faceless crowds, we've got a little tip for you. All Bar One have spruced up their menu with four new cocktails for the festive season and the Bailey's Blush is worth calling a halt on your last minute Christmas shopping for. Using only four ingredients, it marries Baileys with cherry brandy, milk and cream for the ultimate, indulgent treat.
Whose favourite Christmas song isn't "Fairytale of New York"? Hush Mayfair have teamed up with The Pogues Irish Whiskey to transform their courtyard into a little fairytale of New York with black and white baubles, a snowy carpet, Manhattan snow globes and a looming Statue of Liberty in the corner. They have themed drinks up their sleeve too, but Galway Bay is a great take on an Irish coffee, made with The Pogues Irish Whiskey, fresh coffee and double cream.
Level 8 Sky Bar is the highest watering hole of its kind in South West England, and forgive the very unoriginal pun, but their Christmas cocktails are on another level. Visit them before 25 December and let Christmas come early by ordering their Tea's The Season. Gin, ginger tea, Grand Marnier, lemon sherbet and clementine syrup come together to create a sharp and sweet cocktail, but it's the bauble presentation that makes this cocktail so darn special.
There's a boutique hotel in the heart of Belgravia called The Hari, and to mark the festive season, they've launched a new Christmas cocktail menu. Boasting eight different drinks, all with a cheeky Italian twist – it's near impossible to pinpoint our favourite one. But if we had to… we'd place the Coco-Mallow at the top of the tree. It's a nostalgia-stirring concoction of Coco Lopez, coconut milk, vanilla, evaporated milk, Bacardi and cinnamon, all presented with a neat handful of blowtorched marshmallows.
In terms of Christmas cocktails, All Star Lanes have really pulled it out of the stocking this year. They have not one, but four different tipples to celebrate the festive season with, each one just as jolly as the last. The Pumpkin Nog is a unique twist on a classic eggnog; gin is shaken with pumpkin spice, caramel, milk, double cream and absinthe, while their Mince Pie Milkshake has a naughty shot of Baileys or rum, depending on how naughty you're feeling when you visit.
There are plenty of chocolates associated with Christmas, Ferrero Rocher, Lindt and Terry's Chocolate Orange to name a few – but none quite live up to the humble After Eight. The Edgbaston in Birmingham seem to agree, because they've created a cocktail that tastes exactly like it. The After 5 is a festive number with Green Spot Irish Single Malt, Cotswolds Irish Cream, almond, mint and truffle.
If you haven't had Black Forest gâteau as a dessert on Christmas day, have you had Christmas at all? Duck and Waffle have a new winter menu, and the Black Cherry Godfather is a liquid take on the Christmassy dessert. It's assembled with 14 Monkey Shoulder whisky, black cherry liqueur, dry essence and caramel bitters, but if you want something a little more subtle – the Acorn Aperitivo with Grey Goose vodka, Cocchi Rosa and acorn liqueur is the next best thing.
For more info on the best bars in London and across the UK, visit DesignMyNight.com and follow them on Instagram and Twitter; @DesignMyNight
Join our new commenting forum
Join thought-provoking conversations, follow other Independent readers and see their replies