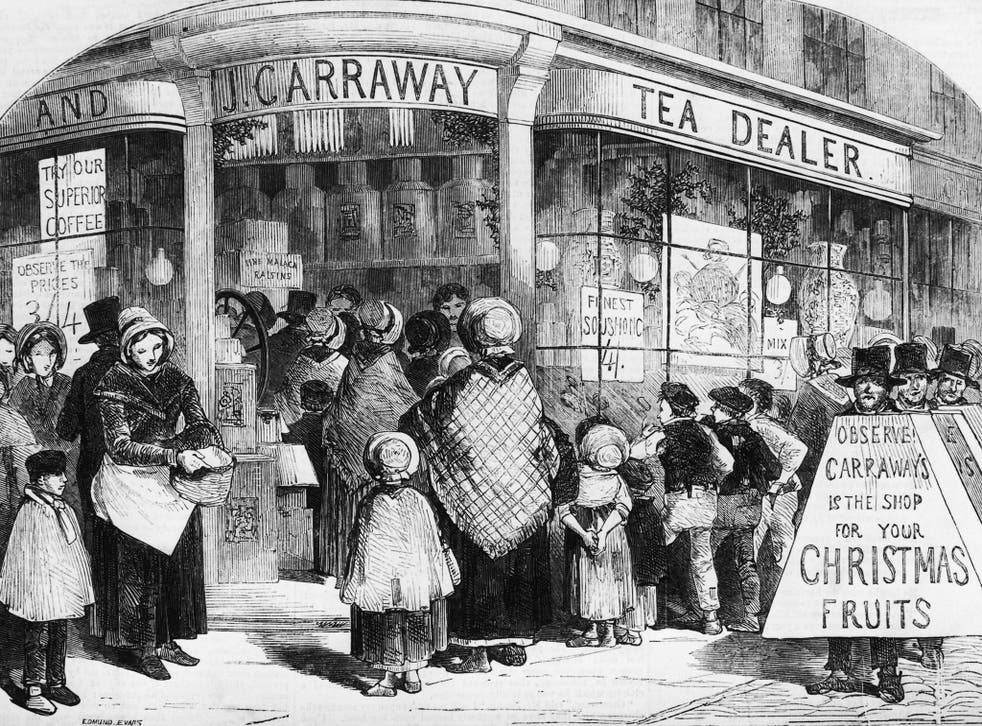 Christmas dinner evolution: From Dickensian beef tongue mine pies to eating insects in the future
Festive food traditions change over the years, from 18th century meaty Christmas pies you send like hampers to American-style turkeys. Julia Platt Leonard looks into what we'll be plating up for Christmas 2015 and beyond
Take a dried and smoked beef tongue. Boil it for two hours and then chop it finely. Dice three pounds of fresh beef suet and three pounds of baking apples, add four pounds of currants (don't forget to wash them and dry them by the fire), a pound of raisins and an equal amount of icing sugar. Mix with mace, nutmeg, cloves, cinnamon, French brandy and a bit of candied citron and orange if you fancy. Bake and voila – a minced pie.
Or so according to Mrs Raffald in her 1769 book, The Experienced English Housekeeper. Sound a bit different than the mince pie you tuck into at Christmas?
Then consider Hannah Glasse's recipe for a Christmas pie made from a boned turkey, a goose, a fowl, a partridge, and a pigeon, heavily seasoned with nutmeg, cloves and pepper then encased in a sturdy crust. After four hours in a hot oven, the pie was ready to be sent off to your nearest and dearest – the 18th century version of a Christmas food hamper.
While Christmas celebrations have changed over the centuries, many things have stayed the same. We've been eating turkey and goose for centuries and still like a bird with all the trimmings for Christmas dinner. Today, favourites on the menu include gravy, stuffing, parsnips, sprouts – love them or loathe them, minced pies (without the beef tongue), Yorkshire pudding, and Christmas pudding.
But what's on the Christmas menu of the future? Fast forward to 2050 and what will we be eating?
"2050 isn't really so far away, so it's not like we are talking about an alien race who we can't relate to, and some traditions will always be around," says Jozef Youssef, head chef at the gastronomy experience design lab, Kitchen Theory. "However, there will inevitably be changes in what a Christmas dinner looks like," he adds. gastronomy experience design lab.
One change that's already taking place is 'free-from' dishes. "Given the growth in the number of people who have both allergies or an intolerance to certain foods, the most popular being gluten intolerance, this is definitely going to impact what we put on our tables for Christmas dinner – stuffing, gravy, Christmas pudding and mince pies will all take on slightly different guises," he says.
But an even bigger shift will be moving away from a meat-centric meal to one heavier on the veg. "With a growing vegan, vegetarian and flexitarian population, it is likely that the meat heavy Christmas dinners will be a thing of the past – bring on the nut loaf and other such substitutes," Youssef says.
Raphaelle Browaeys of online insect retailer Jimini's, thinks that some of us will be celebrating with edible insects at Christmas long before 2050 ever comes around. "It will probably take a lot of time to replace traditional Christmas food. However, insect food is a fine and delicate product that people can definitely try for Christmas 2017 with a nice sparkling wine as an appetizer," he says.
Jimini's sells a range of edible insects including grasshoppers, crickets, mealworms and buffalo worms (available in spicy chilli or sour cream and onion). "I personally imagine myself eating insects as a starter or for dessert," Browaeys says. Meat grown in a laboratory may be on our plate too, although Tim Field of Daylesford Organic and Trustee of Agricology thinks it won't – and shouldn't – replace real meat.
He says we'll rethink meat at Christmas but won't forego it altogether. "Cheap, poorly produced meat is destroying the planet, our health, and wasting precious resources – if we are to meet global carbon emission targets, cheap meat will be a thing of the past. We will treat ourselves and waste none of it," Field says.
"Beef will be grass fed, as the carbon emissions of diverting cereals to red meat production will no longer be acceptable on environmental terms. Turkey will be prized," he adds, "however the humble goose may make a resurgence; like beef they are good at turning grass into protein so more cereals can be spared for the human food chain."
Field says there is a strong role for livestock in a healthy and sustainable mixed farming system. He adds, "…the heritage of livestock breeds should be treated with the same appreciation as fine wines, single malt whiskeys or the global diversity of coffee."
Back at Kitchen Theory, Youssef thinks no matter what's on our plates, we'll be enjoying a more multi-sensory dining experience at Christmas.
"Science is starting to provide us with amazing insights into how we perceive flavour, not in the mouth (as one would assume) but in the brain. As a result, we are starting to understand more about how we appreciate flavour based on not only taste and smell (which combine to give us flavour) but also the visual, audio and textural cues presented in a dish," he says.
Since Christmas is already such a rich sensory time (think mulled wine, crispy roast potatoes and Christmas carols), it's the perfect occasion for supermarkets and food producers to capitalise on our nostalgia for Christmas past to create an even better Christmas future.
"This is a time of year ripe for a sensory make over. Anyone for a scented dry ice cloud of orange and clove to go with that mulled wine?"
Join our new commenting forum
Join thought-provoking conversations, follow other Independent readers and see their replies