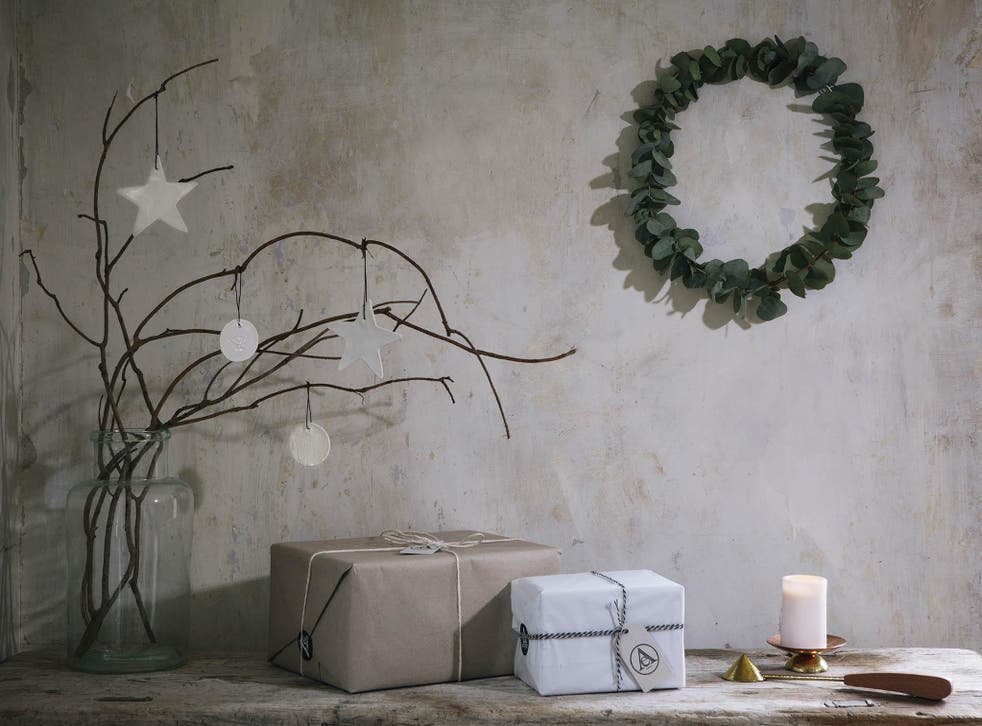 How to enjoy all of the festive fun with none of the guilt
It may be a time of indulging and giving, but it's one of the most wasteful times of year from throwing away turkey leftovers to potato peelings, wrapping paper and Christmas trees. Lizzie Rivera finds how to cut down the waste without cutting out the fun
Christmas spirit is in full swing. Shops are piled high with sugary treats and glittery packages social obligations insist we buy - so it's hardly surprising each household's waste increases by 30 per cent over the festive period, across the UK. We throw out 300,000 tonnes of card packaging each year. Plus, somewhere in the region of one billion cards and enough tin foil to cover Suffolk. That's not including the unopened shower gel/moisturiser combo forgotten at the back of the cupboard. Or the six million Christmas trees.
But this 'we' doesn't include Tom Hunt. The Eco-chef has declared he is having a "zero-waste Christmas" for the whole of December. He will not be buying any food wrapped in packaging, let alone Christmas cards or wrapping paper, and he will be continuing with his 'root-to-fruit' eating philosophy for the festive feasts he cooks...
The zero-waste movement is seemingly the antithesis of Christmas – a time of huge consumption and over-indulgence. But far from being for the Seasonal Scrooge, buying more consciously at Christmas means all of the joy of the feast without the guilts of chucking huge amounts of leftovers in the (compost) bin and adding to the mountains of rubbish once celebrations are over.
"Bin collections go up by 30 per cent over Christmas. It's a time of remarkable waste, so I'm not going to buy anything," Hunt says.
The restriction sounds extreme, but the food-waste campaigner insists this period of time allows him to reset and learn new habits.
"You're limited because you have to plan a bit more. But then your options improve because it forces you to seek out the better producers - at a farmers market, via vegetable box schemes or health food shops," he says.
"You start connecting with the people who are growing your food and become part of a community, which is what Christmas is all about."
Douglas McMaster, head chef of Brighton's acclaimed zero-waste restaurant, Silo, acknowledges this is a big shift in approach and perspective for many people.
"We see creating the Christmas spirit as a beautiful challenge - how can we do everything we want without any compromise?"
A more considered Christmas does not necessarily require going cold turkey, as Hunt is doing. If we all make small changes each year it creates a big impact. Here's some tips from the zero-waste experts to get started…
Feasting
We have collected some stunning food and cocktail recipes to provide inspiration for cooking leftover banquets on the next few pages. But ensuring there is minimal waste really starts with a more conscious approaching to buying.
Packaging is one of the biggest problems when it comes to food waste, so try to buy loose fruit and vegetables where possible.
Zero-waste lifestyle guru Kate Arnell takes tins to the butchers to fill them with meat. Food box schemes often use less packaging and are usually open to requests to take back boxes.
You could even give wonky veg a try by ordering from Oddbox, which sells produce 30 per cent cheaper because it's not perfect.
There is also a growing number of 'bulk buy' shops across the UK where you can take your own refillable containers, from The Zero Waste Shop in Totnes to Bulk Market in Hackney. Arnell recommends the Bulk locator to find stores near you that sell produce and dry goods as well as oils, wine, beer and coffee loose or in refill form - these can make lovely gifts, too.
Reyouzable is a new company that delivers dried goods such as pasta and tea bags, and cleaning products, in refillable containers to your door. It's only operating certain London postcodes at the moment.
When it comes to cooking, Hunt's root-to-fruit philosophy is key. "A lot of people don't consider peeling their vegetables a waste," says the chef. "But a lot of the nutrients are in the skin."
So brush carrots and potatoes rather than peel them - and if you do peel, save the skins to make vegetable crisps (both recipes overleaf). For cauliflower cheese treat the leaves as you would the cauliflower – slice them finely, steam or boil them – and make them part of the dish.
Christmas trees
Christmas trees are essentially a crop to be harvested. A six-foot tree typically takes about nine years to grow, during which time they provide a habitat for wildlife, consume carbon dioxide and create oxygen - so they are generally carbon positive.
The issues come with the transportation and then disposal. Around six million trees are sold each year, and if sent to landfill they take years to decompose, releasing methane which is said to have 25 times the potency of carbon dioxide. The good news is they can also be recycled into wood chippings, so check your local council's website to find out how their free recycling service operates.
The most eco-friendly way to get a Christmas tree is to buy – or rent – a potted one that can replanted year after year, as locally as possible to reduce the carbon footprint. You can also buy organic trees to ensure no pesticides have been used in their cultivation.
Tom Hunt collects branches from the forest, while other people choose to decorate existing plants in their home - there are some truly inspirational and simple designs to be found on Pinterest and Instagram.
If you're buying an artificial tree, the general advice is that you need to use it for at least 11 years to offset the oil the plastic is made from, according to the Carbon Trust. You can also buy alternative, more eco-friendly trees made from reclaimed wood on sites such as Not on The High Street and Etsy.
Decorations
Christmas wreath making workshops from foraged foliage or recycled material are available all over the country, and are make a great Christmas gift activity.
"Bringing the outdoors in at Christmas time is an effective way to decorate your home," says Thomas Broom-Hughes, head of horticulture at Petersham Nurseries. "A large vase of garden foliage and twigs can look both dramatic and stylish. A foliage table runner interspersed with potted plants, candles and bud vases of flowers make an unusual table setting."
If you really do you need some new baubles, Nkuku and Aerende are online ethical homeware stores that sell truly stylish Christmas decorations that all come with great maker stories.
If you're using lights, it goes without saying they should be LED.
For a truly home-made feel, there are tonnes of recipes for making salt-dough decorations online (which is a great activity to do to with kids) as is making popcorn garlands.
Arnell also hangs dried orange slices (put slices of orange on a cooling rack in the oven on about 120C for a few hours) and cinnamon with twine. "It makes the house smell amazing," she says. They last for years and you can also add them to a pot with some cloves to make potpourrai after you've taken the decorations down.
Christmas crackers
If you feel like no Christmas table is complete without a cracker and bang then there are alternatives to the supermarket classic that come with a throwaway plastic toy.
For £18.95 this set of '12 days of Christmas crackers' include a more eco-friendly a wooden toy.
House of crackers' recyclable Christmas crackers come with a snap, hat and a joke - but no gift, for £1.20 each.
Purchase this set of six re-usable crackers from Keep This Cracker for £18 and they will be delivered flat-packed. Each one can be constructed and filled with a gift of choice. Plus the refillable 'snaps' mean they can be used again and again.
The DIY Christmas cracker route involves saving cardboard toilet roll inserts and rolling them in a fabric of your choice. Fill with a handwritten joke and gift and tie with string at each end. These look festive, but are untied – rather than pulled apart – by each guest.
Gift wrap
As for wrapping, in the UK we chuck away enough paper to circle the globe a staggering nine times (at least) every Christmas. A first step would be to avoid shiny metallic wrapping paper and gift wrap with glitter, as it can't be recycled. The same goes for Christmas cards. The simple 'scrunch test' determines whether paper can be recycled; if it holds its shape when scrunched then it is recyclable. If paper springs back, it is not.
Wrapping paper made on one hundred per cent recycled unbleached paper with vegetable inks starts from £1.75 per sheet on re-wrapped.co.uk and handmade paper with strong eco credentials starts from around £3 a sheet on happywrap.co.uk, which also sells re-useable fabric bags.
Search for #Furoshiki on Instagram and discover the beauty of the ancient Japanese tradition of wrapping gifts in fabric - anything from scarves to pillowcases.
McMaster says: "Not buying new wrapping paper forces creativity and that's a wonderful thing."
Both he and Hunt are collecting images from newspapers, and using butchers twine rather than sellotape. Add a sprig of green for a festive touch. But choose your images and text carefully... Arnell's mum once wrapped her gift in a headline that said: "I'd rather have £250 than spend Christmas with the family".
Join our new commenting forum
Join thought-provoking conversations, follow other Independent readers and see their replies