Restaurant review
Coal Rooms restaurant review: Has coronavirus led to an overwhelmingly good kohlrabi crop this year?
Can a vegetarian or vegan tasting menu option really be an afterthought for diners in 2020, asks Harriet Hall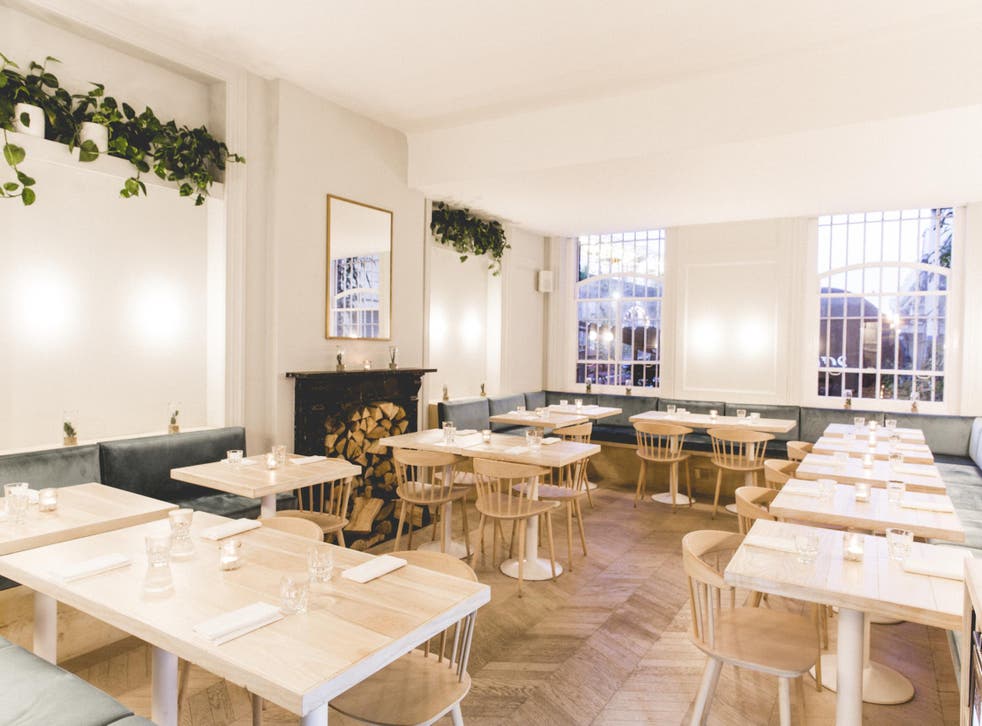 The staff at Coal Rooms in south London are very glad to be back. "Oh, it's great," our waiter tells me. "I've missed everyone. And it's nice to see people enjoying the food – after four months, pasta and pesto just won't cut it."
He's right there. Lockdown has meant that most of us painfully middle-class folk have either developed a bank-breaking Deliveroo habit or discovered the true limitations of our culinary capabilities over the past five months.
Being back inside a restaurant is a delight – the clink of cutlery from neighbouring diners, the din of conversation, a meal cooked by someone else and of course, no washing up afterwards. It's a taste of normality or, to cite an over-chewed phrase, "the new normal".
For the extra cautious, Coal Rooms makes for a good first step: it is big enough for some serious social distancing (though one over-zealous waitress does lean in a little close for my liking), it's airy and the hand sanitiser is as flowing as the wine.
The Peckham restaurant occupies the former ticket office at Peckham Rye station. The owner, Richard Robinson, restored the building in 2017, transforming the front into a coffee shop and the back into a bright breakfast-room style dining area. The bathrooms are unchanged since the 1930s (with exception to, I assume, the plumbing) complete with low level lighting and plants. Coal Rooms knows a thing or two about the Instagram craze for bathroom selfies. And, this being Peckham, they are, of course, unisex.
Anyone familiar with Peckham will know the dilapidated station well, making Coal Rooms feel a bit too boujie for its surroundings. The rattle of the Thameslink overhead and the barred windows of the dining room are an incongruous pairing with my kholrabi ravioli.
I've come to try out Coal Rooms' new chef's tasting menu, launched for the restaurant's reopening post-coronavirus and offered as part of the government's saucily named Eat Out to Help Out scheme. During lockdown, Coal Rooms pivoted to takeaway, serving its favourites to locals, but now the restaurant is back in full force.
The five-course offering has been created by head chef Adrian Fernandez Farina – whose CV boasts a host of top London eateries including Hawksmoor and Chiltern Firehouse – and sous chef, Ritz alumnus Liam Walker.
There's only one small hitch: Coal Rooms' modus operandai is classic British dishes cooked on the charcoal grill, and the restaurant is known for its meat and fish. As a vegetarian, I'm not really the target audience.
Nonetheless, alongside the £48 per head carnivorous menu is a £38 per head vegetarian option. But I decide I want to see all offerings (I can still window shop, right?) so I take along a meat-eater friend with me for comparison's sake.
Things are off to a flying start: a bread course. Modest slices of foccacia, baguette and treacle bread fresh from the oven are paired with scoops of sweet plum chutney, smoked aubergine puree and seaweed butter. Each dip melts into the hot slices and the saltiness of the seaweed butter offsets the sweetness of the plum. Paired with this is a bubbly aperitif of Italian pinot grigio pet-nat, which barely touches the sides.
The entree is where the vegetarian and carnivores part ways. My dish is a kohlrabi ravioli, which is just a way of describing two delicately sliced discs of the "German turnip" sandwiching thin slices of mushroom and a smattering of ricotta. The presentation, sadly, is the best part and while the sugariness of the accompanying sauce compensates for any bitterness of the cabbage, I'm ready for a more substantial second act. My dinner mate, meanwhile, has hoovered up her beef tartar.
The food was all exquisitely presented but I won't pretend I wasn't disappointed to see that the next course was… more kohlrabi, though this time it was kholrabi sashimi. Has there been a particularly successful kohlrabi crop this year? Has Covid led to a glut of the stuff? I wonder as I tuck in. The dish is layered with cool sorbet which creates a sensory and slightly Heston Blumenthal touch. The non-vegetarian option here is a seabass dish, which looks suspiciously identical to mine, but with added seabass. I feel somewhat short-changed. Luckily the accompanying wine is a deliciously crisp Bianco di Custoza which takes my mind off of feeling like a rabbit.
Next up is another dish of purely vegetables – this time, beetroot. I'm glad to get a sense of the Coal Rooms roasting and these are beautifully cooked, served with ajo blanco foam, hazelnut oil and pine nuts. The meat option is a roast chicken breast accompanied by creamed corn and girolles mushrooms. I look on in envy at the diversity on her plate. Despite choosing the wine pairing option, we seem to have been forgotten on the wine front this time around. Luckily my friend is driving, so I down her white and drown my sorrows.
The main event is a pinto bean empanada, which the waiter tells me is the chef's special, introducing his American background. I'm pleased that the vegetarian offering is a little more substantial, and just as good as the meat offering, but it feels a little jarring next to the delicate flavours and presentation of the other courses.
For dessert it's a creamy dark chocolate cremeux, sitting atop a bed of popping candy and paired with a velvety red cherry and mezcal sorbet and macerated cherries. The cold, the crunch and the silkiness combine in an appealing explosion of textures and flavours.
Coal Rooms is certainly a restaurant for meat eaters. My friend commented that the chicken dish was the standout for its flavour, and that it was pretty good value, especially considering the generous size of the wine pairings. But for me, the vegetarian tasting course option felt like a bit of an afterthought, which is surprisingly considering veggie and vegan is a necessary menu addition for a 2020 clientele.
But that's not to say the restaurant should be ruled out if you don't eat meat. I've been to Coal Rooms for brunch before, and would give that a double thumbs up. The back dining room makes a perfect spot for a morning gossiping with friends, with the light openness of the setting perfect for spreading out with the Sunday papers and several Bloody Marys – and I'm assured that the Sunday roast dinner (both the vegetarian and meat versions) are the best in south London, but basing it purely on the tasting menu? I'd sooner just choose my own food from a more vegetarian-friendly menu or eat in to help myself out.
Food ★★★★☆
Service ★★★★☆
Value ★★★☆☆
Coal Rooms, 11a Station Way, London SE15 4RX; 020 7635 6699; open daily: coalroomspeckham.com
Register for free to continue reading
Registration is a free and easy way to support our truly independent journalism
By registering, you will also enjoy limited access to Premium articles, exclusive newsletters, commenting, and virtual events with our leading journalists
Already have an account? sign in
Register for free to continue reading
Registration is a free and easy way to support our truly independent journalism
By registering, you will also enjoy limited access to Premium articles, exclusive newsletters, commenting, and virtual events with our leading journalists
Already have an account? sign in
Join our new commenting forum
Join thought-provoking conversations, follow other Independent readers and see their replies