How to make killer cocktails according to a world-class bartender
Gavin Wrigley of the European Bartender School gives his top tips on nailing cocktails whether you're a beginner or a booze buff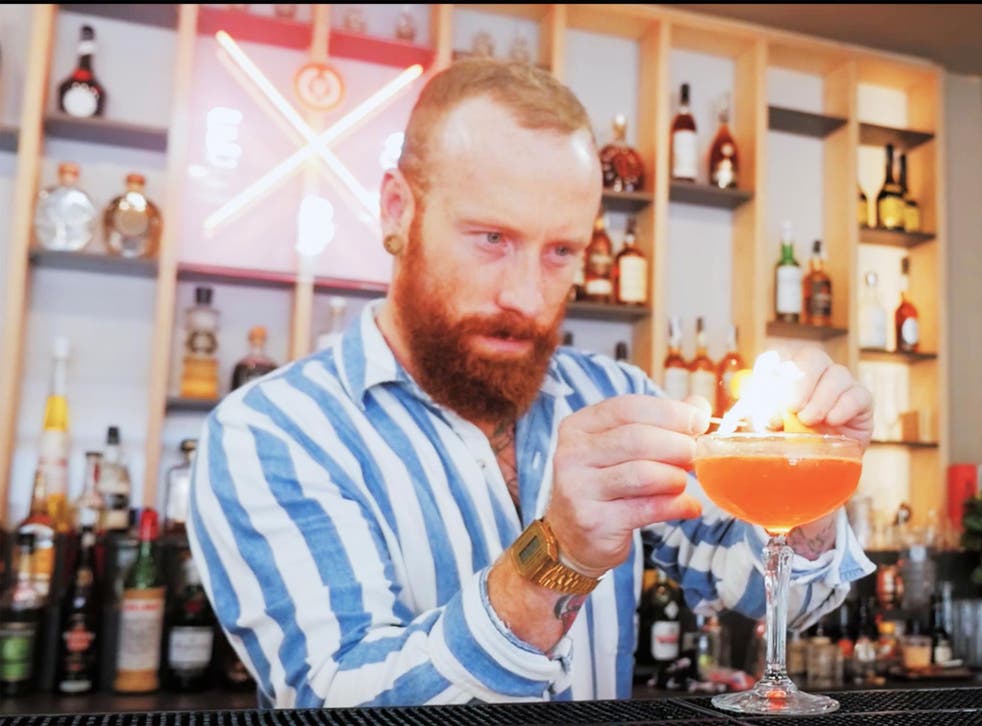 Once associated with sticky floors and breaking up brawls, bartending is becoming acknowledged as a skilled profession.
Few know as much about mixing a killer Negroni or nailing an Old Fashioned like Gavin Wrigley, the Head of Education at the European Bartender School.
To graduate from courses at the institution, students must pass practical bar tests – including free-pouring a drink within an accuracy of 3mls and impressive bar tricks – as well as written theory. Students must get to grips with alcohol flavour profiles and the role of the bartender in influencing the vibe of a joint.
Behind the scenes at the European Bartender School - in pictures

Show all 9
"It's no walk in the park, just like a life behind the bar we adopt a work hard, play hard attitude," says Wrigley, who has served Gordon Ramsay and pianist Jools Holland in the past.
The Independent quizzed Wrigley on how novices can gain confidence and how to experiment at home.
What is the easiest cocktail to make at home?
There are plenty of easy cocktails to make at home but perhaps the most versatile is the gin and tonic. Every gin is different to another and can contain countless variants of herbs, spices and fruits. To a lesser degree you can say the same about tonic. Combining these two simple ingredients and mixing different gins with different tonics provides you with an infinite array of combinations.
What is the best way to go about thinking up new cocktails?
Generally it's a series of subtle plagiaristic yet creative decisions. A good way is to think of a base spirit and a rough end goal, then taste the spirit alone and try to identify some flavours in there, if you want to get serious, write them down.
Following that, and assuming you don't have an encyclopaedic knowledge of flavour wheels, it's often easier to use our more developed relationship with food to decide on a direction. We can be entirely subtle on the way. A cosmopolitan is a great example of this, with three versions of citrus and a dash of cranberry. If you want your palate to be knocked around a bit, take the Mai Tai route, herbal aromas with almond and vanilla, dry orange and lime. If you're just getting started, take a classic recipe and switch out an ingredient or two for similar ingredients.
Other than taste, what makes a great drink?
It all comes back to taste in the end but I think the point here is that taste doesn't start nor stop at the taste buds.
The experience we're having, the mood we're in, the look of the drink of course - absolutely the glass matters - as does the garnish, the ice, the aroma, the timing. Everything. If you want to personally assess the effect of external influences on flavour, fly to the Mediterranean and buy two bottles of bottom shelf rosé, drink one just before sunset on your balcony or by the pool and the next at home on a drizzly Monday evening.
What ingredients can you go for the cheap option with, and which ingredients should you invest in?
To generalise, if a spirit is brown, that usually means it is aged, this ups the price for the customer as there is a bigger cost in production (longer aging, better casks and so forth) and often this does lead to an increase in quality. If a spirit is clear, the cost of production should be far less and there are fewer ways to improve the quality after a certain point.
Register for free to continue reading
Registration is a free and easy way to support our truly independent journalism
By registering, you will also enjoy limited access to Premium articles, exclusive newsletters, commenting, and virtual events with our leading journalists
Already have an account? sign in
Register for free to continue reading
Registration is a free and easy way to support our truly independent journalism
By registering, you will also enjoy limited access to Premium articles, exclusive newsletters, commenting, and virtual events with our leading journalists
Already have an account? sign in
Join our new commenting forum
Join thought-provoking conversations, follow other Independent readers and see their replies