'Raise money for charity not lawyers': Aldi tweets Marks & Spencer in ongoing Colin the Caterpillar lawsuit
'Hey @marksandspencer can Colin and Cuthbert be besties?' asked the Aldi social media team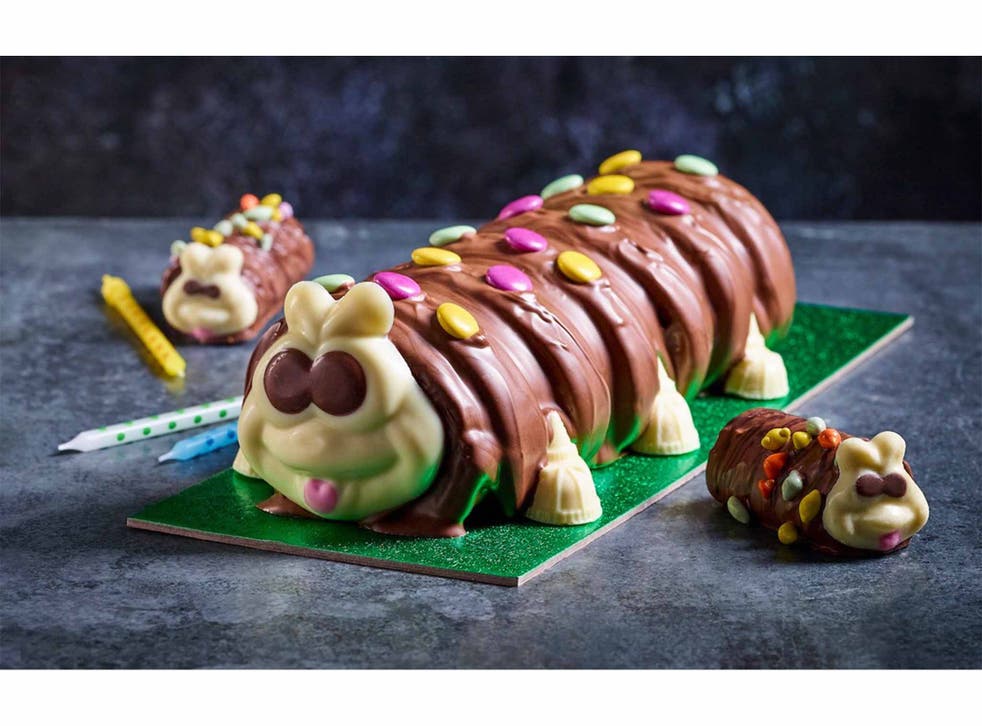 The back and forth between Marks and Spencer and Aldi over their respective caterpillar cakes - which began last week after M&S launched a lawsuit against the budget retailer - has continued on Tuesday.
Marks & Spencer announced last week that it had lodged a High Court intellectual property claim again Aldi's caterpillar cake, named Cuthbert the caterpillar.
Over the weekend, Aldi repeatedly joked about the case on social media, even tweeting a mock sketch of the courtroom with a picture of Cuthbert in the stand.
On Monday, M&S shared a meme in response to the tweets, with the caption: "Our social team at the weekend".
Now Aldi has responded by announcing it intends to raise money for charity from every sale of its Cuthbert the Caterpillar cakes.
In a tweet, Aldi claimed that it will be bringing back a limited edition version of Cuthbert, and will donate profits raised to a cancer charity.
It said it will donate to M&S's partner charity, Macmillan Cancer Support, as well as its own partner charity, the Teenage Cancer Trust.
In the tweet, Aldi tagged M&S, writing: "Hey @marksandspencer can Colin and Cuthbert be besties?
"We're bringing back a limited edition Cuthbert and want to donate profits to cancer charities including your partners @macmillancancer & ours @teenagecancer.
"Let's raise money for charity, not lawyers #caterpillarsforcancer."
Aldi also called on other UK supermarkets including Tesco, Sainsbury's and Asda, to donate the profits from the sale of their own caterpillar cakes to charity.
The announcement has got people talking on social media, with some people taking a more favourable view than others.
One person wrote: "This is a brilliant idea!". Meanwhile, another appeared to be slightly more cynical, saying: "Ahh cute attempt to get out of a lawsuit."
M&S responded to Aldi's tweet, writing: "Hey @AldiUK we love a charity idea (Colin's been a BIG fundraiser for years).
"We just want you to use your own character. How about #kevinthecarrotcake? That idea's on us... and we promise we won't do Keith."
Colin the Caterpillar has been sold by M&S for 30 years. The supermarket claims rival chain Aldi's Cuthbert the Caterpillar infringes its trademark.
M&S wants Aldi to stop selling Cuthbert and not to sell anything else like it in the future.
Register for free to continue reading
Registration is a free and easy way to support our truly independent journalism
By registering, you will also enjoy limited access to Premium articles, exclusive newsletters, commenting, and virtual events with our leading journalists
Already have an account? sign in
Register for free to continue reading
Registration is a free and easy way to support our truly independent journalism
By registering, you will also enjoy limited access to Premium articles, exclusive newsletters, commenting, and virtual events with our leading journalists
Already have an account? sign in
Join our new commenting forum
Join thought-provoking conversations, follow other Independent readers and see their replies