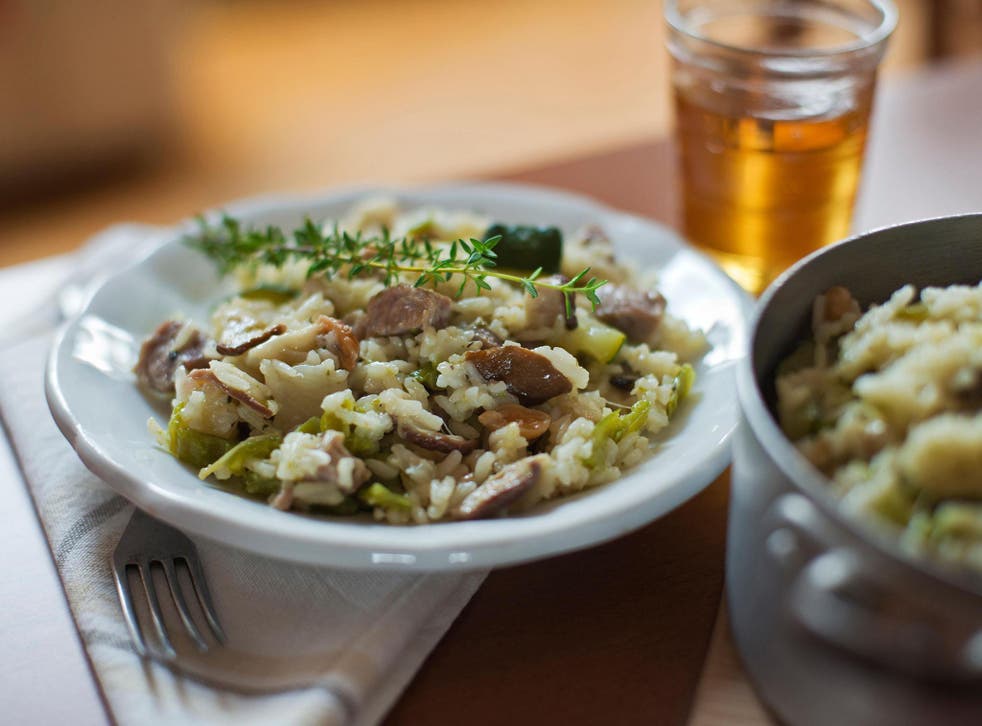 The reason why comfort food is no longer comforting
If it's not doing what it says on the tin, and instead we feel guilty about eating our favourite pasta dish, then it's certainly not comfort food, says Julia Platt Leonard
Julia Platt Leonard
Thursday 22 February 2018 13:17 Comments
When did comfort food stop comforting us? When did restaurant chains and supermarkets and food manufacturers co-opt comfort to sell us food that is often high in calories but leaves us empty nutritionally and emotionally?
It's something Bee Wilson, food writer and author of This Is Not A Diet Book, sees when she passes the branch of a coffee chain on the school run. "I am always noticing the messages it sends about how it's cold and dark and therefore what you need and deserve is a vast, sugary, flavoured latte with cream on top. But I always think that the person who chooses the latte will probably not be very comforted by it in the end," she says.
Part of it, Wilson says, is that in the past, comfort came as much from the person making or sharing the food, as the food itself. "Now, by contrast, comfort foods have been colonised by big manufacturers and food chains: super cheesy pizza, tortilla chips, ice cream," she says. Traditionally, comfort foods were savoury whereas now they're sweet, she adds. "It is as if we are seeking to be mothered by a multinational food company. This is a cold sort of comfort."
What's missing is the human touch and connection that makes comfort food truly comforting. It's not about haute cuisine either but about food shared with love. Food writer and author of Dogs' Dinners Debora Robertson says: "Personally, my mother didn't really cook much, so my comfort food memories aren't elaborate ones – cheese on toast after a bad day at school, Heinz cream of mushroom soup with hot, buttered toast on a cold afternoon." The important thing was how it made her feel. "It was the kindness, the feeling of your mum being absolutely on your side, that made those foods special."
In the UK, we're eating around a quarter of our meals away from home, a figure that's on the rise. In the US, the statistics are even more dire, with spending on food outside the home outstripping the amount spent for food at home. What's lost is not only the connection to food, but also to people: family and friends. American writer Emily Nunn writes about this connection in her book, The Comfort Food Diaries.
What she discovered on her travels was a comfort food you can't find at a fast food chain or in a supermarket ready meal. "Comfort food is also apparently supposed to be fried, or smothered in cream sauce, or loaded with sugar," says Nunn. "I'm fine with all of that. But those are not the dishes people served me when I asked them to cook comfort food for me. I ate scallops on creamed corn, a delicious salad, smoked trout pate, soft scrambled eggs on pumpernickel toast topped with dressed greens, collard soup, sour cherry pie, salmon cakes, pickles. I ate things that really made people happy and it comforted me."
It's that sense of memory that makes comfort food so powerful for Kay Plunkett-Hogge, author of Adventures of a Terribly Greedy Girl. "I think the concept of comfort food is pretty universal – it is a food that brings back a memory, a feeling, a scent, a taste that soothes the soul and satiates the appetite," she says. "It is such a personal thing and will often hark back to childhood, the regions we grew up in." For her, the ultimate comfort food is a dish she ate growing up in Thailand called moo pad grapow. "Heaven," she says.
It's a sentiment echoed by food writer Jenny Linford, author of The Missing Ingredient. "Thinking to my childhood in Singapore, one of my favourite meals which has comfort food written all over it is Hainanese chicken rice, one of Singapore's (many) national dishes." She describes how poached chicken is "chopped with a ferocious cleaver across the bone into small pieces", served with rice cooked in chicken stock and flavoured with aromatics. "It's not a showy dish but when well-made it really is food for the soul."
Rachel Roddy, food writer and author of Two Kitchens: Family Recipes from Sicily and Rome, lives in Italy. "Italian food is comfort food per se, especially pasta, rice and bread and pizza dishes," she says. "It is also family food, mum's food, grandma's food, home, everyday food, traditional food, food eaten since childhood... dishes which by their very nature are comforting even though the word comfort might not be used."
What's notably absent from Plunkett-Hogge's moo pad grapow, Linford's Hainanese chicken rice or Roddy's pasta e ceci (pasta and chickpeas) is guilt. And guilt is what many so-called comfort foods are feeding us with descriptions of guilty pleasures, decadence and indulgence. This puts health in one corner and comfort in the other, says Wilson. "It makes us feel that if something is comforting it must also somehow be wrong and a cause for guilt," says Wilson. "But guilt is the opposite of comforting."
Nunn found the same to be true of her own comfort food journey. "Because the one thing I learned while investigating the idea of comfort food is this: if it makes you feel ashamed, it no longer qualifies as comfort food, does it?" she says. "So you either have to eat a hot fudge sundae with gusto – you have the right – and leave the idea of food as something that can be sinful at home. Cannibalism is the only kind of eating I can think of that qualifies as sinful. Comforting yourself with food is not."
The litmus test for comfort food? It should be something that makes us smile, sigh with contentment and remember a moment, person or place with joy. Guilt and shame shouldn't come into play.
"To me, there is nothing more comforting than a huge bowl of homemade soup, ideally made from a rich savoury chicken stock," says Wilson. "It reminds me of recovering from illness as a child. It leaves you feeling toasty warm and full, but not unpleasantly full. It is comfort without the regret – in other words, true comfort."
Register for free to continue reading
Registration is a free and easy way to support our truly independent journalism
By registering, you will also enjoy limited access to Premium articles, exclusive newsletters, commenting, and virtual events with our leading journalists
Already have an account? sign in
Join our new commenting forum
Join thought-provoking conversations, follow other Independent readers and see their replies