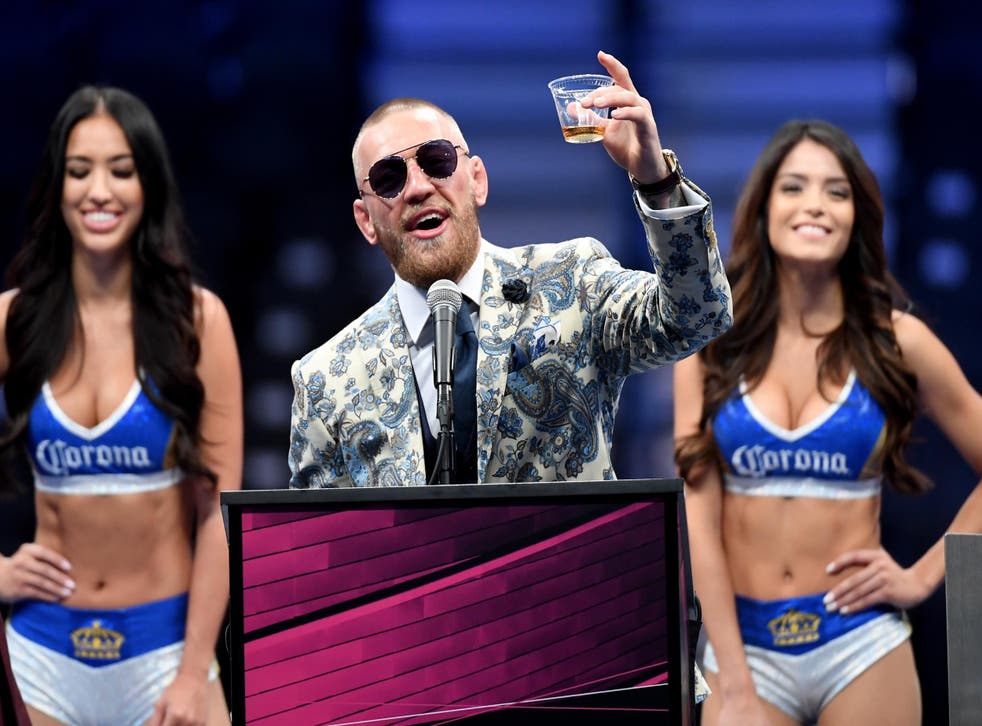 Conor McGregor has launched his own Irish whiskey called Notorious and could earn up to $100m
He wasn't shy about flaunting it at his post-fight press conference
Conor McGregor has used his high-profile bout with Floyd Mayweather to plug his own brand of whiskey – and he says he's going to dominate the drinks market with it.
The Irish mixed martial artist says he plans to "take over the Irish whiskey market" with the Notorious-branded drink.
Speaking at the post-fight press conference, the fighter shoehorned in a big plug for his product, saying: "Boy that whiskey tastes so good. Oh s***, keep an eye out for it."
Mayweather beats McGregor
Dressed in a cream suit adorned with colourful paisley patterns, he repeatedly swigged from a glass of the whiskey – making sure it appeared in the majority of press pack's photos.
Irish whiskey is generally milder and smoother than Scotch whisky, because peat is not often used in the malting process, and it undergoes triple distillation.
Despite earning an estimated $100m from the fight, McGregor is clearly aware that there's potentially serious money to be made outside the ring.
He's already set up a clothing line called August McGregor – which he says will "rival Net-A-Porter".
It's a collaboration between McGregor and California-based tailor David Heil, the founder of David August.
McGregor also has sponsorship agreements in place with Beats by Dre and Monster Energy.
Adrian Smith, The Independent's wine and spirits expert, said: "There are more celebrities attempting to strike it rich in the drinks industry than ever before, and while a famous name can shift bottles, at the end of the day it's all about the taste.
"There is certainly money to be made - take the sale of George Clooney's tequila firm Casamigos for $1bn, for example - but once the Mayweather fight hype fades, will McGregor's notoriety be enough to sustain sales, and more importantly - will his whiskey taste any good?"
He's not the first sports star to try to crack the spirits business; David Beckham is the face of Haig Club grain whisky, while Mila Kunis has made ads for Jim Beam bourbon.
Channing Tatum has his own vodka brand called Born and Bred, while Maroon 5 frontman Adam Levine has a mescal and tequila blend.
But the undisputed celebrity king of the drinks business is Diddy, who gets a cut of all Ciroc profits as part of a marketing deal. It's a deal that's earned him up to $100m (£77m).
Register for free to continue reading
Registration is a free and easy way to support our truly independent journalism
By registering, you will also enjoy limited access to Premium articles, exclusive newsletters, commenting, and virtual events with our leading journalists
Already have an account? sign in
Register for free to continue reading
Registration is a free and easy way to support our truly independent journalism
By registering, you will also enjoy limited access to Premium articles, exclusive newsletters, commenting, and virtual events with our leading journalists
Already have an account? sign in
Join our new commenting forum
Join thought-provoking conversations, follow other Independent readers and see their replies