How to cook mackerel on an outside fire
River Cottage's Gill Meller is the outside cooking expert and is still finding new ways of cooking on an open fire all the time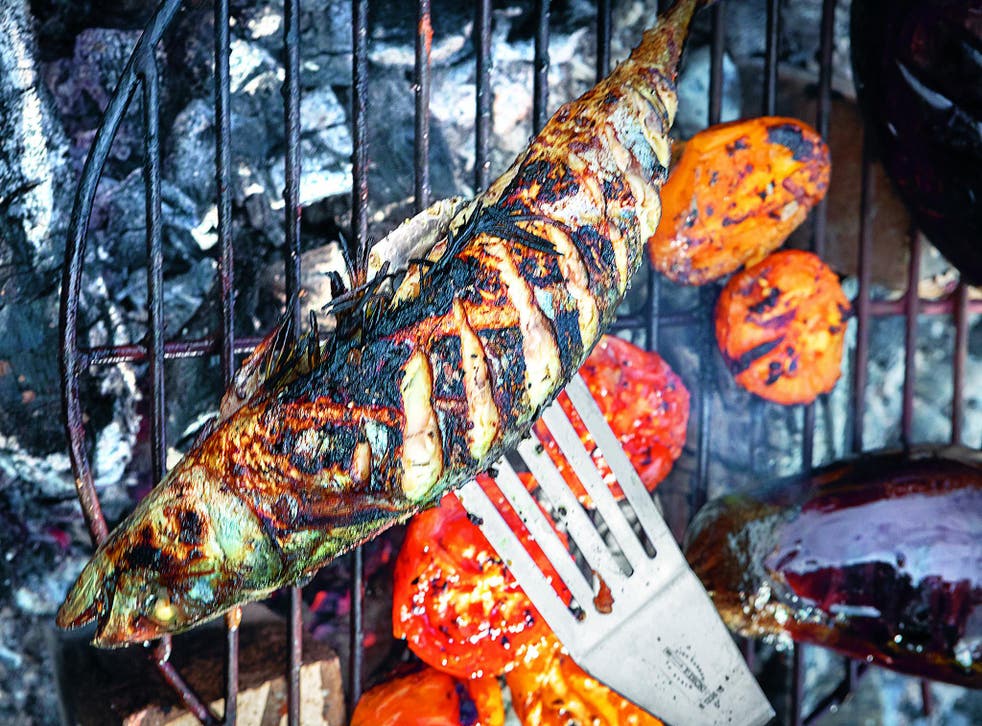 Cooking over fire is, for me, one of the simplest and best ways to enjoy food. I've always been excited by fire.
At the age of seven, I was cooking grass on my campfire – as you do – using the classic recipe whereby grass and rainwater are combined in an old pan and boiled for hours.
At some point and for no reason I can recollect, I reached out and picked up a white-hot stone from the base of the fire.
Of course, I burnt my hand and shot off around the garden like a missile. I remember my grandfather giving me £5 to stop crying; I was really grateful, but it hurt so much I couldn't.
This rather heated early experience did not make me fear fire. Quite the reverse: I've been cooking stuff over fire in one way or another ever since.
Fire and smoke have weaved through my life in all sorts of wonderful ways. I'm pleased to say my repertoire of recipes has improved (they are nearly all edible now), and I'm finding new, exciting ways to develop open-fire cooking all the time.
As a chef, I've had the good fortune to cook in lots of fantastic kitchens. But cooking outside over wood or charcoal is something completely different. It's far more engaging. It allows you to forge a connection with the food you eat that you could never make using only a fan-assisted oven inside a house or a restaurant.
It goes without saying that you have to spend some time learning how to cook over an open fire. It's not like switching on an induction hob and waiting for a timer to beep. Open-fire cooking is a craft, an ancient art. But the time and energy you put into this learning will give you rich rewards. For a few hours, you can escape the boundaries of convention and slip the tethers of time. There's a freedom in outdoor cooking that means recipes loosen and become simply ideas. The cook becomes, primarily, a manager of heat, judging and adjusting distance and temperature and time. Rain and sun are simply elements to balance against the energies of wood and charcoal.
Cooking outside over an open fire helps you unlock instincts and hidden skills you may never have thought you had. You learn basic science, you learn about temperature, weather and wind. You learn about trees and the seasons. You learn how one action affects another and how small decisions can often have big, flavoursome outcomes. Beyond this, I think you learn something about yourself and the environment you live in, as well as your place in it. And that, to my mind, is a very good thing.
River Cottage has been key to all this for me. Cooking alongside Hugh and the talented chefs at Park Farm has cemented my understanding of over-fire cookery. Whether blistering a pizza in the sixteenth-century farmhouse wood oven, roasting a whole pig for a celebratory feast or barbecuing mackerel for groups of keen students, my time here has taught me the beauty of these primal skills and given me the confidence to serve real, ethically produced food, straight from the fire, whenever I can.
Fire-roast mackerel with aubergine and tomatoes
Mackerel has to be my favourite fish for cooking outside over an open fire. Its skin crisps beautifully while underneath the oily flesh stays moist and tender. The fresher the mackerel, the more delicate and delicious its flavour will be, so select fish with nice bright eyes and vibrant, colourful skin. Ripe, sweet tomatoes and a garlicky bashed aubergine puree make this a great summer's night dish.
Serves 4
4 good-sized, super-fresh mackerel, gutted and cleaned
2tbsp olive oil
4 sprigs of rosemary
250g large, ripe tomatoes, halved
2 medium aubergines
2 garlic cloves, peeled and grated
1tbsp tahini
A pinch of dried chilli flakes
A handful of basil leaves, chopped
2tbsp extra virgin olive oil
Sea salt and freshly ground black pepper
Prepare your fire; you want to be cooking over glowing embers. When the fire is hot, set a grill over it, making sure it's clean so your fish is less likely to stick to the bars. You'll know the temperature is right when you can hover your hand above the grill for a maximum of 3 seconds.
Lay the fish on a board and, using a sharp knife, cut several shallow slash marks on both sides. Trickle 1tbsp olive oil over the fish, sprinkle with salt and pepper and rub in, getting right into the slash marks. Place a couple of rosemary sprigs in each fish cavity. Set the fish on the grill. Season the tomatoes with salt and pepper and place, cut side up, next to the fish. Place the aubergines (uncut) on the grill too.
Turn the aubergines every few minutes, to ensure they cook evenly. The fish will take 6-8 minutes on each side, depending on size. Don't worry if the skin tears; the fish will still taste amazing. Once the mackerel are cooked, remove them from the grill and keep warm. Turn the tomatoes after 10-15 minutes and keep cooking them until they are soft and caramelised, then remove them to a plate.
When the aubergines are soft (this will take about 20 minutes), slit open and scoop the soft flesh out into a bowl. Add the garlic, tahini, chilli flakes, basil, extra virgin olive oil and some salt and pepper. Mix and mash the aubergine with the seasonings.
Divide the aubergine puree between 4 plates. Add the tomatoes and fish and serve.
Extracted from River Cottage Handbook No 17 Outdoor Cooking By Gill Meller. Published by Bloomsbury. Out now
Register for free to continue reading
Registration is a free and easy way to support our truly independent journalism
By registering, you will also enjoy limited access to Premium articles, exclusive newsletters, commenting, and virtual events with our leading journalists
Already have an account? sign in
Register for free to continue reading
Registration is a free and easy way to support our truly independent journalism
By registering, you will also enjoy limited access to Premium articles, exclusive newsletters, commenting, and virtual events with our leading journalists
Already have an account? sign in
Join our new commenting forum
Join thought-provoking conversations, follow other Independent readers and see their replies