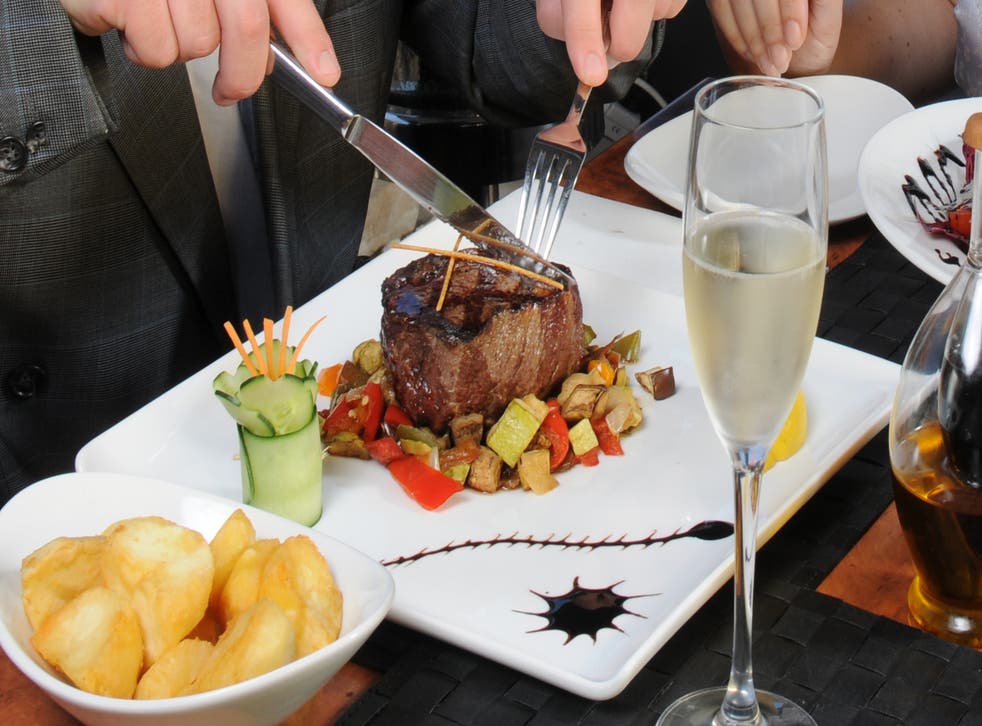 Top chefs on why beef should be paired with champagne not red wine
Forget fries, would you like champagne with that?
Rachel Hosie
Thursday 22 June 2017 11:06 Comments
Roast beef, steak, burgers… when it comes to red meat - and beef in particular - most people are adamant about pairing with red wine.
Some serious foodies look on scornfully at those who drink white or, god forbid, bubbly, with their beef, much the same as they may look down on people who order their steak anything other than rare.
But this may be set to change as top chefs are speaking out to sing the praises of drinking champagne, rather than red wine, with beef.
Even though it's usually drunk as an aperitif, the innovative chefs from across Europe agree that a glass of bubbly complements a classic roast just as well as red wine.
"I think people try and put it in a box and I don't think that's necessary," champagne expert Kyla Kirkpatrick told Good Food. "What most people don't realise is that champagne is actually far more versatile as a food wine than any other wine."
Increasingly, top chefs are showcasing food and fizz pairings to try and show that everything we thought we knew is in fact wrong.
One of which is a collaboration between Moët & Chandon and Jockey Club Catering, with the menu making its debut at the Moët & Chandon July Festival at Newmarket's Adnams July Course next month.
"On a summer's day, the Vintage champagne with the steak is just such a great pairing," Damien Adams, Head Chef at Newmarket Racecourses, explained to The Independent.
"The delicate yet complex layers of the champagne, combined with the fine bubbles, work in harmony with the juicy and succulent texture of the lightly cooked meat. It's fun and different and really works.
"Would I eat my steak with red wine or champagne? It's tough one, but after this experience, I'd go Vintage champagne."
He adds that thanks to the longer time in the cellars to develop more intense flavours and a fuller body, the champagne stands up to the richness of steak, the same way we're used to with a red wine.
The Fat Pony horse meat restaurant - In pictures

Show all 6
And the meat should be served rare: "Champagne asks for the ingredients to be raw or slightly undercooked, in order to keep a juicy texture," Moët & Chandon cellarmaster Benoit Gouez says.
"If a meat or a fish is too cooked, the dryness of the ingredient will make the champagne taste harsh."
Champagne certainly isn't an afterthought either, with many chefs now creating the dishes to suit the champagne, rather than vice versa:
"Often I say, I am like a tailor, I cut my recipes around the champagne until it fits perfectly," says Marco Fadiga, Moët & Chandon Executive Chef.
Of course, champagne with breakfast, brunch or afternoon tea is nothing new. But pairing it with main meals and particularly with red meat is not something most people are used to.
Champagne can be particularly good with oily dishes, as it cuts through the grease: "I do love rosé champagne with yum cha - and especially duck," Kirkpatrick says.
"What happens when you eat oily food, whether it's fish, duck, or some type of meat, it leaves a texture, a greasiness on your tongue, and what's beautiful about the champagne - which is quite acidic - is it actually cleans that oiliness off and lets you carry on with the next mouthful."
She even says you could serve champagne with fried chicken, which sounds like a match made in heaven when you think about it.
But some wine experts maintain that when it comes to steak, you really should stick to red wine: "What you end up with is the tannin in the wine softening the steak and the fat in the steak softening the wine.
"A win-win situation for both," global wine ambassador Federico Lleonart from Graffigna Wines told MailOnline.
Arguably though, if you're drinking champagne and eating steak, you're definitely winning.
Register for free to continue reading
Registration is a free and easy way to support our truly independent journalism
By registering, you will also enjoy limited access to Premium articles, exclusive newsletters, commenting, and virtual events with our leading journalists
Already have an account? sign in
Join our new commenting forum
Join thought-provoking conversations, follow other Independent readers and see their replies