Cornerstone restaurant review: Plenty of killer, not enough filler
Tom Brown's Hackney Wick spot displays supreme confidence in its fish-dominated menu, and it's right to, says Ed Cumming. But with little else on offer you may be left wanting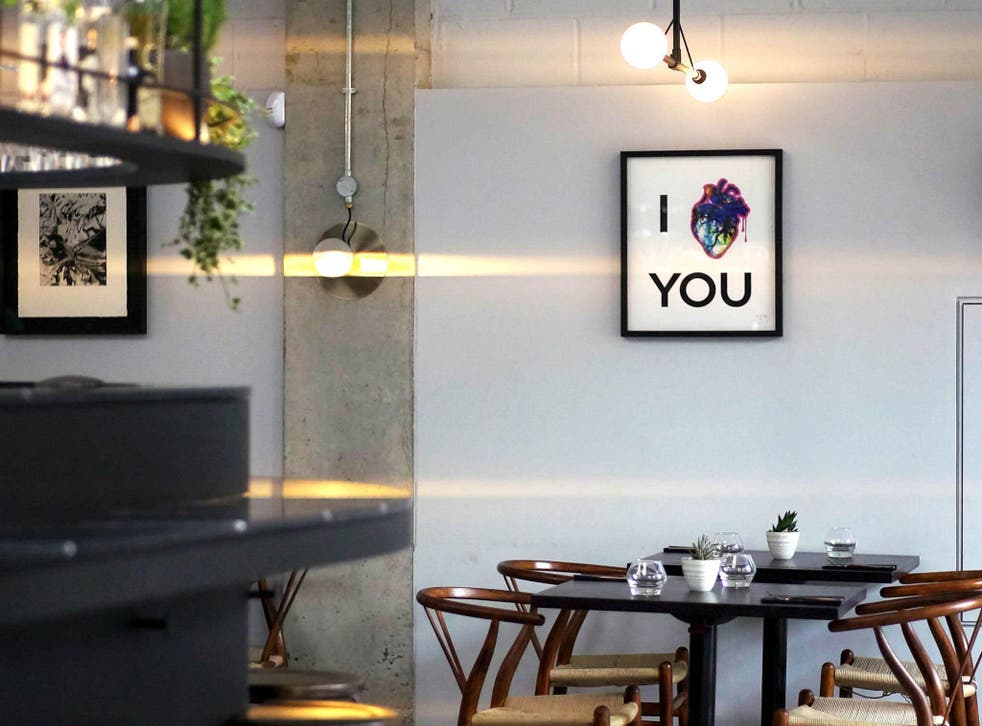 "It feels just like LA," my friend said as he sat down. I'd not heard Hackney Wick described like that before. Seemed like a stretch. But maybe he had a point. It does sprawl a bit, a kind of light industrial buffer-zone between Victoria Park and Olympic Park.
There are lots of new housing developments around the station. One large site is advertising "warehouse-style" flats. Bigger windows. You'd have thought that, it you were redeveloping Hackney Wick, your constant mantra would be "not like Stratford", but the opposite seems to be true.
Most likely in 10 years it will be a yet another bustling inner suburb of yuppies with enormous prams, but there is another path visible too, one in which we tell our grandchildren about this acme of early 21st-century urban folly. "You won't believe this, Daenerys, but they once tried to get people to live in Hackney Wick. Then the bombs fell."
For now it is the kind of place a young chef on a mission can try to make a fist of things, away from the merciless glare of West End rent.
Tom Brown trained under Nathan Outlaw, the fish chef with a name straight out of a Martin Amis novel, and was head chef when The Capital won a Michelin star. Cornerstone opened last year, the former apprentice lighting out on his own. It is named after the Arctic Monkeys song, a masterpiece on an uneven album, Humbug.
The pictures on the website suggested a rather austere room, but inside it was surprisingly cosy for such a bright open space. A charcoal curtain hangs around the inside, absorbing indiscretions and chef chatter.
The kitchen is entirely open, bang in the middle of the room, which projects supreme confidence in what the chefs are doing, like getting dressed in the middle of Trafalgar Square.
Mostly they earn the right to be assertive. The menu is short and monomaniacally fishy, although a vegetarian option is available. We start with a pickled oyster each, plump and jolly in their shells. Their flesh contrasted with the fresh clean horseradish, dill and celery.
Then some mackerel pate, deep and smooth and fishy and served with an upright knuckle of treacle bread. A crumpet with a glorious mottled brown lid. A bowl of fresh scallops. Best of all was a whole John Dory in a roast chicken butter sauce, a golden-brown sea of umami, fats and salts smoothly emulsified. It might be the single best thing I've eaten this year.
You could have it as a soup and not eat again for a week. All this was doled out by attentive but friendly young staff, who have the impression they were happy to be there.
If there is a grumble, it's not with the fish, but with the other stuff, or rather the lack of it. It's all fish fish fish. There are not really sides or vegetables, meaning that despite rattling up to £80 a head – helped on the way by a bottle of crozes-hermitages, and despite desserts – as we left I had the idea I could still eat something.
It's a greedy man's complaint, but I think it's not unreasonable, and why in the end it inspires respect but not quite love. Cornerstone has plenty of killer, but the odd bit of filler can be fine, too. The Arctic Monkeys could have told you that.
Should you go? Yes
Would I go back? No
Join our new commenting forum
Join thought-provoking conversations, follow other Independent readers and see their replies