Coronavirus: McDonald's store uses tape to mark where customers should stand for social distancing
Social distancing involves 'steps you can take to reduce social interaction between people', government states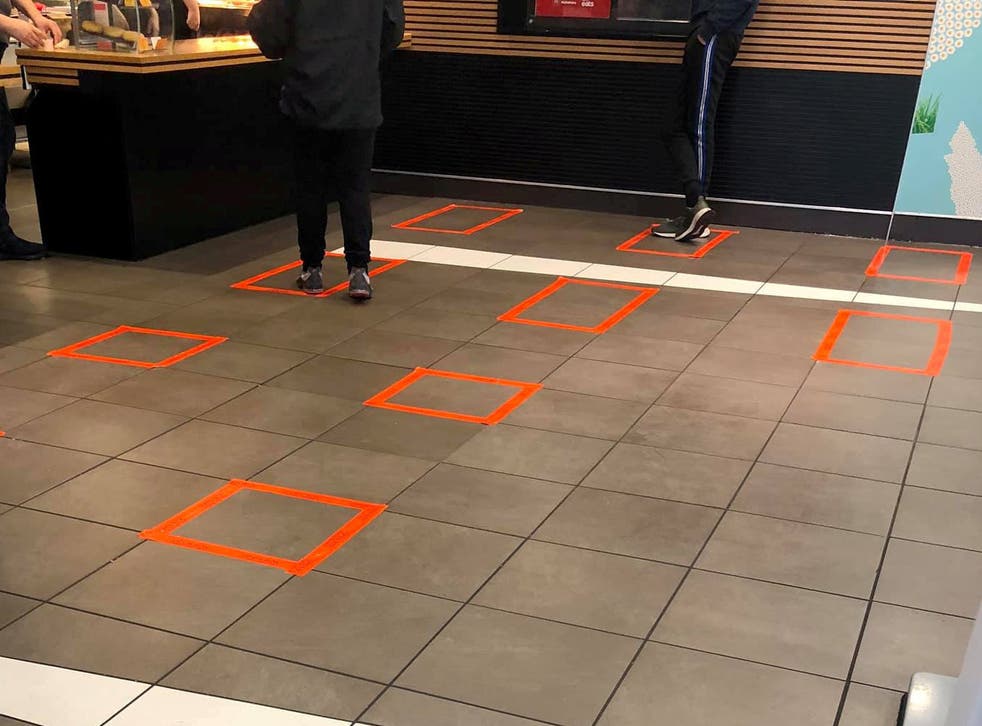 A McDonald's store has used tape on the floor to mark where customers should stand so they are practising social distancing and reducing the risk of spreading the coronavirus.
The measure being implemented by the fast food restaurant was noticed by apprentice aircraft engineer, Ollie Smith, when he visited the Cambridge chain at lunchtime on Thursday 19 March.
The boxes on the floor were marked out with red tape with two floor tiles between each one.
The spaces indicated where people should stand when waiting to collect their food so that they are not too close to other customers.
"Nobody was told to stand in the boxes, but you knew what the intention of the boxes was for," 22-year-old Mr Smith said.
Mr Smith added that while the inside of the restaurant was virtually empty, the drive thru was "packed".
"I couldn't believe how real this was becoming," he said.
"I felt bad for the staff who were working extremely hard on the drive thru."
Earlier this week, McDonald's announced that it was to close all seating areas in its restaurants in addition to closing children's play areas amid the coronavirus outbreak.
The restaurant added that toilets and hand-washing facilities would stay open where possible.
On Friday 20 March, Boris Johnson declared that all pubs, restaurants, gyms and other social venues across the country are to close for the foreseeable future.
Speaking at No 10 Downing Street as part of his daily press conference on coronavirus, the prime minister said that "literally thousands of lives" will be saved if members of the public avoid social gatherings.
"These measures are intended to be temporary," he stated. "The speed of our eventual recovery depends entirely on our collective ability to get on top of the virus now."
If you have any coronavirus symptoms, contact the online NHS 111 service and do not visit your GP or hospital.
Register for free to continue reading
Registration is a free and easy way to support our truly independent journalism
By registering, you will also enjoy limited access to Premium articles, exclusive newsletters, commenting, and virtual events with our leading journalists
Already have an account? sign in
Register for free to continue reading
Registration is a free and easy way to support our truly independent journalism
By registering, you will also enjoy limited access to Premium articles, exclusive newsletters, commenting, and virtual events with our leading journalists
Already have an account? sign in
Join our new commenting forum
Join thought-provoking conversations, follow other Independent readers and see their replies