Cyrus Todiwala on inspiring the next generation and cooking for the Queen
He's been cooking for 42 years, from India to Australia and the UK and now runs four restaurants in London. Although becoming a chef was never his dream, he's dedicated his life to sustainability and ensuring young people want to follow a career in the industry. By Emma Henderson
Wednesday 31 October 2018 15:58
comments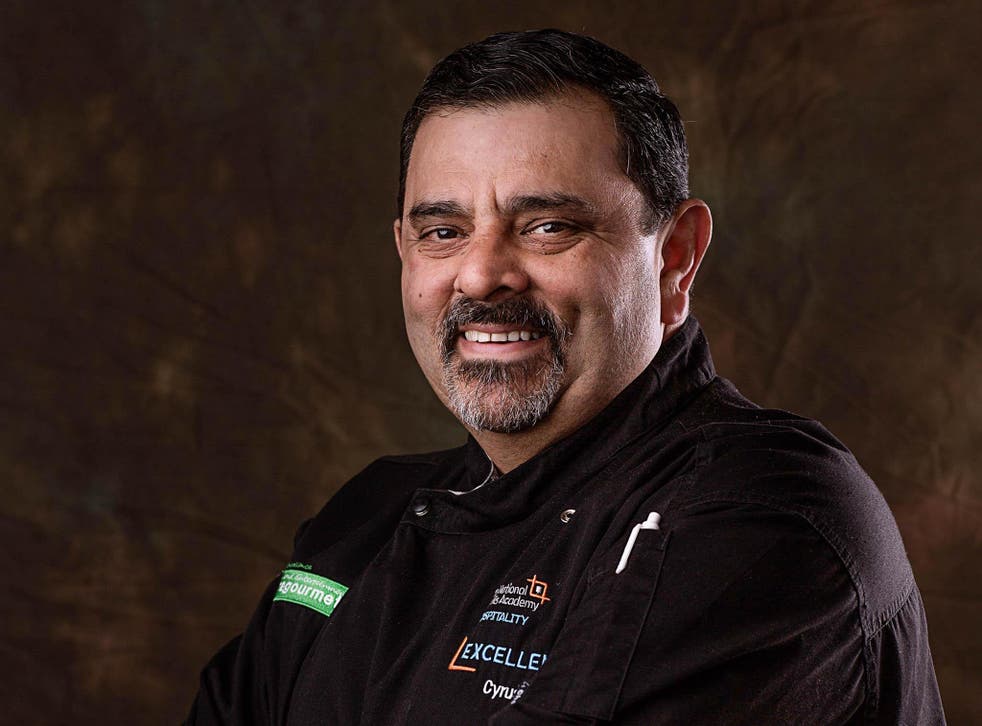 High street restaurants are closing in their hundreds – how do you think Café Spice Namasté has stood the test of time for 22 years?
We're a family-owned company that has personally absorbed the hits and kept going. It's our extensive guest list, and the customers who have become die-hard fans of Café Spice Namasté, that have kept us sailing even through the deepest doldrums. Also, we've always been creative with our menu and what we offer. We're evolving all the time. We're still the longest running Michelin Bib restaurant in the world. That means good food and good value.
You've already got two restaurants and a cafe in the capital. Do you have something in the pipeline for a fourth restaurant this year?
Yes, indeed. A new Mr Todiwala's Kitchen is due to open soon at the new Curio by Hilton in Canary Wharf.
How would describe your cooking?
It's representative of as much of the Indian subcontinent as is practically possible. But it also represents Great Britain today in its purest sense, paying particular attention to sustainability, ethical sourcing, using in-season British produce, working very closely with the people attached to the land and the water and making sure that our customers get the very best we can possibly buy. Exploring and playing with the multitude of ingredients at our disposal today allows us to showcase our individuality and fearlessness when it comes to experimenting and creating dishes that satisfy our customers.
How do you try to be as sustainable as possible in your kitchens?
We have been voted Britain's most ethical-sourcing restaurant. This can only be achieved if we adhere to some basic rules and follow as closely, being Parsees, the teachings of our Prophet Zarathushtra. Our customers know what care and detail we go through to source the food we do and the close relationships we maintain with our producers; but also how we look at wastage, reuse, careful use of services, making sure all our rubbish is handled correctly and disposed off in the right manner with minimum environmental impact, and so on.
You started the Zest Quest Asia competition for students, how important is it to nurture young talent?
There is no way Britain's Asian food industry can survive and remain at the creative cutting edge if we do not nurture, train and enthuse those who will take the industry forward. We may as well give up on the idea of producing such magnificent food and remaining at the forefront of global cuisine. Sadly the sheer dearth of chefs is something we are up against, and the lack of appreciation of our industry. This industry is a great place to work, and we need positive role models. Zest Quest Asia is a not-for-profit initiative that helps to nurture and inspire young budding people with ambition to go down the track of Asian food as a career. Those who enter are judged by chefs who are role models for the industry. We want all colleges in the UK to field teams.
What inspired you to become a chef?
I can never answer that question somehow! I had no clue, no ambitious plans, just getting a job in the best hotel in India, and one of the world's finest, was good enough. This was a time when the industry in India had not yet evolved to the extent that a young chef could be given the direction needed to secure a career and a future. We had heard of famous chefs around the world but had no idea what it meant to get to that position. Many today may think they are in a similar boat, and hence it's up to us to guide them and generate interest in our profession.
You're an ambassador of The Clink charity which helps inmates rehabilitate through cooking. How do you think cooking helps rehab?
In 2000, I and a few other chefs and industry entrepreneurs launched Britain's first ever Asian and Oriental School of Catering, with a view to accepting kids who had poor personal records, helping them to gain qualifications and placing them in jobs. What we learnt then was that kids who got into trouble with the law and education came with lots of baggage attached. Many were totally dyslexic, which the education system did not realise. The moment they were exposed to practical learning and using their hands to learn, their attitude and behaviour changed. We ended up placing 960 young and older people with various patterns of behaviour into full time jobs.
Sadly, government did not realise the importance of what we were doing then – nor does it realise it now – and we had to close down, incurring heavy personal losses.
Often, a prisoner comes with similar difficulties and these stem from various cultural and social issues. It may sound simplistic, but by providing real training and helping them to develop a skill that will ensure that they never go hungry and can gain some recognition can go a long way. Because of the work of The Clink, we have discovered amazing changes in people's attitudes and drops in the average reoffending rate.
What made you move from India to the UK?
I was never keen to move from India, having done quite well for myself too in a very comfortable job. But the bug was stirring and I left the Taj Group to join a friend in running his restaurant. My wife and business partner Pervin wanted to move abroad to offer our kids a better education. So we migrated to Australia, where an old friend living in London asked if I'd like move to the UK instead and run a restaurant with him. Loving London and having been here several times before, the choice wasn't difficult. So here we are, lock, stock and barrel, making this great city our home.
What did you think of the food scene here when you moved?
Back then, in the 1990's, the Indian food scene alone was... baffling, confusing and utterly scary. It was different to what it is now.
What's the most memorable part of your career so far?
That's 29 March 2012: cooking for The Queen and Prince Philip for the Diamond Jubilee celebrations. An Indian cooking an Indian-influenced meal for the most popular royal couple in the world. The sheer sense of community and bringing everyone together through the glorious medium of food. That day I shall never forget with all its trials and tribulations and near misses. It was a glorious day. In fact it was an Indian summer of a day (forgive the pun), towards the start of spring.
What's your favourite comfort food?
When tired, and having had nothing to eat at work... a glass of wine, a piece of cheese and some crackers. When reminiscing one's childhood, and the amazing aromas of a Sunday lunch, then of course nothing beats dhaan daar taraeli machchi nay vaghaar. That's Parsee-style dal with cumin flavoured rice, fried fish and plenty of caramelised crisp onions and garlic, and a pile of fried papad. Heaven can beckon anytime once my belly is filled with that food. Pervin helps me relive that very often and that is the one meal when I don't speak to anyone.
During the entirety of your career, what's the strangest request you've had to cook?
You've just rekindled a hilarious memory. A guest when I was executive chef at The First Aguada Beach Resort in Goa asked the restaurant manager to get him a mutton escalope. The Indian goat is really tough to cook and needs tender, long, slow cooking. But a steak wasn't an option then, and besides, I didn't have any fresh raw meat to hand. It was too unreasonable a request at the time. So after a heated exchange, and this guest threatening me about being the brother of one of Calcutta's most notorious "Dons", I still didn't budge. He then threatened to jump into the swimming pool knowing very well he couldn't swim. I finally turned away in despair after offering hi, chicken, turkey, beef. But I turned around when I heard this huge splash. Our guest had jumped into the pool, clothes and all and was struggling to stay afloat. My world nearly collapsed and I had this vision of a headline: Chef Kills Guest Demanding Mutton Escalope. We dived in and dragged him to the side of the pool and guess what? Pointing a finger at me, dripping wet and clinging to the edge of the pool, he again demanded his mutton escalope. You couldn't make it up.
Who do you turn to for inspiration?
I look for inspiration everywhere, from anyone and everyone. Markets, products, Indian women and "old mamas" who carry so much knowledge. My wife and our sons both inspire me and point me in different directions of creating new dishes. Walking down the streets of the cities we visit, I always try to carry a small piece of blank folded paper and a pen in my pocket. From these scribblings, several recipes in so many of my books have emerged.
Cyrus Todiwala OBE DL, chef patron Café Spice Namasté (cafespice.co.uk)
Join our new commenting forum
Join thought-provoking conversations, follow other Independent readers and see their replies