How dabbawalas became the world's best food delivery system
They've been feeding the city for 127 years, but who are the food delivery people behind the system which became the envy of FedEx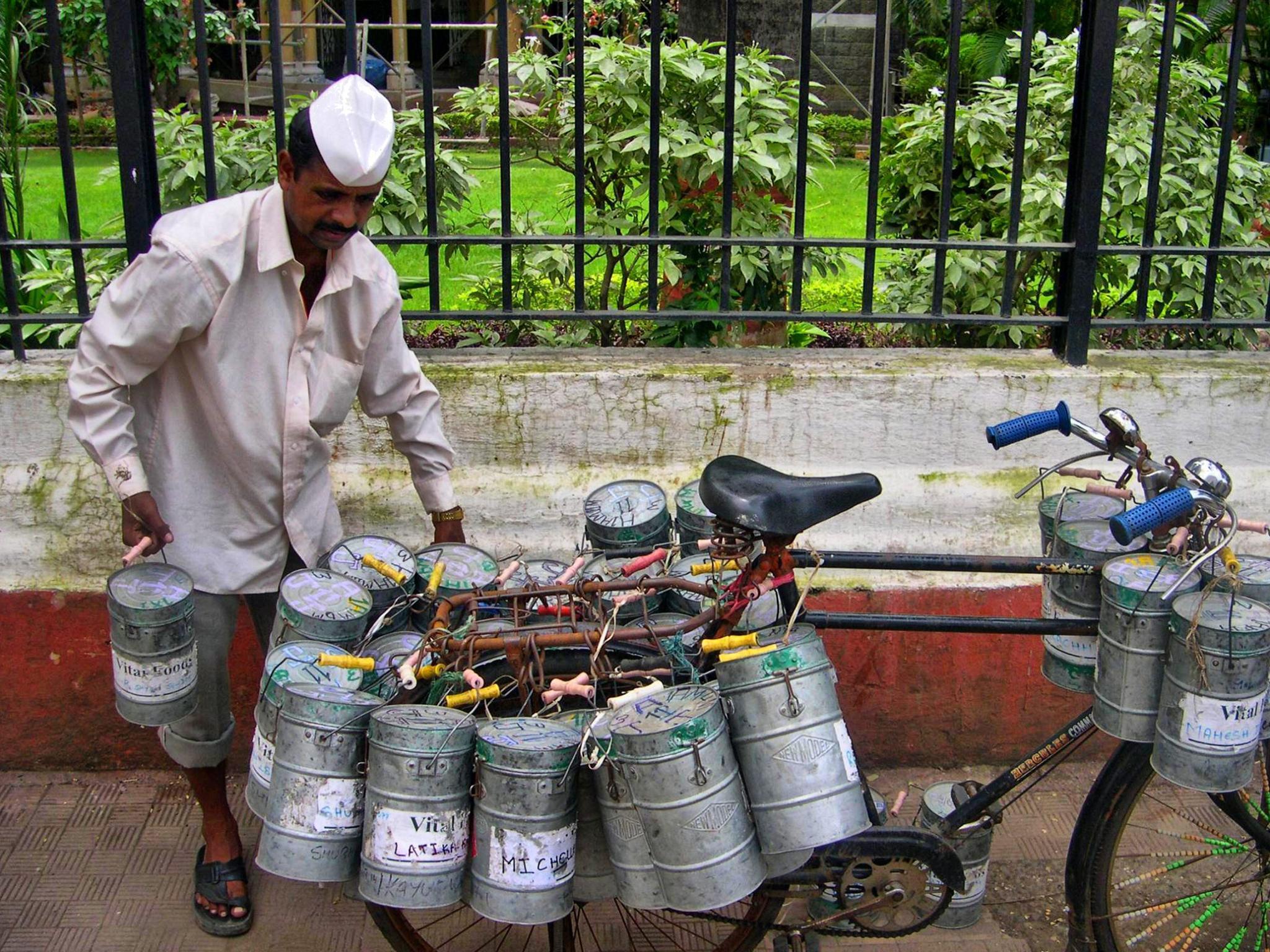 Do you nip out to get your lunch from your favourite café, or perhaps use the Uber Eats app to get your lunch delivered to your office? In India, lunch is a whole different ball game. It's people-powered – made at home that morning and delivered straight to you, all absent of any technology.
The tiffin lunchbox is one of India's most successful concepts. It's not as you might think: an oblong chocolate cake that you see in Costa made with chocolate biscuits and syrup. That's the British version. In India, it's quite the opposite. It's a homemade lunch, delivered to office workers who can't go home for their midday meal, which formed the beginning of the humble lunch box.
Also known as dabbas, the delivered lunches come in large circular metal tins that more closely resemble small milk pails. They're often made by family at home, which is not only to avoid expensive eateries, but because many prefer what they're used to and often there's a fear of getting ill from other food. Each dabba comes in two, three or four tiers; the bottom is the largest, with rice, while the others include a curry, a side of vegetables, dal and flatbreads and a dessert.
Just as the Indian railways are insatiably busy and incredibly complex, so is the dabba's delivery system, ferrying out an estimated 80 million lunches a year. And no better example of this intricate system shines through than in Mumbai.
The delivery system uses dabbawalas – the people who deliver the pail – which literally translates to "one who carries a box". They're identified by their white kurta (smock style) uniforms, topped off with the traditional Gandhi cap, and will often ride bicycles.
Most of the dabbawalas even come from the same village, Pune, which is just over two hours south-east of Mumbai.
Every day in India alone, some 200,000 dabbas are moved by an estimated 5,000 dabbawalas. It's a system of mathematics, carried out by people who are most likely illiterate, but who have made the process an efficient breeze for the last 127 years, feeding thousands daily. But it's not a simple operation.
Food and drink news
Show all 35
Dabbawalas collect the tiffins from the people who made them at around 10am (often a wife or mother – as India still adheres to gendered roles), where anything up to 30 will be taken on crates and via bicycles through the busy roads to the nearest train station. They are labelled using a system of symbols and colours, denoting where the tiffin is picked up, which station it will be sent to and the final address of the owner, all hand painted. The tiffins then travel on the city's train network where at the other end the local dabbawalas pick them up for the last leg of the journey – the lunchtime delivery, which is never late.
As well as being delivered, the dabbas are also returned too. Post-lunch the whole system is reversed, and thankfully a little lighter as the average crate weighs about 100lbs (45kg).
And to thank for this whole movement is Mahadeo Havaji Bacche, a Parsi banker. He came up with the idea of a delivered lunch in 1890 after wanting home-cooked food in the office. He hired a man from Pune to deliver it to him and this grew into the beginnings of the modern-day business, starting from just 100 dabbawalas.
And what's the financial cost for this time-saving exercise? Around 450 rupees a month (£5.40) – depending on distance. That's about the average for a sandwich and a packet of crisps in a city, let alone a delivered meal. And on the other end of the deal, each dabbawala is self-employed and paid the same, around 8,000 rupees a month, translating to about £95. It's seen as a job for life, where the workers live by the philosophy, "Anna daan is maha daan", translating to donating food is the best charity.
And so efficient is the system that the president of the Mumbai Tiffinmen's Association claims that dabbawalas only make a mistake once in every six millions deliveries, translating to about one going missing every other month. It works so well that it has been studied by Harvard Business School and is reportedly the envy of FedEx.
Despite Mumbai – the country's commercial capital – being home to around 20 million people and being the tech start-up hub of India, with fast food chains and Western-style restaurants appearing more frequently, the number of dabbawalas doesn't look likely to fall. Instead it grows between 5 and 10 per cent each year. Nothing quite replaces the delights of a home-cooked meal – especially one delivered right to you.​
Join our commenting forum
Join thought-provoking conversations, follow other Independent readers and see their replies