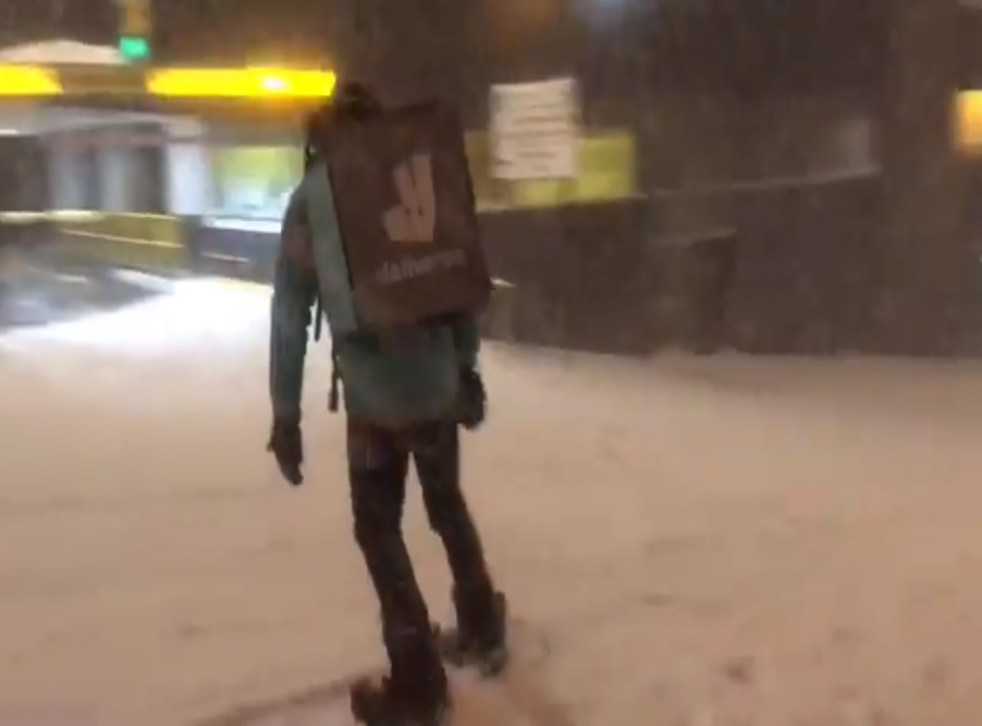 UK weather: Deliveroo faces criticism over driver safety in heavy snow
Safety is more important than sushi
Deliveroo is facing criticism from its customers by encouraging its delivery riders to brave extreme weather conditions.
With further snowfall and freezing temperatures expected to continue throughout the UK over the course of the weekend, many people will undoubtedly choose to seek refuge indoors.
However, for those who fancy ordering a delicious takeaway meal to help warm themselves up, this could be putting delivery riders in harm's way.
On Thursday, Deliveroo customers noticed that an additional £1 charge had been added to their orders as a bonus for riders who had decided to face the treacherous outdoors.
​People have taken to social media to express their concern over the charge, as they believe it may tempt riders to prioritise their income over their welfare.
And one Deliveroo employee has also made a point of opposing the added charge, writing: "As much as I love working for Deliveroo, I think it's absurd that they give us riders incentives, by offering us more money to go outside and work in these unsafe conditions."
But Deliveroo has explained to The Independent that a £1 surge is automatically applied whenever the number of their orders increases by a significant amount, with a £2 per order surge provided for their riders.
It has also come under fire in Scotland - because while service was suspended during red alerts, it was not during an amber warning.
Ross Greer, MSP for the Scottish Green Party, said that the delivery company has a responsibility to safeguard their riders during amber alerts as well, as they may still face the prospect of injury.
Greer shared his statement in regard to the matter on the Scottish Green Party website.
"If the safety of Deliveroo riders is of paramount importance, then as a responsible business, they should have immediately suspended in all areas affected by Red and Amber weather warnings, in keeping with advice from Police Scotland, Transport Scotland, the Scottish Government and others," he said.
Deliveroo told The Independent: "Rider safety is a priority for Deliveroo. Where bad weather is severe Deliveroo stops operating. In other adverse conditions we change our operations to protect riders and ensure they can still earn well if they do choose to ride," a spokesperson said.
"Riders are at no point obliged to ride with us and can at any time reject an order if they wish. Deliveroo wrote to affected riders to remind them of this and urge them to stay safe.
"Deliveroo will continue to monitor the weather conditions, act wherever necessary and remain in close contact with riders."
Join our new commenting forum
Join thought-provoking conversations, follow other Independent readers and see their replies