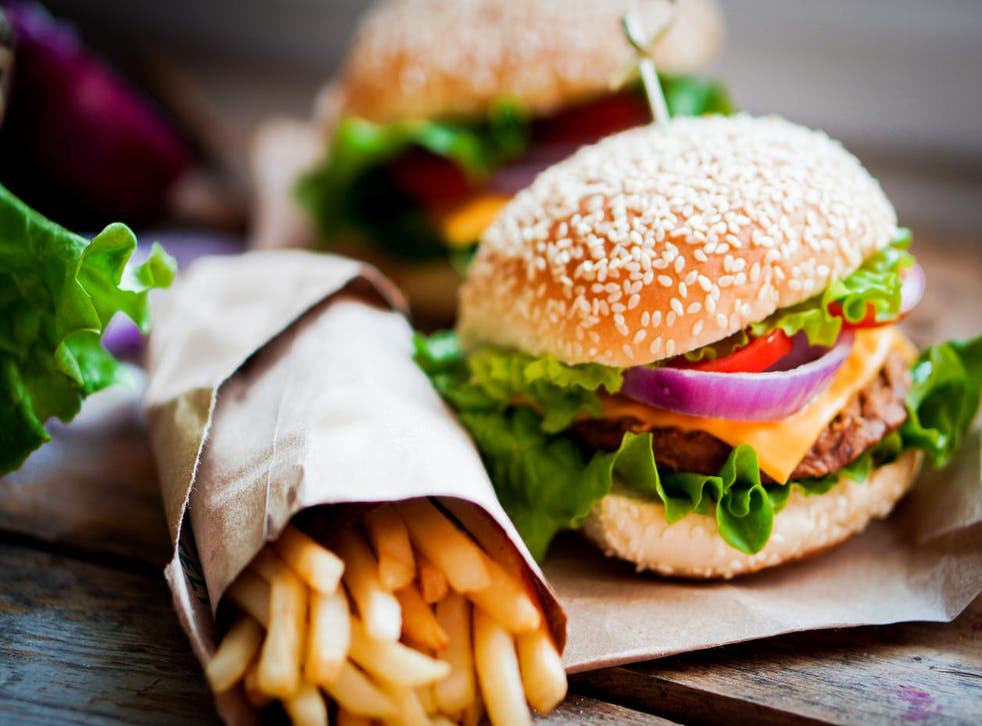 The most popular takeaway orders across the UK, revealed
Burgers are far and away the nation's most popular delivery meal
Rachel Hosie
Friday 10 February 2017 13:43 Comments
As possibly the best-known food delivery service, we asked Deliveroo to reveal which foods were the most popular choices on the app in different cities across the UK.
Clearly, we are a nation of burger lovers, with 28 of the 60 cities on the list choosing some sort of burger as their top dish.
Seven of the most popular deliveries are Thai food, six are burritos and just four cities went for pizzas.
There's an interesting mix of chain eateries and independent restaurants, but Pizza Express, Wagamama and Barburrito seem to be the most popular chains, each with three appearances.
All but two of our cities' favourite deliveries are savoury meals - Chester and Peterborough seem to be the two British towns with the biggest sweet tooths (sweet teeth?).
The list reveals that some cities are clearly more adventurous than others: While burgers with all the toppings and trimmings emerged victorious in towns across the nation, Livingston, in contrast, clearly likes to play it safe with a Pizza Express Margherita emerging as their most popular takeaway.
And the classic fish and chips seems to be losing its place in the nation's hearts (unless we're simply going to pick it up ourselves), with just one city, Cheltenham, choosing the traditional supper as its top delivery meal.
Garçon Wines: Wine delivery that fits through your letterbox

Show all 7
Here are the most popular delivery meals in cities across the UK:
Aberdeen: Chicken Katsu Curry - Wagamama
Aylesbury: Khao Suay - Simply Thai
Basingstoke: The Taxidriver - Gourmet Burger Kitchen
Bath: Chicken Tinga Burrito - Mission Burrito
Belfast: Burrito Bowl - Boojum
Birmingham: Chilli Squid - Yakinori
Bournemouth: Prince Charles is Overrated - 7 Bone
Brighton: The Dead Hippie - MEATLiquor
Bristol: 6oz Prime Beef Burger - The Burger Joint
Cambridge: Byron Burger - Byron Burger
Canterbury: Pork Roll - Pork & Co.
Cardiff: John Wayne - The Grazing Shed
Chelmsford: Chicken Katsu Curry - YO! Sushi
Cheltenham: Cod - Simpson's of Cheltenham
Chester: Kinder Bueno Waffle - Off The Waffle
Coventry: Classic 8oz Cheeseburger: Burgers by Millsys
Derby: The Bacon Cheddar Beef Burger - The Forge Gourmet Bar & Grill
Dundee: Build Your Own Pizza - The Canavan
Durham: Pad Thai with chicken - Nadon Thai
Edinburgh: Steamed Chicken Gyoza - Wagamama
Ellesmere Port: Two Dine At Home Meal - Prezzo
Exeter: Khao Suay - Thai Orchard
Glasgow: Cheese + Bacon burger - BRGR
Gloucester: Hunter's Chicken - On Toast
Guildford: Grilled Chicken Burrito - Tortilla
Harrogate: Smokeback Mountain - Boss Burgers
Hereford: Farmer Tom's Beef Burger - A Rule of Tum Burger Shop
Leeds: Chargrilled Chicken Tortilla - Barburrito
Leicester: Smokey and the Bandit - Meatcure
Lincoln: Huckleberry's Classic - Huckleberry's Bar + Grill
Liverpool: Awesome Frickin Chicken - Almost Famous
Livingston: Margherita - Pizza Express
London: Byron Burger - Byron
Lytham St Annes: American - Pizza Express
Manchester: Chargrilled Chicken - Barburrito
Milton Keynes: American - Pizza Express
Newcastle: Fat Hippo - The Fat Hippo
Norwich: Fried Duck Gyoza - Wagamama
Nottingham: Chargrilled Chicken - Barburrito
Oxford: Big Ron - Atomic Burger
Peterborough: Hot Fudge Hot n Cold Volcano - Creams
Plymouth: Hub Burger - Hubbox
Portsmouth: House Burger - 6oz Burger
Reading: Chicken Japan Katsu Curry - Coconut Bar & Kitchen
Royal Leamington Spa: Smokey + The Bandit - Meatcure Restaurants
Royal Tunbridge Wells: Chicken Thai Green Curry - Giggling Squid
Sevenoaks: Chicken Shish - Hattusa
Sheffield: Big Daddy Kane - Twisted Burger
Shrewsbury: Big Poppa - The Burger House Lab
Southampton: Prince Charles is Overrated - 7Bone
Southend on Sea: Texan - Mangetout
Southport: Mixed platter - Asiatique
St Albans: St Peter's Burger with Mature Cheddar Cheese - The Meating Room
Stirling: MJ's House Burger - Monterey Jack's
Stoke-on-Trent: The Taxidriver - Gourmet Burger Kitchen
Watford: Beef Cheese Burger - Tinseltown
Winchester: Pad Thai - Koh Noi
Windsor: Pad Thai - Thai Square
Worcester: 100% Grass Fed Herefordshire Beef - BurgerWorks
York: Chicken Satay - My Thai York
Does your go-to make the list?
Register for free to continue reading
Registration is a free and easy way to support our truly independent journalism
By registering, you will also enjoy limited access to Premium articles, exclusive newsletters, commenting, and virtual events with our leading journalists
Already have an account? sign in
Join our new commenting forum
Join thought-provoking conversations, follow other Independent readers and see their replies