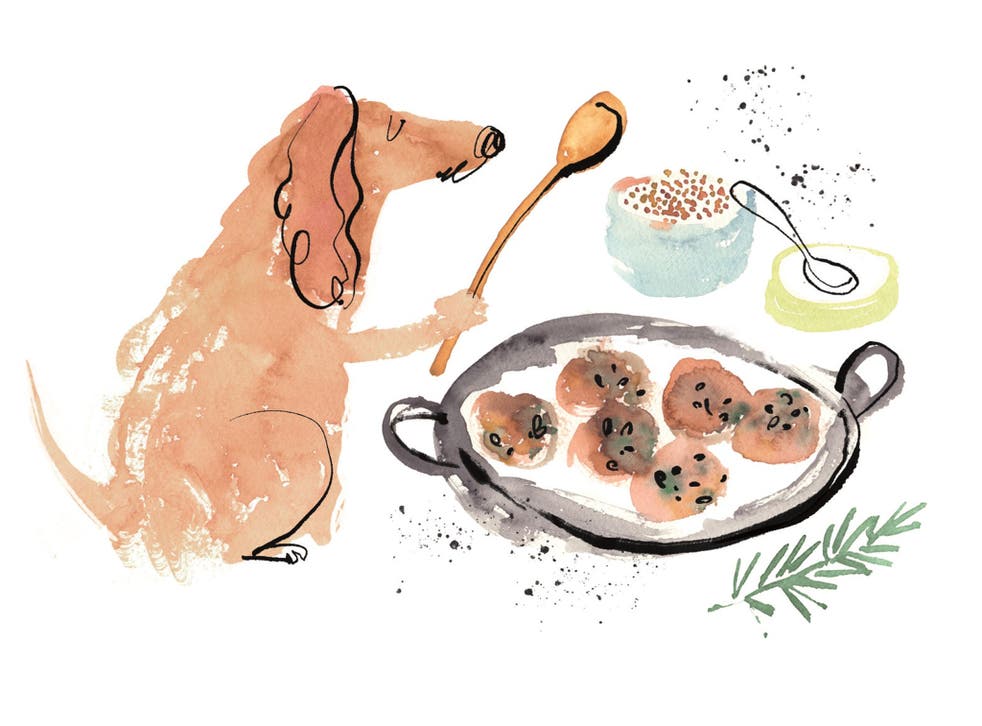 Dogs dinners: Eating with man's best friend
There's a big list of no-nos including chocolate, grapes, avocados and onions, but Debora Robertson advocates cooking (almost) the same food for our four-legged friends as we do for ourselves. Julia Platt Leonard puts it to the test
Whoever coined the phrase "it's a dog's life" never met today's generation of pampered pooches. We think nothing of flying budget so our four-legged friends can indulge in spa holidays while we're away.
We happily schedule puppy play dates and festoon our homes with orthopaedic dog beds so they're never more than a few metres away from a good snooze (full disclosure: we have seven beds in our home for two dogs. I leave you to do the arithmetic).
But make our own dog food? You'd have to be barking mad to do that. That's what food, gardening and lifestyle writer and editor Debora Robertson thought. But now she's written a book called Dogs' Dinners: The healthy, happy way to feed your dog.
It started innocently with a batch of doggie-breath bones for her pups, border terrier Barney and his younger sister, dandie dinmont terrier Gracie. "I think these are often the gateway snack and before you know it, you're gently poaching a bit of chicken or pureeing up some butternut squash, and then, BAM! You are a dog chef," she says.
But who wants to work like a dog to feed a dog? Robertson says you don't. "I started cooking simple things for them as I cooked our own human dinner, and realised that often I could adapt recipes to make them suitable for the dogs and for us," she says. She adds that most of the dishes from the book can be frozen so you can whip up a batch of mini meatloaves or lamb with millet, freeze individual portions, and pull out what you need, when you need it.
Robertson shares helpful guidance for cooking for dogs to ensure that what they eat is safe, including a list of no-nos such as chocolate, grapes, avocados and onions. To make sure they're getting a healthy diet she says that, "I try to stick to ratios of about 70 per cent meat, 20 per cent vegetables and fruits, and 10 per cent healthy grains, eggs and live yoghurt." Toss in some meaty raw bones from the butcher a couple of times a week and you're sorted. Robertson says Barney loves her shepherd's pie with sweet potato mash while Gracie eats anything. "They both will race across the park for the liver brownies though – they're a great training treat."
The dogs from Instagram

Show all 6
Still, I was – shall we say – sceptical. That is until Robertson invited me over to test a few of the recipes. When I walked in, I was met with the aroma of biscuits baking and meat sautéing – more like Robertson was cooking for a posh dinner party than dinner for the dogs. To prove the point, for lunch we ate what we cooked including a rather moreish dish of turkey and quinoa meatballs and beef, barley and broccoli casserole. The only difference was that we jazzed ours up with some salt and pepper, served it on china, and sat at the table.
The verdict? Reader, it was all delicious. Helpfully, Robertson includes lots of handy "for humans" tips throughout the book so recipes can be adapted easily, such as adding chopped chilli and spring onions to her salmon fishcakes and serving them with a Thai dipping sauce. She also talks about food for puppies, older dogs and those feeling a bit under the weather.
Back home, I fed my two hungry hounds sweet potato and sardine bake and doled out carrot and apple pupcakes for a special treat. They licked their bowls clean leaving scant forensic evidence that food had ever been there. Much smacking of lips and wagging of tails ensued. My collie-pointer (the Mensa of the two) gave me a look as if to say: "You've been holding out on us."
And that's the crux of Robertson's book – it doesn't take much effort to bring joy to our dogs' lives. It seems a tiny price to pay when you remember how much joy they bring to ours.
Turkey and quinoa meatballs
Quinoa is a great source of protein, and combined with the turkey or chicken, it makes a tasty and easily digestible snack. Of course, you can use minced beef or lamb if you prefer. Add the yoghurt dipping sauce if you want to be extra fancy. Which, of course, you do.
Makes 35 approx
500g minced turkey or chicken
200g plus 3 tbsp black, red or golden quinoa, cooked weight (approximately 60g uncooked)
200g lightly cooked, chopped spinach, drained and patted dry
2 tbsp ground flaxseeds (optional)
1 tsp freshly chopped rosemary (optional)
For the optional dipping sauce
A few tablespoons of live yoghurt, mixed with a little finely chopped mint
Preheat the oven to 200C/Fan 180C/gas 6. Line a roasting tin with baking parchment. Mix all the ingredients together in bowl until well combined.
Roll into walnut-sized meatballs (you should be able to make about 35). Place them in the lined tin and bake in the preheated oven for 25 minutes until cooked through and lightly browned.
Cool before feeding them to your dog, with a dollop of the yoghurt dipping sauce if you like. They will keep in the refrigerator for a couple of days or you can freeze them for up to 4 months.
If you're making these for humans, season them well with salt and pepper, break off a small piece and fry until cooked through and taste. Adjust seasoning if necessary and then either bake as above or fry until cooked through in a little olive oil.
Recipe from 'Dogs Dinners: The healthy, happy way to feed your dog' by Debora Robertson. Published by Pavilion Books (£9.99), out now. Illustrations: Cinzia Zenocchini
Join our new commenting forum
Join thought-provoking conversations, follow other Independent readers and see their replies