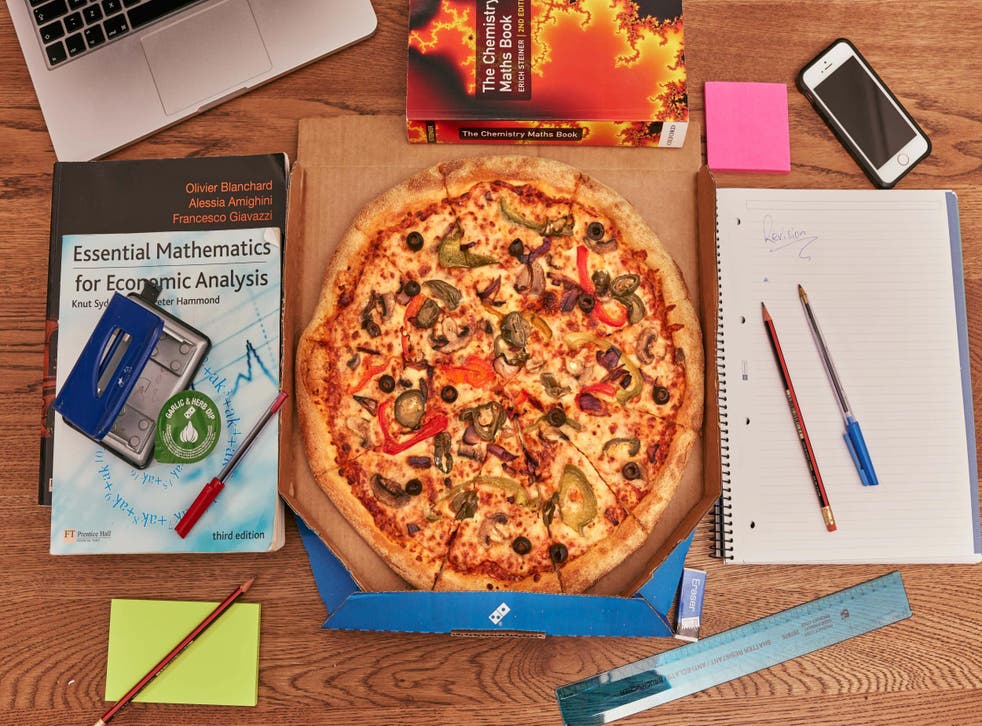 Can Domino's new 'brain food' pizza really enhance your mind?
But not all nutritionists are convinced by the claims
Rachel Hosie
Tuesday 12 December 2017 14:02 Comments
Whether you're pulling an all-nighter on your dissertation in the library or slaving over spreadsheets in the office, when you're struggling to stay focussed, pizza can often seem like the solution.
And now the student staple that is Domino's pizza has launched a limited edition pizza specifically designed to help boost your brain power.
The menu has been launched to celebrate the opening of a new Durham Domino's and it's been created with nutritionist Caroline Innes, BSc Hons Nutrition and Health Sciences.
It launches on 12 December, with the aim of seeing students through their January exams.
Topped with anchovies, chicken, red pepper and more, the idea is that the pizza's toppings will help enhance students' minds - but not everyone is convinced.
Innes says: "The brain needs a number of different nutrients to function effectively, such as glucose, vitamins and minerals, and essential fatty acids.
"In collaboration with Domino's, we have looked to use a range of toppings to create the ultimate revision treat, proven to help with cognitive function.
"For example, we chose chicken because it contains B vitamins which provides the brain with neurotransmitters serotonin, dopamine, and GABA (gamma-aminobutyric acid). Eaten in the right quantity, it could help improve concentration and memory, ahead of exams!"
Here are the toppings and their supposed brain benefits:
Anchovies: Omega-3 fatty acids, known to support mental development and visual acuity.
Chicken: B vitamins provide the brain with neurotransmitters serotonin, dopamine, and GABA (gamma-aminobutyric acid). Imbalances of these important brain chemicals can cause anxiety, insomnia, feelings of being overwhelmed and an inability to focus.
Red peppers: B vitamins and vitamin C, as well as iron which helps to transport oxygen via the bloodstream around the body, and into the brain.
Red onions: B vitamins, vitamin C, as well as anthocyanins which can help eyesight.
Black olives: Iron, as well as vitamin E to enhance memory and cognitive skills.
Mushrooms: B vitamins and Iron, which is particularly important as this helps to transport oxygen around the body, and into the brain.
Jalapeños: Capsaicin and Vitamin C, which plays a role in the metabolism of certain minerals associated with neural pathways and brain function.
Tomato: Vitamin C, anthocyanins, lycopene which can help to slow down destruction of brain cells.
Sweetcorn: Vitamin C plus antioxidants zeaxanthin and lutein which are good for eye health.
Herbs: Sage and rosemary are known to improve memory and concentration.
The vegetarian option features mushrooms instead of anchovies and chicken.
We tried the pizzas and it's safe to say they went down a treat. Anchovy lovers will enjoy the carnivorous version of the pizza, and the veggie one was similarly demolished.
However whether we all felt brainier after consumption is still up for debate. One Independent writer felt her brain was working less efficiently because she had "pizza on the brain," but one of our sub-editors managed to come up with a brilliant pun post-pizza - "Thanks to the brain pizza for that brainwave," he said. "I do actually feel a bit brainier!"
Nutritionist Rhiannon Lambert, however, is not entirely convinced by Domino's claims:
"Pizza can still be a balanced meal, with protein, carbs, fat and veg," she explained to The Independent. "However, claims such as these are extreme."
She says that while nutrition can play a role in helping the body function, one item of food cannot directly affect one body part, it's a combination of things.
"As I can't see the full list of ingredients I cannot see what amount of oil and salt they add to the pizza which may make it a less healthy option for students owed to the saturated fat content.
"The research on omega-3 and the brain is fascinating and whilst there are links, it is not conclusive that simply having an additional topping on a pizza is going to impact your brain power, especially as the quantities of topping are unlikely to provide enough of each nutrient discussed to have any impact in the body.
"By encouraging students to consume Domino's it may also be interfering with their overall outlook on how they perceive food choices in the future as a Domino's pizza shouldn't be seen as a regular addition to a diet but an occasional item to be enjoyed."
Lambert advises that studying shouldn't revolve around food either.
"The flip side is that consuming more vegetables and oily fish is good for you but everything is relative to the overall quality of each individual's diet," she says.
"I always encourage a balanced healthy diet and food to be seen as fuel which aid performance and mood but you simply cannot make promises and claims in this way."
The pizza will be available in Domino's in Durham but can also be ordered online nationwide by typing in the codes BRAINFOODPIZZA1 (meat) or BRAINFOODPIZZA2 (vegetarian) into the Pizza Legend box on the website.
Register for free to continue reading
Registration is a free and easy way to support our truly independent journalism
By registering, you will also enjoy limited access to Premium articles, exclusive newsletters, commenting, and virtual events with our leading journalists
Already have an account? sign in
Join our new commenting forum
Join thought-provoking conversations, follow other Independent readers and see their replies