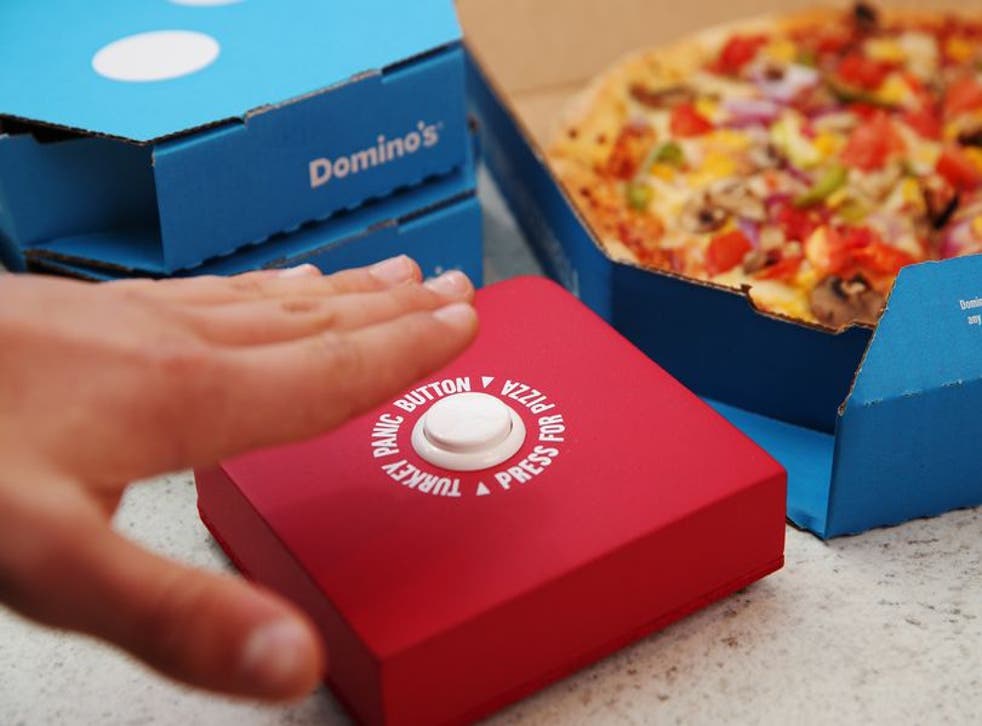 Domino's launches 'press for pizza' button service for people bored of Christmas leftovers
Trial service launches on 27 December
Olivia Petter
Saturday 26 December 2020 16:49 Comments
Leer en Español
Domino's is looking for volunteers to trial a new "push for pizza" service, which will enable customers to make orders via their own personal buttons.
The fast food chain has launched the "Turkey Panic Button" on 27 December in the hope that it will appeal to consumers who have tired of traditional Christmas foods.
Those who volunteer for the service will receive their own button and be able to push for pizza at their leisure.
The pizza will then be delivered for free.
If the trial is successful, Domino's will consider rolling out the technology nationwide for Christmas 2021.
Domino's spokesperson, Melanie Howe, said: "With everything 2020 has thrown at us, the last thing we need on our dining tables at the end of the year is yet another plate of dry turkey.
"We had a hunch most of the country thought so too, and our research showed we were absolutely spot on."
Those who wish to take part in the trial are advised to keep an eye on Domino's social media platforms on 27 December.
Successful applicants will be contacted on 28 December and asked to share the details of their preferred pizza order.
They will then be able to order one pizza each day up until 1 January between the hours of 12pm and 8pm.
The trial comes after Domino's launched two new plant-based pizzas and a vegan-friendly version of its popular garlic and herb dip.
In September, the fast food chain kickstarted its nationwide rollout across all of its 1,200 stores following a trial in 46 outlets earlier this year, which Domino's described as "highly successful".
The new pizzas are made from a hand-stretched vegan dough and a plant-based cheese that does not contain any dairy or animal-derived products.
Register for free to continue reading
Registration is a free and easy way to support our truly independent journalism
By registering, you will also enjoy limited access to Premium articles, exclusive newsletters, commenting, and virtual events with our leading journalists
Already have an account? sign in
Join our new commenting forum
Join thought-provoking conversations, follow other Independent readers and see their replies