The Independent's journalism is supported by our readers. When you purchase through links on our site, we may earn commission.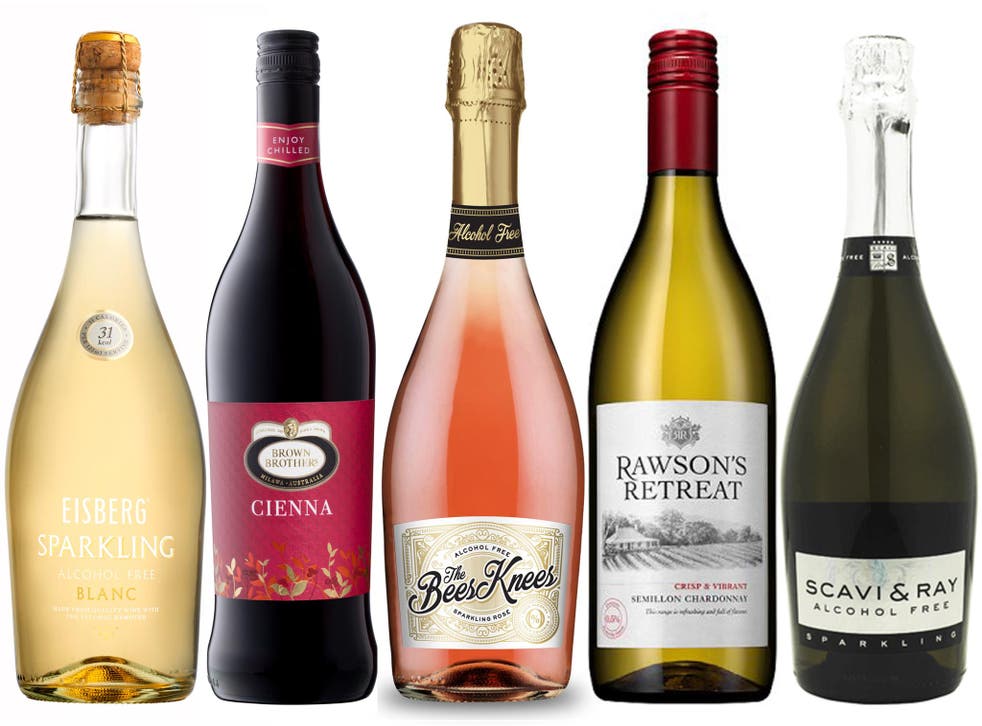 Wines of the week: What to drink in dry January
Terry Kirby rounds up the best booze-free options for those doing dry January – or at least attempting to moderate their alcohol consumption after a slightly inebriated December
Dry January is not my own personal method of overcoming one of the bleaker times of the year: a steaming casserole and a big warming red wine in front of the fire is the best way in my home… and while there is every reason for some abstinence and moderation in our alcohol consumption, let's leave it for later in the year, shall we? We will return to warming wines for winter next week, but for those of us determined to go dry right now – or just reduce consumption for a few weeks – what options does the wine drinker have?
Precious few, unfortunately. While there are some perfectly decent non-alcoholic beers and lagers around, the same cannot really be said about alcohol free wine, which is created by either using unfermented grape juice or de-alcoholised wines, which is made in the normal way and then, by various methods, has the alcohol taken out. The result is often bland or simply over-sweet; reds tend to taste like Ribena and the best bets are usually whites, roses and sparklers.
One of the most common de-alcoholised brands is the German Eisberg label, which has a range of varietal still wines and a couple of sparklers. I'm afraid I'm reluctant to recommend the still wines but both the Eisberg Sparkling Blanc (£3.19 Waitrose, Ocado.com; normally £3.99; until January 23) and the Sparkling Rose (£3.20; normally £4.00 until January 23, Ocado.com) are acceptable, effervescent sparklers that can go some way to satisfying your Prosecco addiction for a week or so, but then so can elderflower cordial and sparkling mineral water…. In a similar vein is the Bees Knees Sparkling White (£3.49 normally £3.99; until January 23 Ocado.com; £4.54 Amazon.co.uk and Sparkling Rose (£3.00 Morrisons), also made in Germany, this time from a combination of grape juice, sparkling water and green tea; weird but it sort of works and makes for a vibrant and refreshing mouthful. More authentic is Scavi and Ray Alcohol Free Prosecco, (£8.99 Drydrinker.com, Lightdrinks.co.uk) made by an orthodox Prosecco producer from the Glera grape, but with the alcohol taken out.
A big wine maker which has tipped its toes into alcohol free wine is the Spanish Torres outfit, which has the still de-alcoholised Natureo range: a Muscat, Syrah/Cabernet Sauvignon Rose and Syrah Red (Priced between £4.79 and £7.49 at Waitrose; Amazon.com; Ocado.com; Drydrinker.com and Lightdrinks.co.uk) The Muscat is soft, sweetish and lemony, but quite quaffable when mixed, spritzer style with sparkling mineral water, as is the rose, which has very full on strawberry flavours.
Possibly the closest to a genuine white wine I tasted is the Australian 0.5ABV Rawson's Retreat Semillon Chardonnay (£3.20; until January 22; normally £4.00 Tesco): juicy, citrusy, crisp and with an attractive slight petillance. There is also a decent Sparkling Chardonnay Pinot Noir Muscat (£3.60 until January 22; normally £4.50 Tesco).
So much for zero alcohol. If you just want to reduce the level of alcohol or desire a break from a zero-alcohol routine, there a quite a few lower alcohol alternatives out there. Try the Old Coach Road Sauvignon Blanc Light, (£9.99 Robertsandspeight.co.uk; £11.99 Tauruswines.co.uk) made by reputable Seifried Estate in Nelson, New Zealand which has only 9.5ABV but all the distinctive citrusy, grassy, zingy flavours of typical SB. Marks and Spencer also has the similar South African Sumika range, of which the Sauvignon Blanc (£7.50) at 8.5ABV, is worth trying. Finally, about the only red worth considering, but only really as a dessert wine, is the Australian Brown Brothers Cienna, (£8.75 Sandhamswine.co.uk £9.95 Slurp.co.uk ) at only 7.5ABV, which bursts with ripe, sweetish cherry and raspberry flavours, underpinned with a touch of spice.
All these wines are best drunk chilled and probably more suited to the lighter foods and warmer weather of high summer, rather than a British winter. But, hey, January is only a few weeks and I applaud the strength of will of anyone who can make it through AND be alcohol free….
Register for free to continue reading
Registration is a free and easy way to support our truly independent journalism
By registering, you will also enjoy limited access to Premium articles, exclusive newsletters, commenting, and virtual events with our leading journalists
Already have an account? sign in
Register for free to continue reading
Registration is a free and easy way to support our truly independent journalism
By registering, you will also enjoy limited access to Premium articles, exclusive newsletters, commenting, and virtual events with our leading journalists
Already have an account? sign in
Join our new commenting forum
Join thought-provoking conversations, follow other Independent readers and see their replies