Brunch on Saturday: Duck and Waffle Local review and crushed broad beans recipe
This week, Kashmira Gander visits Duck and Waffle Local and stomachs duck tongues for breakfast and we swap smashed avocado for broad beans for a recipe at home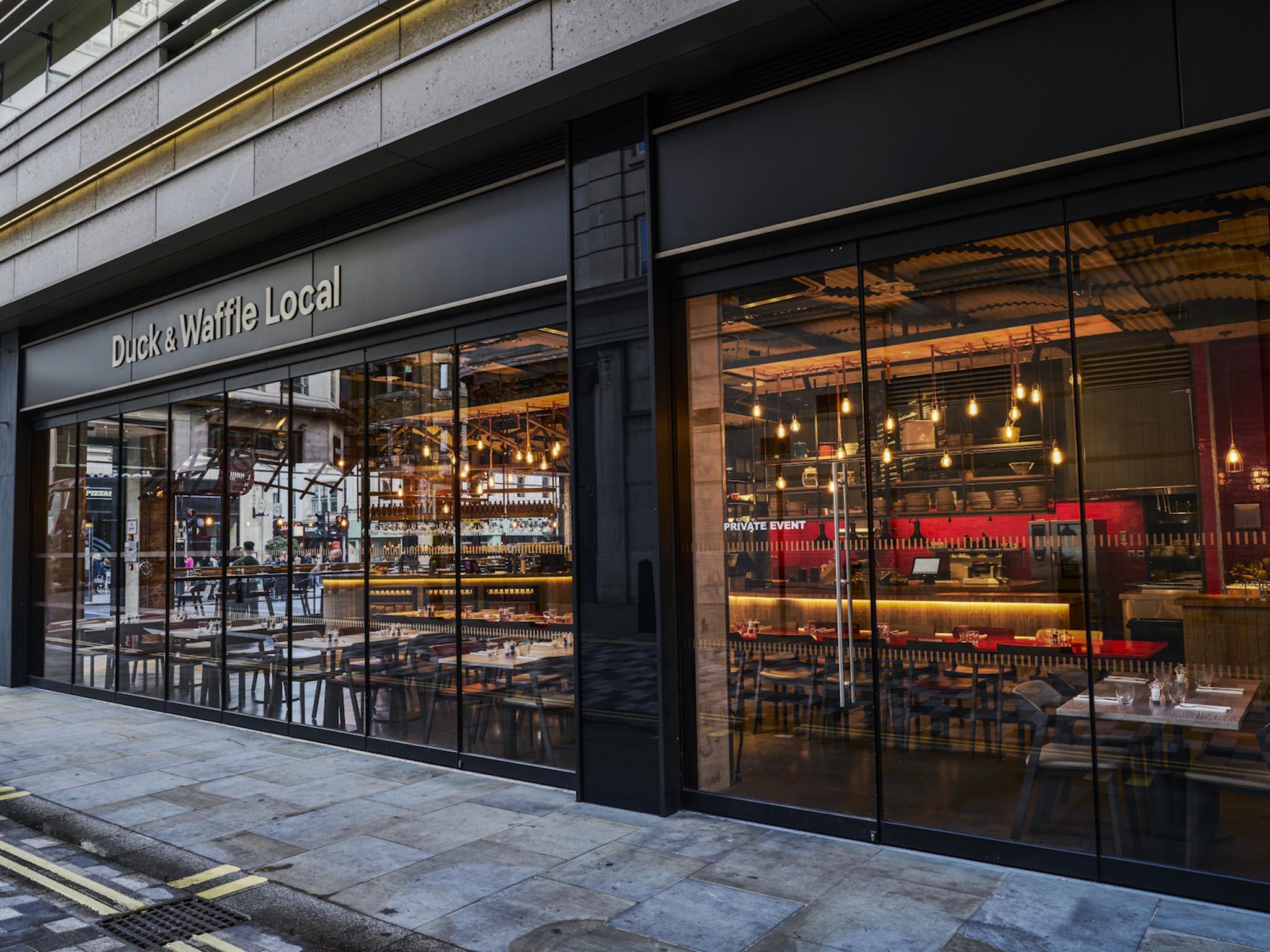 Brunching out..
Towering 40 floors above the City in the Heron Tower and open 24/7, Duck and Waffle has earned a reputation as a high-quality haunt for banker types with an air of giddy fun. So its sister restaurant Duck and Waffle Local, very much on the ground on Haymarket Road, a few paces from Piccadilly Circus, has been eagerly awaited.
After opening in May, Duck and Waffle Local introduced its brunch menu in early September. It features well-known dishes including – of course – the eponymous signature confit duck with waffle and a fried egg, as well as Colombian eggs and shakshuka.
The breakfast duck burger is a fresh addition to the menu, built between two brioche buns, with crispy duck leg, miso mayonnaise, spiced slaw and topped with a disk of crispy noodles. The maple cured bacon chop, with smoked baked beans, a fried duck egg, a buttermilk biscuit, and foie gras, and dry fried duck tongues are also new.
In order to enjoy Duck and Waffle Local, it's important to remember a few things, most importantly that this isn't Duck and Waffle. Secondly, this seems to be a place to funnel tourists away from Dan Doherty's original offering in the Heron Tower. The decor featuring multi-coloured corrugated iron sheets and wood arranged like a nest on the ceiling beside the screaming-red kitchen area goes against the pared-back minimalism of a lot of restaurants at the moment. The interior and counter ordering system make it feel bit like a Nando's, which isn't necessarily a bad thing. It's just decidedly different to the flagship. You also can't book, unlike the Heron tower restaurant where tables are notoriously difficult to secure. Go knowing this to avoid feeling disappointed.
The food also matches the visual assault. The duck burger is tasty, quite sweet, very big and not subtle; the Sichuan spiced duck tongues are a fun side for the table but require a strong stomach when eaten for breakfast. And the fries with rosemary and salt are, again, delicious but don't require any chin stroking to get to the bottom of.
Food and drink news
Show all 35
So, for visitors to London who want to check the Duck and Waffle name off their to-do list but fail to get a reservation at the original, or locals who fancy a quick, relatively cheap and reliable brunch for between £8 to £12 a plate, this is a great place to head.
Duck and Waffle Local, 2 Haymarket, St. James's, London SW1Y 4RP; 020 3900 4444; open daily; duckandwafflelocal.com
Brunching in...
Crushed broad beans
This garlicky paste appears in one of our earlier books (Saha). We created it as an accompaniment for flattened, char-grilled chicken, after enjoying a similar dish on one of our visits to Lebanon. We had such enthusiastic feedback that we offer it again here as a standalone dip or spread. Beware, it's fiendishly addictive.
1kg (2lb 4oz) fresh broad beans, about 200g (7oz) podded weight
1 clove garlic crushed with ½ tsp sea salt
1 shallot, very finely diced
¼ cup coriander (cilantro) leaves, finely chopped
50ml (2fl oz) extra-virgin olive oil
pinch of cayenne pepper
freshly ground black pepper
juice of 1 lemon
To serve
4 slices sourdough toast
2 big handfuls mixed leaves (we like lambs lettuce, mizuna, purple basil or watercress)
pinch of cayenne pepper
best quality extra-virgin olive oil
Bring a saucepan of salted water to the boil and blanch the broad beans for 2-3 minutes, although the time will somewhat depend on their size. Tip into a sieve to drain, then peel them and set aside to cool completely. Pound the garlic and salt to a smooth paste. Next, add the broad beans and all remaining ingredients, one by one, to the mortar and pound to a rough, sludgy kind of paste. It's much easier to do this in a food processor, but take care you don't over-process. You definitely want to retain some texture.
When ready to serve, mound the beans onto slices of toasted sourdough and top with a mixture of leaves. Add a pinch of cayenne, then drizzle with extra-virgin olive oil and serve.
New Feast: Modern Middle Eastern Vegetarian by Greg & Lucy Malouf (Hardie Grant, £20)
Join our commenting forum
Join thought-provoking conversations, follow other Independent readers and see their replies