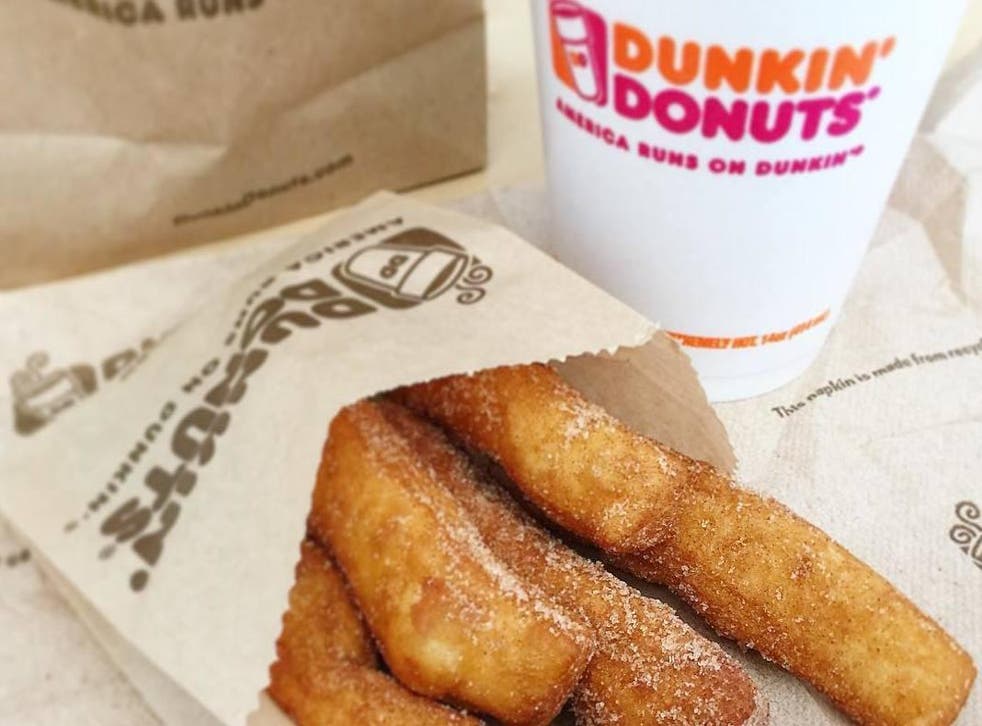 Dunkin' Donuts launches 'donut fries' as part of new snack menu
The sugary snacks have been released on a trial basis
Dunkin' Donuts has added 'fries' to its menu - and they could be our dream on-the-go dessert.
That's because the long thin snacks added to the menu are made from sweet donut dough rather than potato, and would probably taste pretty good dunked in jam or honey, rather than ketchup or BBQ sauce.
The global donut company and coffeehouse is trialling a selection of new products across several of its stores in Boston and the consumer reaction has been predominantly positive so far.
Three days ago, a Reddit user revealed that the other foodie creations also being offered on the $2 (£1.42) snacking menu include munchkin dippers, ham and cheese roll-ups, a gluten-free brownie, pretzel bites, waffle breaded chicken tenders and warm cookies.
While the donut fries have been only been released in a limited number of locations, customer feedback will determine whether Dunkin' Donuts decides to offer the snacking menu nationwide in future.
"As part of Dunkin' Donuts ongoing commitment to menu innovation and meeting the needs of on-the-go guests, the brand is now testing a new $2 [£1.42] snacking menu at a small number of its restaurants in the Boston market, including 265 Franklin Street (Boston), 100 Harborside Drive (Logan Airport) and 588 Washington Street (Quincy)," Dunkin' Donuts said in a statement given to The Independent.
"The snacking menu features several new sweet and savoury items that pair perfectly with Dunkin' Donuts signature beverages and are ideal for an energising afternoon break.
"The test is designed to gather valuable feedback from consumers, franchisees and their employees to help inform future decisions about a possible national rollout."
There's no news as of yet whether this snacking menu will eventually be made available in the UK.
However, if customer feedback is anything to go by, donut fries may soon become a permanent fixture on the Dunkin' Donuts menu.
"@dunkindonuts needs to bring these to every #coffee shop," one person wrote on Instagram. "#donutfries are amazing!"
Dunkin' Donuts has reported that donut fries are only being sold in select stores in Boston.
However, one Instagram user has stated that she purchased the doughy treats in Salem, New Hampshire.
"So Donut Fries are a real thing…" she wrote, tagging the location in the picture and confirming where she bought the donut fries in the comments.
Register for free to continue reading
Registration is a free and easy way to support our truly independent journalism
By registering, you will also enjoy limited access to Premium articles, exclusive newsletters, commenting, and virtual events with our leading journalists
Already have an account? sign in
Register for free to continue reading
Registration is a free and easy way to support our truly independent journalism
By registering, you will also enjoy limited access to Premium articles, exclusive newsletters, commenting, and virtual events with our leading journalists
Already have an account? sign in
Join our new commenting forum
Join thought-provoking conversations, follow other Independent readers and see their replies