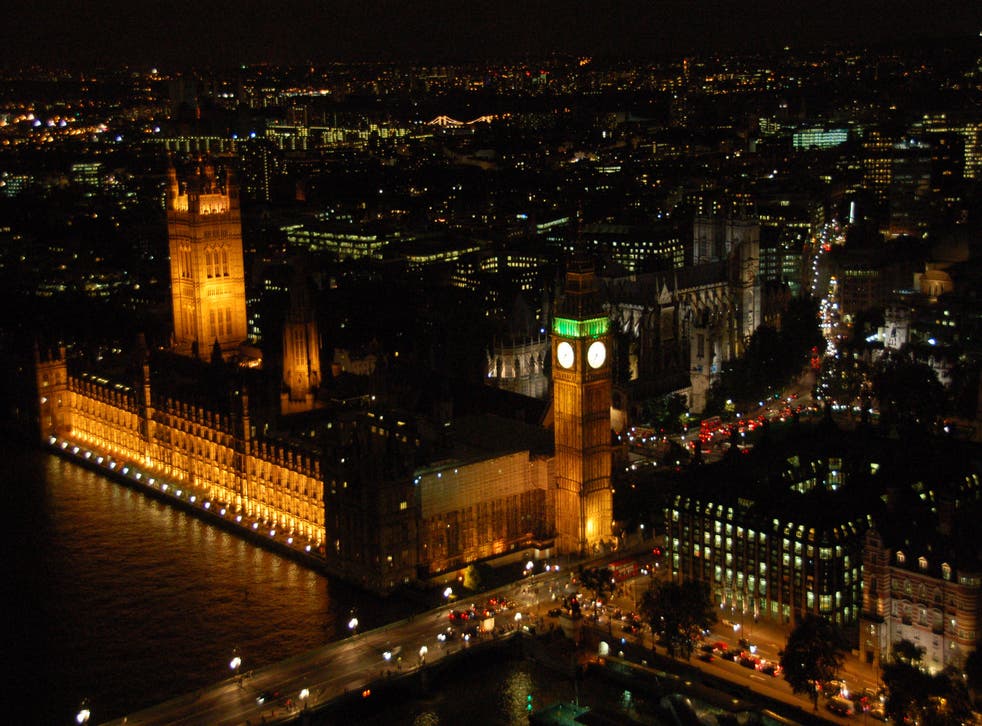 Earth Hour 2015: millions will turn off lights and electricity to fight climate change. Will you?
As WWF encourages everyone to switch off for one hour, it's time to think about how the 7m tonnes of food we waste fits in. If we stopped throwing it away, it'd be the equivalent of taking a quarter of the world's cars off the road
In keeping with today's busy lifestyles, convenience is key. We drink our coffee on the run, eat with plastic cutlery at our desks, buy pre-packed sandwiches and salads. But nowadays, we all know what a carbon footprint is, and many of us take steps to minimise ours. We use reusable coffee cups and avoid packaging when buying fruit and veg. But what about the actual food - how much food do you chuck away every year? Not much? How about the restaurants you eat in, the supermarkets you shop in?
We throw away seven million tonnes of food and drink from our homes every year in the UK - more than half of which we could have eaten, according to new research carried out by the WWF. The environmental group has long lobbied the public and big business to reduce waste, and its flagship annual event Earth Hour is now in its ninth year, growing from a grassroots movement to a worldwide phenomenon. Last year, people in 162 cities and 7,000 towns took part, switching off their lights and electronics for just one hour, and this year major landmarks including the Sydney Opera House, Times Square, Big Ben and The Houses of Parliament will be plunged into darkness to mark the occasion.
But what does turning out your lights have to do with food waste? For the sceptics out there who rubbish the grand gesture of sitting in the dark in your sitting room for an hour while whole office blocks stay ablaze 24/7, Earth Hour is about shifting general awareness, says Rachel Bloodworth, head of public engagement at WWF-UK.
"Earth Hour is so much more than one hour of activity and it has grown into the world's largest environmental event, driving awareness and positive action for the protection of the planet. From crowdfunding to campaigns to protect The Great Barrier Reef or The Amazon, Earth Hour is having a real and lasting impact. Last year over 9 million people took part in the UK and 85% of those that signed up said they felt inspired to go on to live more sustainably beyond the hour."
So how do we live more sustainably? We all know the best ways to 'do the right thing' with the environment. We know about air miles, buying locally and in season. But rarely do we consider the impact of chucking out those past-it potatoes. If we stopped wasting food, WWF says, it would the equivalent of taking a quarter of the world's cars off the road.
This does not, of course, mean we should all be sucking it up and chowing down on mouldy cheese. But a bit of forward planning can help cut food waste. Cook in batch and freeze meals, only buy smaller portions of perishable foods as you need them and plan your meals for inventive ways to use the existing ingredients in your fridge.
10 best Fairtrade food and drink

Show all 10
It still seems small fry compared to the amount restaurants and supermarkets throw out every year. In his book, Waste: Uncovering the Global Food Scandal, Tristram Stuart lays bare the shocking amount of food thrown out every year by supermarkets.
"In one day, I discovered, a grocery store can easily throw out enough to feed more than 100 people," he writes in his book. "Back then, most supermarket managers were not interested in the issue of what to do with unsold food. Their activities were constrained by company policies which determined that surplus should be sent to landfill. They were in the business of selling food – and many bosses believed that giving it away would undermine sales. It made more sense for the supermarkets to lock the food in bins and send it off to be buried, regardless of the social and environmental costs. And while the population has become more aware of food waste, this remains the default position for the industry today."
Farmers and food suppliers are also forced to bear the brunt of food waste. Row after row of crops will be discarded because the vegetables are the wrong shape to the accepted 'norm'. You might have heard of the "bendy banana law", the EU diktat that cucumbers must be "practically straight", with a gradient of no more than 1/10, and bananas, of course, bendy. This meant that a huge amount of produce had to be scrapped, at a time of global food shortages. The bonkers ban was lifted in 2009, but supermarkets still exert pressure on suppliers to conform to the norm. And we consumers still expect our bananas to be bendy, and won't put the too-knobbly carrots in our basket.
However, there is some hope. In 2013, Tesco was among supermarkets that began offering less-than-pretty produce at reduced rates. In France, Intermarche went one better, inspiring an 'inglorious' fruit and veg revolution with its popular advertising campaign.
In Brighton, one restaurant set out with the ambitious task of achieving a zero waste status. This seems like an impossible feat - a restaurant must stock enough food to allow for a certain number of customers, regardless of what they order or whether they actually arrive. Then there's the very obvious question of what to do with the food diners leave on their plates - it can't exactly go back in the pot for Table 13. But SILO seems to have it down to a fine art.
Douglas McMaster was inspired to set up SILO, after running a similar, smaller venture in Melbourne. His team has developed primitive pre-industrial food systems to produce their food - milling their own flour, using raw milk, making their own butter and cheese - to ensure that as little pollution is caused in the production. Everything the restaurant buys in comes without packaging, and they use a select group of organic, local farmers and distributors - even their coffee beans arrive in the country by sailboat. Any leftovers go into an on-site anaerobic digestor, which uses microbial action to break down the food in a far more efficient way than a regular composter.
One thing McMaster refused to sacrifice, though, was taste. "To get foods without packaging, with as little processing as possible, you have to go to organic farms. We wanted to keep the food as close to its purest form as possible with everything we do, and the result is really great food.
"We get two kind of customer groups - foodies in their 30s and 40s and people who are quite health conscious. Some know about our methods, others don't, but they engage subliminally - they know the food tastes good, the coffee tastes good, and this is what will keep them coming back."
It's far from easy, McMaster admits, to run a zero-waste operation, and it's certainly a more expensive way of doing business. "Food like this costs more to produce because the capital is in mass production. But if the demand grows, the prices will come down. In the meantime, if I can convince people visiting my restaurant how great local, organic, sustainable food tastes, it's a step in the right direction."
Bloodworth agrees. "Wasted food is a waste of resources and carbon. It is good to see some supermarkets, such as Tesco, and restaurants taking this seriously and working to reduce their own waste and that of their suppliers and customers."
Food for thought. So if you're planning a candlelit dinner for two during Earth Hour, make sure you clear your plate...
Earth Hour will be held on 28th March 2015 between 8.30pm and 9.30pm. wwf.org.uk/earthhour
Register for free to continue reading
Registration is a free and easy way to support our truly independent journalism
By registering, you will also enjoy limited access to Premium articles, exclusive newsletters, commenting, and virtual events with our leading journalists
Already have an account? sign in
Register for free to continue reading
Registration is a free and easy way to support our truly independent journalism
By registering, you will also enjoy limited access to Premium articles, exclusive newsletters, commenting, and virtual events with our leading journalists
Already have an account? sign in
Join our new commenting forum
Join thought-provoking conversations, follow other Independent readers and see their replies