Emile restaurant review: Catch it while you can
From the team behind the Drapers Arms pub is this pop-up, with simple, but competent cooking full of unfussy piggy joy and the capital's new pasta standard, says Ed Cumming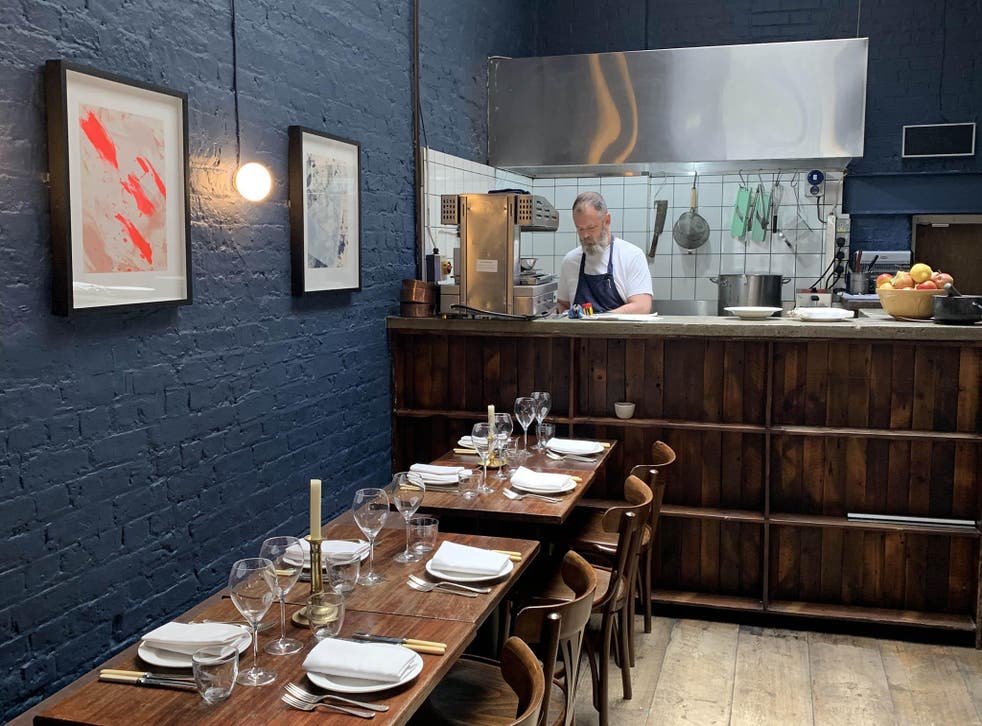 Recently, I've been learning about having a baby, which has been a good chance to remind myself of one of my favourite pubs.
The classes are in the upstairs room of the Drapers Arms in Islington.
Research shows that it's crucial to expose unborn children to superior gastropubs, and they don't come much better: a set of high-ceilinged rooms in Barnsbury, the most genteel of the Islington micro-boroughs, with well-kept beer, interesting wines and robust grub.
Good luck getting in on a Sunday.
Now the landlord, Nick Gibson, has teamed up with Damian Clisby, formerly of Petersham Nurseries, to create Emile, a pop-up on Curtain Road, Hackney whose location more or less marks the spot where "trendy" Shoreditch becomes corporate Liverpool Street.
Clisby is on food, Gibson is on wine, but more importantly, you can tell that the whole place is imbued with a practised sense of hospitality. They know what they're doing, and it shows.
Amid the skyscrapers and luxury flats, it feels like a haven of domesticity, with blue-painted brick walls and bare tables lit by candles in holders. The martinis, served in frozen glasses, are already acquiring a cult reputation.
The menu will not be unfamiliar to anyone who has eaten out in central London in the past 10 years. Sort-of British, sort-of short. It's changing but also unchanging.
There is always bread and butter and potatoes with anchovies. There is always some kind of pate. Croquettes. Pastas. Slabs of specific meat with detailed provenance.
One day I visit, the croquettes are made with Lincolnshire poacher, and exceptional. On another, they might have crab in them, and I would be surprised if they were not also exceptional.
Pappardelle with chanterelles lived up to the new London pasta standard. Meat was a Tamworth pork chop from Paddock Farm with cavolo nero, sage and capers – unfussy piggy joy. Salads didn't feel like an afterthought. They do a Sunday lunch, too, which reports suggest has not become a playground of beards and Bugaboos.
One of the guys I was with prides himself on only eating one meal a day, so it always has to count. He was relaxed enough to order a bottle of Puligny-Montrachet. There's a business lesson. Simple, competent cooking, that doesn't make you worry if you're been robbed or silently mocked by the kitchen, gives you more confidence in everything else, including the bottom of the wine list.
We ended up spending close to £100 a head, happily spinning a lunch out over four hours, but you could do it for far less.
At lunch, there is a set menu of two courses for £19 and three for £23. There might be more interesting restaurants out there, with more elaborate concepts, where dishes have to be explained in more detail, but few I would more readily return to.
The only sadness is that it's just a pop-up, due to close later this year. Go while you can.
Should you go? Yes
Would I go back? Yes
Could you take your parents? Yes
Emile, 26 Curtain Road, Hackney, London EC2A 3NY; 07496 568921; Tues-Sat; emilerestaurant.co.uk
Register for free to continue reading
Registration is a free and easy way to support our truly independent journalism
By registering, you will also enjoy limited access to Premium articles, exclusive newsletters, commenting, and virtual events with our leading journalists
Already have an account? sign in
Register for free to continue reading
Registration is a free and easy way to support our truly independent journalism
By registering, you will also enjoy limited access to Premium articles, exclusive newsletters, commenting, and virtual events with our leading journalists
Already have an account? sign in
Join our new commenting forum
Join thought-provoking conversations, follow other Independent readers and see their replies