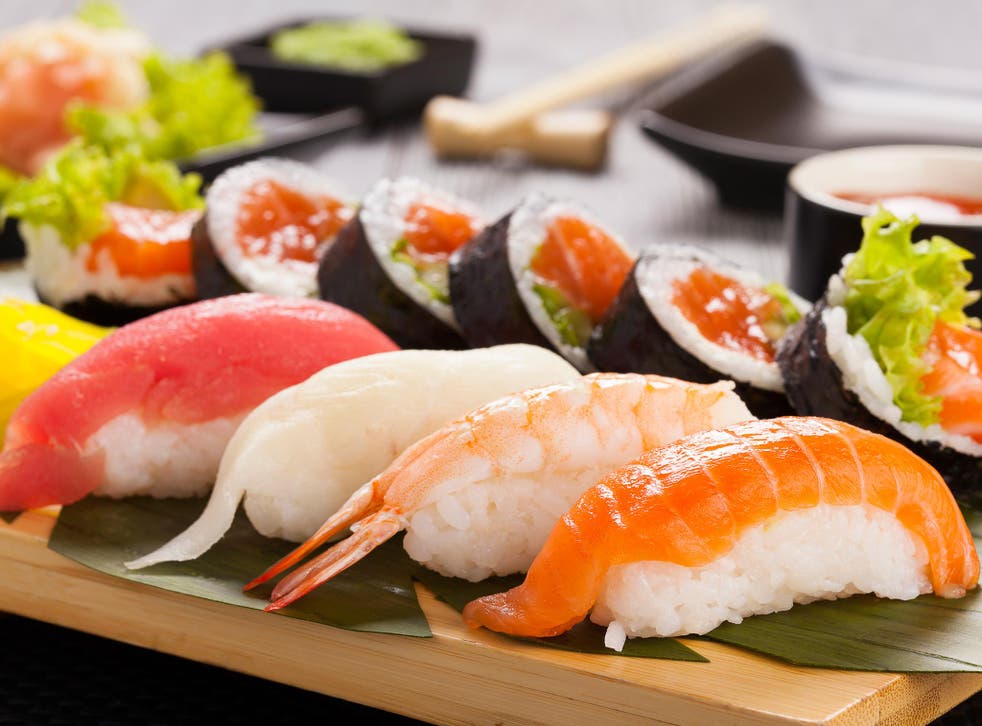 Sushi, Beef and Cheese: A food expert's guide to avoiding fake food
Best-selling writer Larry Olmsted spent four years digging deep into the world of fake food 
Fish, beef, and coffee are among the staple foods of many people's diets – but they are also the most likely to be counterfeited, an expert has told The Independent.
US-based food writer Larry Olmsted spent four years investigating the world of falsely sold and packaged food, travelling across the world from Japan to South Africa. His results were compiled in his bestselling book Real Food, Fake Food.
"Seafood would be the worst category overall," Olmsted told The Independent, with sushi at the top of the list. "When you order the priciest most desirable white fish, such as red snapper, grouper, and the like, most of the time you are just not going to get them. Species substitution, with a cheap fish swapped for a desirable one, is commonplace." Ground "lobster" in ravioli and caviar, he adds, are also prone to being faked.
"With the exception of the most expensive and elite sushi eateries that fly in their own fish, the failure rate of restaurants having at least one fake on the menu when tested approaches 100 per cent."
The world's biggest food fights

Show all 11
Other foods that are easily counterfeited include extra virgin olive oil - with several heists in France and Italy in 2016 - higher-end cheeses and honey, while Japanese wagyu and Kobe beef are "plagued with fraud".
Olmsted's message is that if a food seems too good to be true in terms of price, it probably is.
As for drinks, ground coffee is widely subjected to adulteration, while "you can never tell what animal's milk cheese is made from by looking at it, so cheap cow's milk is sold as pricier goat or sheep milk cheese," he added.
Readers heading to restaurants are advised to beware of what he calls "menu hyperbole."
"Beware of any adjectives that appear to add value, such as 'grass fed' or 'dry aged' beef, 'wild caught' fish, 'humanly raised' poultry and even 'organic'' as well as geographic claims like 'Alaskan' salmon," he said, as such terms can be vague and meaningless. As for supermarket packaging, he adds, buzzwords should be red flags, most notably: "natural," "pure," and "real".
The UK in particular has a manuka honey problem, he added, with one study showing that most brands shelves were not real, while similar issues were found in with substitution in premium goat and sheep cheeses.
But Olmsted stressed that he doesn't want to frighten people. Not all food is fake. Ordering products close to their form – such as a whole lobster or fish – can prevent trickery.
In Japan people binge eat 500 bowls of noodles called 'wanko soba'
"Scotch whisky is the single most reliable and protected foodstuff on earth," he said, adding that the PDO seal, which appears of food and drink including Parmigiano-Reggiano cheese and Champagne, guarantees it is real.
"Ironically cheaper foods are usually more authentic - if you see a menu or store selling farmed salmon it will be true because there is no cheaper substitute. I recommend biking from producers, like a farmer or rancher you know."
"I don't want people to be scared to eat," he added, "I want them to eat better and enjoy delicious food. Be adventurous, be hungry, but be informed."
Join our new commenting forum
Join thought-provoking conversations, follow other Independent readers and see their replies