Restaurant review
The Farmers Arms, Devon, restaurant review: This won't stay a secret for long
This tiny village in north-Devon is being regenerated by a tech multi-millionaire, but it's keeping it all about the locals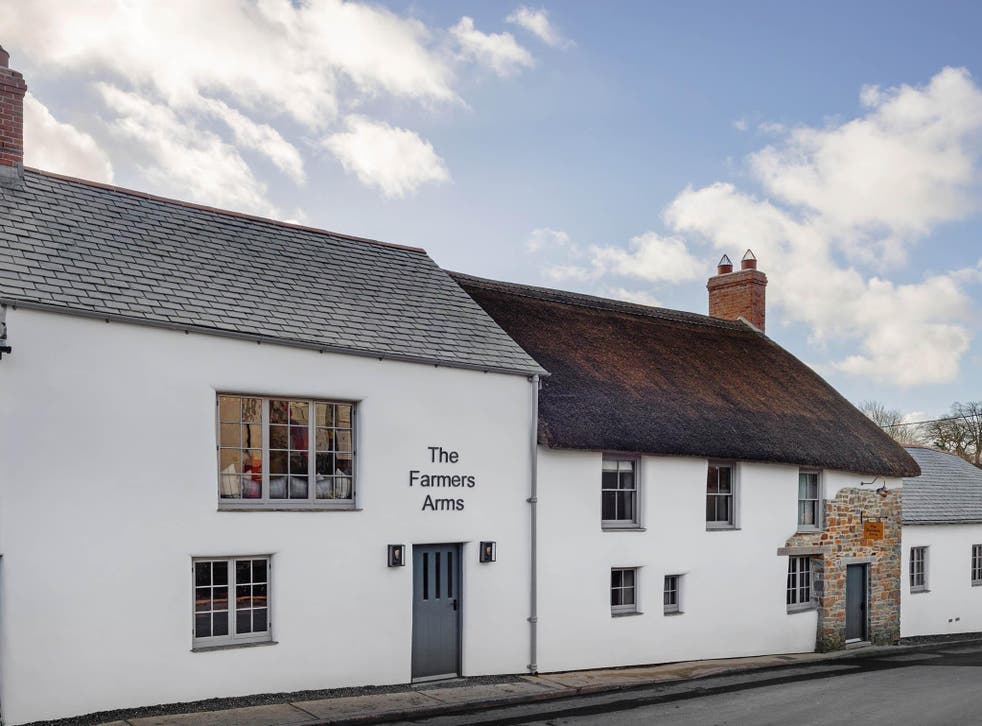 When I was at secondary school in north Cornwall, some students came from north Devon, more than 30 minutes away, instead of going to their nearest school in Bideford. One of my friends came from Woolsery. Well, actually, it's called Woolsfardisworthy. Why this long name is still kept when – to my knowledge – no one actually uses it, I don't know. But even more confusingly – and quite amazingly – there's actually two villages of exactly the same name. Yes, the long one. And, both in the same county.
Anyway, I'm sure everyone else at school only vaguely knew where Woolsery was because you saw the sign for it on the way to Milky Way Adventure Park: north Devon's answer to theme parks – think lots of farm animals and no roller-coasters.
But now, it's a place that people are beginning to know. Why? Because the local pub was saved from disarray by the British tech entrepreneur, Michael Birch, who started up social media site, Bebo in 2005. You know the one where you were "married" to your best friend, and proudly wrote things like you were "happiest when"… and other extremely lame things like that. I actually tried to look for my embarrassing page, but it seems they've finally been taken down which can only be a good thing for everyone who had one, I am certain of it.
If you don't know Bebo, that's because it was only really used by teens for a short period of time in the early Noughties and it was quickly superseded by MySpace (Hi, Tom) with its emo pictures and Facebook which did manage to hang around.
But what attracts a San-Francisco-living multi-millionaire and this village with just over 1000 inhabitants with two bizarre names? Nostalgia. That's what.
Much of Birch's childhood was spent here visiting family, there's six generations of his family buried in the churchyard, and his family even built the village shop.
In 2015 he bought the local pub, the Farmers Arms, a grade II listed building, which had once been at the heart of the community, just like every other rural place. The previous owners walked out in 2012, and for years the glasses and menus sat gathering dust on the tables, until the 350-year-old thatch roof collapsed in, and the wild countryside claimed the derelict building as its own.
Birch also bought the fish and chip shop next door to the restaurant, the village shop, a run-down Georgian manor house opposite the pub which he plans to turn into a hotel to open in 2022 (with a spa, restaurant and cocktail bar), cottages and 90 acres of farmland. He plans for all the produce used in the restaurants will be Woolsery-grown. They already employ more than 30 local people, with more from the surrounding area too.
The Farmers Arms reopened it in September 2018. But despite its huge reinvestment – the exact figure hasn't been revealed by the Birches – there was no pomp and splendour opening party. Instead, it was about the locals. Welcoming them back in to their local.
And it's still like that. You walk in the little door, just off the main street, straight into the low-ceilinged bar that's filled with locals sitting at the bar with their dogs, and people who've just popped in for a quick half, chatting to the staff who they clearly know beyond the customer-bartender relationship.
Carry on through into the restaurant, and it's filled with light from the huge glass ceiling, and glass front doors that lead into the garden. On the walls are huge contemporary canvases with luminous colours portraying VW camper vans and boats: probably not what you'd expect.
There is more of what you might expect though: huge open fireplaces, flagstone flooring and reclaimed oak boards. But there's much more to it than that. Don't, think this is your average local's pub. That it aint.
The interior is definitely very Artists Residence-cum-Soho House and is more akin to something you'd find in the Cotswolds. Not here. Oh no.
My favourite part is actually the lounge: sitting on the sofas next to the huge green and blue hologram of David Bowie. It's kind of trippy actually, considering you absolutely don't expect it. And at the other end are two enormous horned bulls head. It's fun.
And the food? I think it's fair to say it's beyond excellent. It's seaweed this, and myrtle that, and the menu is one of those that just uses a few – often seemingly random words – to describe a dish, that often leaves you wondering what will turn up – but you wouldn't expect what does turn up anyway, so it kind of doesn't matter. Some of the descriptions are much clearer like "heritage carrots and venison" although that's not to underplay that starter dish. It looks like a work of art for one.
The "mackerel radish, turnip, Cornish pepper" is excellent and absolutely my favourite. Little thin rounds of slightly bitter turnip hides lots of little bits of fresh mackerel and radish underneath. The only problem is it's served in something akin to a pasta bowl and it's hard to get to it as quickly as you want to it eat it. But that's just greed talking.
On my second visit last month I go for the scallop starter. I've only ever had the pleasure of describing a scallop as a tender hunk of flesh that pulls apart at the tiniest touch – apart from a bbq where my mum insists they were so rubbery she threw them it the poor perpetrator's garden bushes, but I was too young to remember.
This dish is the king of perfection when it comes to scallop cooking. And what a huge chunk it is. It's dramatically topped with a thick parmesan crisp and delicately crispy seaweed, the type that's dark green and kids throw around making you think some beastly sea creature has launched itself at you. The single scallop (I don't feel short changed) is surrounded by a dark, salty broth and beautifully fresh garden peas that offer the tiniest touch of colour and freshness to the dish.
Starters are stronger than mains. Not to do a disservice to the mains. It's just that the starters are so damn good. Mains are all meat and fish with Birch Farm (can't get rid of him) black pork, Higher Hacnknell (nearby organic farm) hogget, John Dory etc. I go for the semi-cured duck. It's a pretty autumnal sounding dish with mytrle and earthy flavours from salsify, beetroot and perfectly formed little blackberries, but works just as well in June, too.
With hearty potions (though, not OTT), affordable prices (mains range from £19-£25) and a focus on all-things local this is bringing a new wave of relaxed dining to the area, something not far off from Cotswold favourites like The Rabbit in Kingham and it's similar to the St Tudy Inn down the A39 in Cornwall.
In the kitchen is Ian Webber, who was the head chef at Michael Caine's Michelin-starred Gidleigh Park Hotel in Chagford in the same county for six years, which explains a lot, like the little additions of the lamb, lavender and rosemary palate cleanser, the wild garlic and pepper dulse butter and then lemon and thmy choux pastry puffs that come after your main.
When I went for the first time earlier this year I ending up – obviously, sorry – taking a picture of my starter (mackerel) and putting on Instagram (I could never have done that on Bebo). My old school friend commented on it saying no one at school knew where he lived, but now Woolsery is a hot topic.
And he's right. With this level of innovative cooking, this won't be kept a secret for much longer.
Food ★★★★☆
Service ★★★★☆
Value ★★★★★
The Farmers Arms, Woolfardisworhty, Bideford EX39 5QS; 01237 439328; open daily; woolsery.com
Register for free to continue reading
Registration is a free and easy way to support our truly independent journalism
By registering, you will also enjoy limited access to Premium articles, exclusive newsletters, commenting, and virtual events with our leading journalists
Already have an account? sign in
Register for free to continue reading
Registration is a free and easy way to support our truly independent journalism
By registering, you will also enjoy limited access to Premium articles, exclusive newsletters, commenting, and virtual events with our leading journalists
Already have an account? sign in
Join our new commenting forum
Join thought-provoking conversations, follow other Independent readers and see their replies