A baker's life: Lots of rising (early) and not much dough
With 'The Great British Bake Off' inspiring the nation, Susie Mesure visits some artisan breadmakers who are already living the dream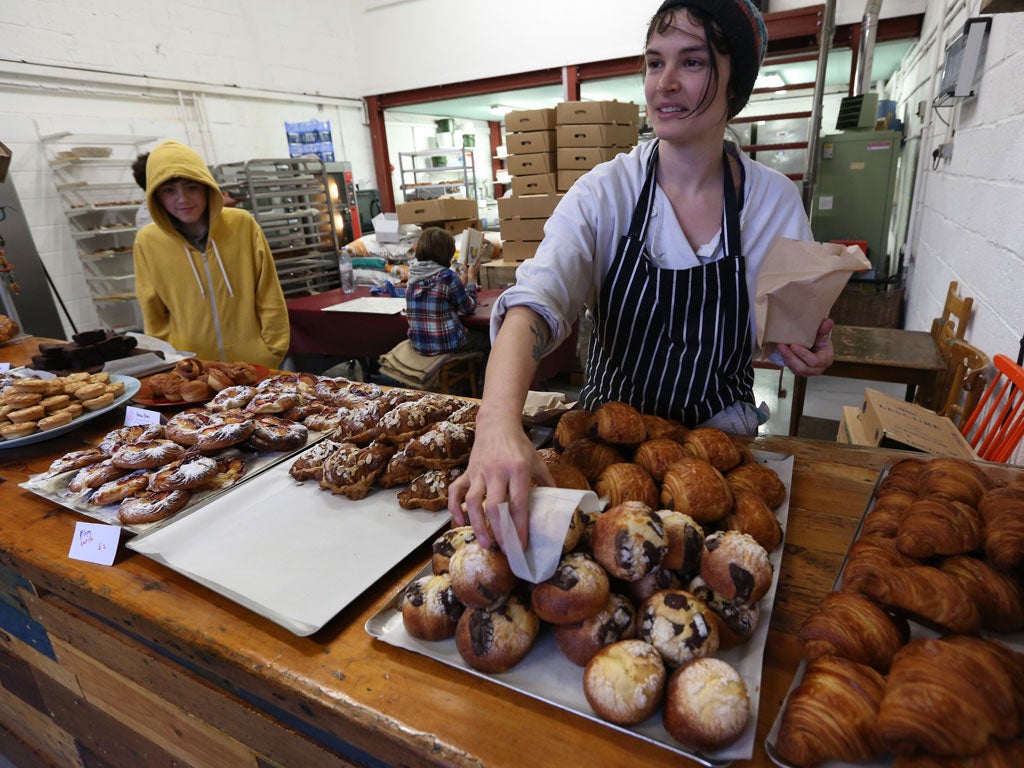 Inside an old lock-up on a former industrial estate in south-east London, three tired-looking bakers are hard at work. It's barely 5am but Nichola Gensler is already inspecting the results of the day's first bake-off. No soggy bottoms here, just tray upon tray of flaky croissants and petit pains au chocolat all browned to St Tropez-worthy perfection.
At the back of the Little Bread Pedlar kitchen, the thud-thud of an industrial dough hook is blending the flour, water and yeast mix known as poolish that will form the basis for the next batch. With a swipe of his blade, Stewart Bowen is cutting and weighing the dough for the next stage, so-called bulk fermentation. "It's quite repetitive. To start with, it's just weighing and weighing," the 28-year-old from Wales says of his chosen profession.
We couldn't be further from the bunting-strewn marquee image of baking that has gripped the UK these past 10 weeks, and will have nearly six million tuning in to catch The Great British Bake Off final on Tuesday evening. This, in gritty Bermondsey, is baking at the coalface, where the nights are short and the hours long. "Very, very long" and, to start with at least, "very underpaid," Bowen adds.
Yet for all those GBBO fans, Gensler and her business partner Martin Hardiman are living the dream. Years of graft have resulted in their fledgling wholesale bakery business, which has grown apace since winning a vital contract to supply pastries and brownies to the doyenne of London's independent coffee scene, Monmouth.
Not that there's much glamour in it. The pair have worked seven days a week, every week, for the past 12 months, with the exception of a brief spell when they "only" worked the six days. Yesterday, Saturday, despite being one of their busiest and that 3am start, is one of the "easier" ones because they shut up shop when their laden trays of glistening Danishes and chocolate brioches have sold out.
Inside the kitchen, talk quickly turns to that final, which will for the first time pit three men against each other: imaginative medical student James; dramatic law student John; and calculating Brendan, the wily operator who's done it all before.
Nichola is rooting for James, but her colleague Morwenna is backing Brendan. "James is experimental but he needs to crack out some really difficult patisserie work," Morwenna thinks.
Whatever happens on Tuesday night, the ultimate winner could well be the Great British Public because the surprise BBC2 hit – last week's semi-final pulled in more viewers than Holby City on BBC1 – has made baking cool. So cool that even the Radio 1 DJ Nick Grimshaw, the nation's new arbiter of hip, tweets incessantly about the show. A scheduling clash with the England-Poland World Cup qualifier will leave millions of men genuinely torn between the two. And countless more will be dreaming of jacking in their jobs and starting that bakery.
Edd Kimber, who won the GBBO two years ago and last month started his own market stall Eddibles in Maltby Street market in London, says he gets bombarded with emails from people keen to get baking for a living. "People are thinking about changing careers to do something that makes them happier."
The School of Artisan Food in Nottinghamshire, which was set up three years ago to address a skill shortage, is adding more baking courses all the time. "Some people are just looking for an experience because they've been inspired by shows like GBBO. Others are using it as a platform to open their own bakery," the school's director, Joe Piliero, says, pointing to Sheffield's new Seven Hills Bakery, or London's E5 Bakehouse. "The majority on our full-time courses are career-changers," he adds.
New bakeries are springing up all over the UK. Many start out as micro bakeries – a group of friends, perhaps, baking from their own kitchens for other friends. Holtwhites, run by Richard Copsey and his wife Kate Smith, trod this path before opening their first shop in Enfield, north London. In Swaithwaite, West Yorkshire, Dan and Johanna McTiernan now sells loaves like Yorkshire Leaven, and Sleepless White, so called because it ferments overnight while the bakers sleep, from the Handmade Bakery, while Allendale Bakery offers bread-making courses from its base in Hexham, Northumberland.
It's hard to guess the number of new bakeries, but the Real Bread Campaign, which does what it says on the tin (to paraphrase the old Ronseal ad), reckons around a fifth of those buying its Knead to Know guide to setting up a community bakery actually do so. Chris Young, who is Mr Real Bread, says he sees demand from two places: "People who are sick of industrialised loaves, and people who are sick of not having their own bakery."
Many get going using equipment they've bought from the online store Bakery Bits, which is seeing sales increase by at least 50 per cent a year. Granite baking stones, dough shoveling "peels" and ceramic baking pots known as cloches, which create the necessary steamy environment to bake a crusty loaf, are among the best sellers.
Back in Bermondsey, I can't help notice the irony of Gensler's latest batch of spelt soda loaves being baked in vintage Hovis tins. They couldn't be further from their mass-produced antecedents. Having perfected croissants – "the secret is 27 layers and French butter" – and Danishes – "we didn't do Danishes for ages, because my image of them is, well, yeah," she smiles – the baker is keen to expand her bread line.
But for anyone wishing to join the Little Bread Pedlar (and they are recruiting) be warned: baking for a living is no easy life. And they are picky employers. Gensler says: "We've stopped taking anyone from a cookery school. They have an image in their head of what baking is like, and they come to us to see what they can learn, like it's a nice experience for them. I can't use that."
The finalists
As the show reaches the climax of its third series, its appeal has been more slow burn than speedy bake but it's nevertheless cult viewing for the nearly six million who hang on every one of co-judge Paul Hollywood's "soggy bottoms". The baking expert turned unlikely stud muffin has women all a-quiver for his unwitting culinary innuendos, despite his bad shirts and that gel-spiked grey hair and goatee combo. Allegedly.
The programme has put 10 amateur bakers through their paces via endless vats of crème patissière, plaited loaves and meringues, in its quest to find Britain's Greatest Baker. Mary Berry, Hollywood's judging partner has an equally loyal following. Retailers now hail her power to shift stock, most notably a floral bomber jacket from Zara.
At 77, to Hollywood's 46, Berry flies an unusual flag for older female broadcasters. In fact, what with Sue Perkins and Mel Giedroyc, both in their 40s, also pitching in as presenters, and that all-male final, the GBBO breaks the mould.
Fans left distraught after Tuesday's final can console themselves with two coming specials: for Christmas and Comic Relief.
John Whaite
The 23-year-old from Manchester will never forget withdrawing from the strudel round after slicing off the top of his finger. And neither will viewers. The former law student likes to distract Mary Berry with his ever-plunging neckline and shorts.
James Morton
He's as famous for rocking his Fair Isle knits as he is for his rock cakes and has been my tip for top baker from week one. Highlight was how the flamboyant 21-year-old rescued his gingerbread barn, by declaring it "derelict" and winning star baker in the process.
Brendan Lynch
At 63, he's done it all before, and he doesn't half like you to know that. Undoubtedly the most competent baker, he struggles against the simple truth: Paul and Mary just don't seem to like him. Probably deserves to win, but I'd bet good money he doesn't.
Join our commenting forum
Join thought-provoking conversations, follow other Independent readers and see their replies