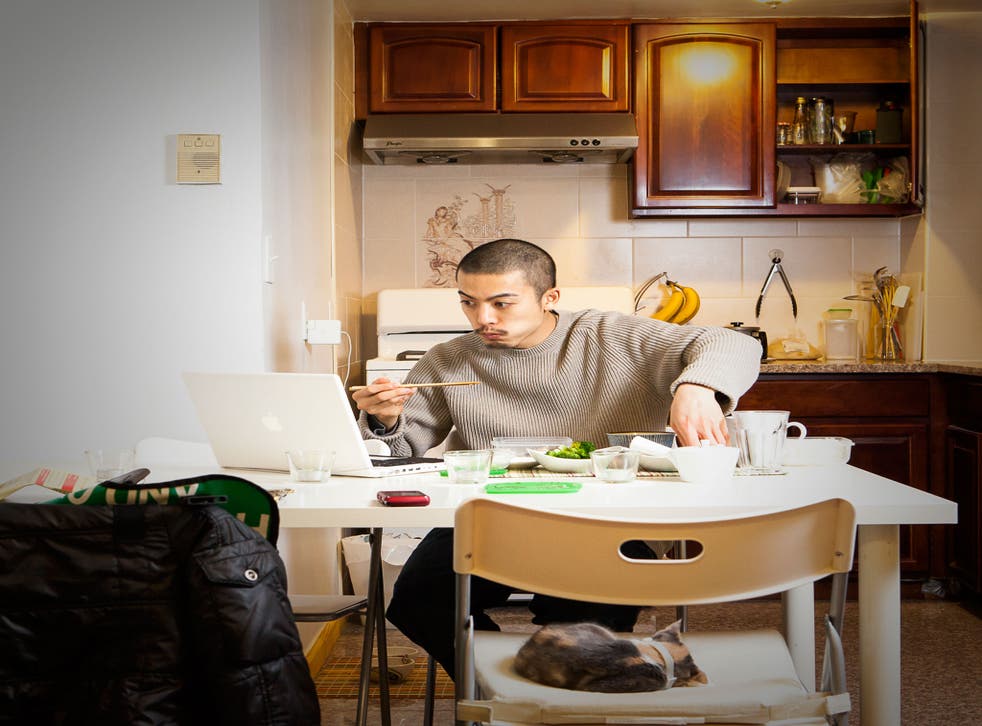 A diary of modern dining habits: Skype, childcare, work talk ... the evening meal is no longer about the traditional family get-together
Miho Aikawa has been photographing her fellow New Yorkers as part of her project "Dinner in NY" since early 2010 – and discovered that our dinner habits are increasingly idiosyncratic
Serina Sandhu
Monday 20 October 2014 12:37 Comments
How and when do you eat your evening meal? At the same time each evening, enjoying a carefully prepared dish, with no distractions save, perhaps, the conversation of other family members at the table? Or whenever you can, wolfing down some convenience food as your schedule allows, flicking at your phone, with half an eye on the television?
"Both my parents had a full-time job and it wasn't easy to have time together as a family, so we would have dinner together," says the Japanese, New York-based photographer Miho Aikawa. "Dinner time was important to me – and [that stoked my] curiosity about other people's dinner."
Aikawa has been photographing her fellow New Yorkers as part of her project "Dinner in NY" since early 2010 – and discovered that our dinner habits are increasingly idiosyncratic. "Maybe 50 years ago people didn't have so many different lifestyles, so they could have dinner together, they could be back home by six. Now people's lifestyles are very different and [everybody] has their own way [of dining]."
Many of her shots show subjects with a lot more than just food on their plates: parents juggling childcare, a security guard eating at work, a commuter dining on the train. The 32-year-old's work also depicts diners engrossed in technology, including a girl watching TV while eating on her bed, and a mother and her baby talking to her parents over Skype. For Aikawa, this is not the demise of the dining table but evidence of the evolution of dining: "Some people may say it's a bad habit, but I think it's a new dinner way."
The photographer's search to document the dinners of a culturally rich city has captured some lesser-known traditions, too. In Queens, the easternmost of New York's five boroughs, she photographed a Burmese monk who ate his dinner at 11am, watched by the community members who had brought him his food. "There are many different people [in New York] and the monk's is one photograph that shows a very unique community culture."
Miho Aikawa's photographic diary of modern dining habits

Show all 9
In 2012, Aikawa began a similar photography project in her native country called "Dinner in Tokyo". Now, with 32 pictures from New York and nine from Tokyo, the social differences between the two cities are becoming clear. "It's not easy to find many people who will allow me to photograph their dinner in Tokyo – maybe they're shy," she says. "In New York, more people are open to showing their private moments and letting me into their private space."
Naturally, these photographs reveal not only private spaces, but also the nature of the subjects' lives at a particular moment. Changing jobs, relationships and living arrangements will doubtless change the nature of their mealtimes, which is something that Aikawa, who plans to continue both projects, could see herself documenting. "After 10 years if [someone] sees my project again, they might think another photo would be best for them. That might be interesting."
With thousands of dinners to devour over our lifetimes, we could be forgiven for paying them little attention. But Aikawa wants her work to get people thinking more about their evening meal. "Through my project, maybe some people will find some interesting [aspects to dinner] or maybe they will realise they should try something different for dinner [so] they can find some more pleasure in it."
And what does her typical dinner in New York look like? "My dinner is mostly at home with my husband and our cat, Mimi. We might watch some TV show on the iPad and my cat would be sitting in front of us on the table."
For more photographs from the series: mihophoto.com
Register for free to continue reading
Registration is a free and easy way to support our truly independent journalism
By registering, you will also enjoy limited access to Premium articles, exclusive newsletters, commenting, and virtual events with our leading journalists
Already have an account? sign in
Join our new commenting forum
Join thought-provoking conversations, follow other Independent readers and see their replies