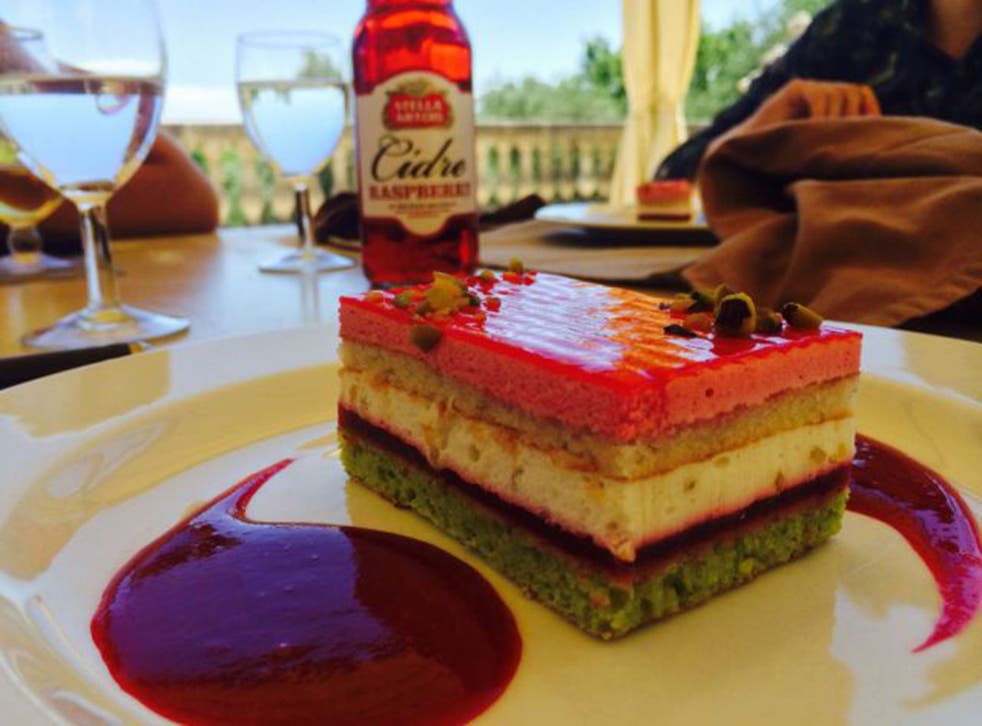 A food and cider pairing? You don't need a fat wallet to find a certain 'joie de cidre'
Samuel Muston toddled off to France to sample Stella Artois's five flavours
The phrase "wine and food pairing" makes me think of well-upholstered Tory MPs at The Junior Carlton Club ordering "another bottle of that most excellent vino, Rupert". It is a narcolepsy-inducer with the strength of temazepam. Unless you're eating a tasting menu which is longer than the Dead Sea scrolls, it is a red flashing light with a siren screaming BORING! And possibly then EXPENSIVE! And there is a simple reason: no chef wants his much-loved food going about with some cheap, shallow Chilean. They want only the best for their rabbit tartare – they want, in the words of Withnail, "the finest wines available to humanity".
It is an aspiration I can sympathise with. But the problem is, most of us don't have the money to buy the best wines known to man. Quite a lot of us don't have the money to buy the best wines known to J Sainsbury. The whole exercise, then, soon becomes a little pointless.
So, when Stella Artois invited me to a food and cider pairing, I packed my espadrilles and toddled off down to southern France to join them. The Belgian beer colossus has been selling its upmarket, French-inspired Belgian cidre since 2011. It now has five flavours – apple, pear, raspberry, peach and elderflower – which, while covering a good chunk of the fruit spectrum, wouldn't necessarily seem to lend themselves to food-pairing.
So I went down to a house that they had rented near Grasse feeling a little sceptical. I met Jeroen Laenen, the chap who is in charge of brewing. He told me lots of things about the cidre – that they have 961 quality control checks on it; that "flavour" was simply aroma plus taste; "that a brewer would rather divorce his wife than give away his yeast" – and still I couldn't help thinking: "Hmm, cider and ratatouille – not going to happen."
We sat down to dinner on the sunny terrace outside the house to eat. Things kicked off with a brace of fat scallops marinated in kaffir lime with fennel and grapefruit. Laenen had paired these godly creatures with elderflower cidre. It seemed like some terrible crime. But then I tasted it – and it did a nice job of bringing out the citrus and calming the grapefruit. It didn't overwhelm the scallop. He won that round.
Then came the herb-and garlic-crusted rack of lamb. This robust dish he had married off to the apple cidre – and perhaps this was the biggest lesson from the experience: forget your Bordeaux; pair it with a £2 cidre. It is not going to be like eating lamb with a Haut Medoc but it isn't at all bad – in fact, it was good. The sweet strawberry soup and lemon sorbet formed an even happier alliance with a peach cidre. The total drinks bill came to south of a tenner.
The great lesson is: you don't have to have pals with names like Rupert to make the most of a food and drink pairing. If your drink has some complexity, then you can try pairing it. Try it at home or, even better, try it where I did. Stella Artois are offering four punters the chance to stay in the same house and drink the same cidre for the price of a round of drinks (£21). It is available for four three-night breaks from 12-25 September – you just need to book by 31 July. So go find your joie de cidre.
For more information visit http://bit.ly/1InrE2W and http://bit.ly/1RTEVVf
Register for free to continue reading
Registration is a free and easy way to support our truly independent journalism
By registering, you will also enjoy limited access to Premium articles, exclusive newsletters, commenting, and virtual events with our leading journalists
Already have an account? sign in
Register for free to continue reading
Registration is a free and easy way to support our truly independent journalism
By registering, you will also enjoy limited access to Premium articles, exclusive newsletters, commenting, and virtual events with our leading journalists
Already have an account? sign in
Join our new commenting forum
Join thought-provoking conversations, follow other Independent readers and see their replies