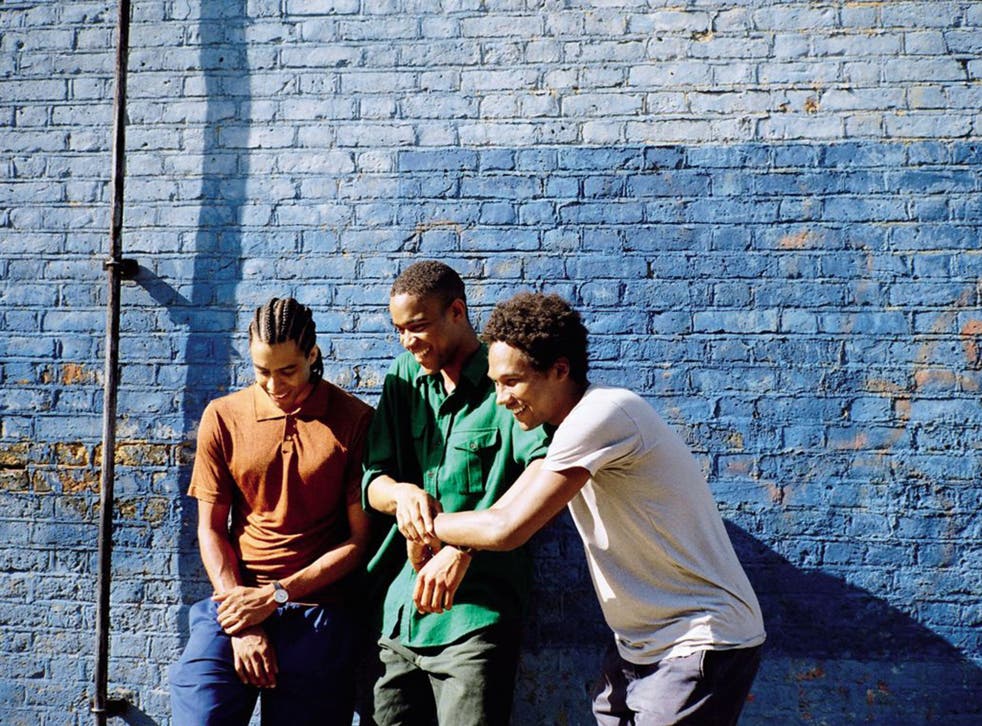 Africa on the menu: Three foodie friends want to popularise dishes from the continent
Three friends from London have drawn on their families' cooking to produce a cookbook that brings together the various flavours of sub-Saharan cuisines. They tell Nick Duerden why they're confident we'll all be converted
Nick Duerden
Friday 03 July 2015 00:23 Comments
There are few literary genres as unnecessarily overpopulated as the cookbook, just as there are few seasons that don't usher in yet another French culinary compendium, an Italian one, Chinese, Japanese, Indian, and so on. But there aren't many African cookbooks.
"We've seen a few North African ones, and mostly thanks to Yotam Ottolenghi," says Duval Timothy, a 25-year-old from south London who, along with his friends Folayemi Brown, 26, and Jacob Fodio Todd, 30, is about to redress that glaring absence with The Groundnut Cookbook. "But we've found nothing sub-Saharan at all. You occasionally come across the odd West African recipe here and there, but they are often tailored for British tastes, in the same way that chicken tikka masala is, which really doesn't resemble any Indian dish. We're quite happy to initiate a similar crossover, but what we are trying to do is make our African food authentic African food."
A book that covers African cuisine, even if it's just the sub-Saharan part, is undeniably asking for trouble – you can imagine the French flinching if they were ever included alongside the Brits in something called "European cuisine" – but the Groundnut boys are well-placed to make a valiant attempt at bringing together the myriad menus of a vast continent comprising over 50 countries. Between them, they have roots in Nigeria and Sierra Leone, while one of them, Todd, grew up in Mozambique, Tanzania and Swaziland. Formative memories comprise multigenerational family gatherings – across Africa and south-east London, where Timothy and Brown were born and raised – in which the focal point, Brown says, was never the music and rarely the dancing but always the food piled high on the tables. "It was all about the atmosphere and the socialising but mostly about the eating," he says.
The three friends had been following respective career paths – Timothy as an artist, Brown in sports physiotherapy, while Todd was working for a research and development team in Central Africa – when they decided to host their own pop-up restaurant evening specialising in the food of their youth. Timothy's architect father had offered him use of his Tower Bridge office space for an art exhibition, but instead he and his friends used it as a sub-Saharan dining experience for 32 friends and family seated on two long tables, where everyone was encouraged to share Yorkshire pudding with mango curd, moin-moin (black eyed beans, peppers and garlic) and edible fruit bowls made of sweet pastry. "It was a big success," he says.
Duly encouraged, they decided to do more pop-ups, first bi-monthly, then monthly, selling tickets at £25 a head and telling acquaintances to spread the word to anyone with adventurous tastes and a willingness for communal dining, cutlery optional. "Eating with your hands can be very liberating," Todd says.
They proved to be immersive experiences, as much for the chefs as the guests. "Oh, it was very pressurised," Timothy says. "If we did two nights a month – three if we were feeling particularly reckless – we'd have to work at it for a full month beforehand in preparation: the logistics, the menu, even the furniture required for hosting that many people. We'd all cook the food, but on the night, me and Jacob would be in the kitchen while Yemi was front of house."
The initiative was rapidly gaining both momentum and a financial incentive; as a consequence, they grew in confidence. "We wanted to write a book next," says Timothy. So they did, subsequently signing to Penguin in a reputed six-figure deal. And so what started out in a small room with a few friends is beginning now to develop an international reputation. They recently hosted an event in Paris, and Brown says that the idea of doing something similar in America "might be a lot of fun".
If African food has hitherto failed to cross borders, he says, then this may be out of ignorance. African food is, after all, as varied as any other. "Many people may have heard of, say, jollof rice, but not much else." He says many of the continent's more familiar dishes – millet, and ugani, a stodgy substance not unlike polenta – can seem a little plain for the cultured palate.
"It's certainly true that the staple foods aren't often seasoned," he says, "but that's why you bounce it off some very rich and tasty sauces. The whole idea of this is combinations, putting all sorts of things together, the plain and the crisp, the sweet and sour. So, sure, ugani doesn't have much taste on its own, but use it to scoop up the sauce and suddenly you've got this proper taste sensation going on."
They make for convincing ambassadors. And the ingredients they use are available across the UK. "There are so many great street markets everywhere, and not just in London, where we are pretty much spoilt for choice," Brown says. "You can even buy yams in Glasgow now."
The future for all three, then, seems exclusively Groundnut-focused, previous careers temporarily shelved. Meanwhile, Penguin's marketing campaign is going into overdrive to turn The Groundnut Cookbook into a craze – one women's magazine has already complied, called the trio "the hottest new foodie collective in town". "We just want to get our message out there. African food, all of it, is amazing. We've never met anyone that doesn't like it. Our work now is to make it accessible to everyone."
'The Groundnut Cookbook' by Duval Timothy, Jacob Fodio Todd and Falayemi Brown (Michael Joseph, £20) is out now
THE GROUNDNUT STEW
Ingredients to serve 6
1 chicken, skinned and chopped into 8 pieces
2 teaspoons salt
Half a teaspoon ground black pepper
1 teaspoon white pepper
5 tablespoons groundnut oil
1 Scotch bonnet pepper
4 small onions
3 cloves of garlic
2 heaped tablespoons tomato purée
125g groundnut butter or smooth peanut butter
500ml chicken stock
Place the chicken pieces into a large bowl, add the salt, black pepper and white pepper, and mix well.
In a wide frying pan, fry the chicken with 3 tablespoons of olive oil on a medium heat. The chicken should not overlap, as this will prevent it from browning. If you are using a small pan, fry the chicken in batches.
Pierce the Scotch bonnet pepper with a sharp knife and add it to the pan. Piercing the pepper means that the stew absorbs the flavour of the pepper, but if it becomes too spicy it can be removed at any point. Shake the pan regularly so that the chicken does not stick. Turn over after 5 minutes. While the chicken is browning, finely dice the onions and crush the garlic to a paste. Keep separate and put to one side.
After 5 minutes, add half the garlic to the pan and fry for a further 5 minutes, so that the garlic and chicken brown together. When given room in the pan, garlic caramelises very quickly – this gives a lovely rich flavour and texture which attaches itself to the chicken. When the chicken has browned nicely on both sides, remove it from the pan and put to one side. Using the same pan, slightly increase the heat to medium-high and add the diced onions and 2 tablespoons of olive oil. Cook the onions for 12 minutes, stirring regularly. When they are very soft and dark, turn the heat down to medium and add the tomato purée and the remaining garlic. Mix well and cook for 5 minutes, then add the groundnut butter and stir.
Put the browned chicken back into the pan and add the stock slowly while stirring, so that it is incorporated with the sauce.
Leave to cook on a low heat for 25 minutes, stirring occasionally. It should reduce slightly and take on a thicker consistency. Serve hot.
Register for free to continue reading
Registration is a free and easy way to support our truly independent journalism
By registering, you will also enjoy limited access to Premium articles, exclusive newsletters, commenting, and virtual events with our leading journalists
Already have an account? sign in
Join our new commenting forum
Join thought-provoking conversations, follow other Independent readers and see their replies