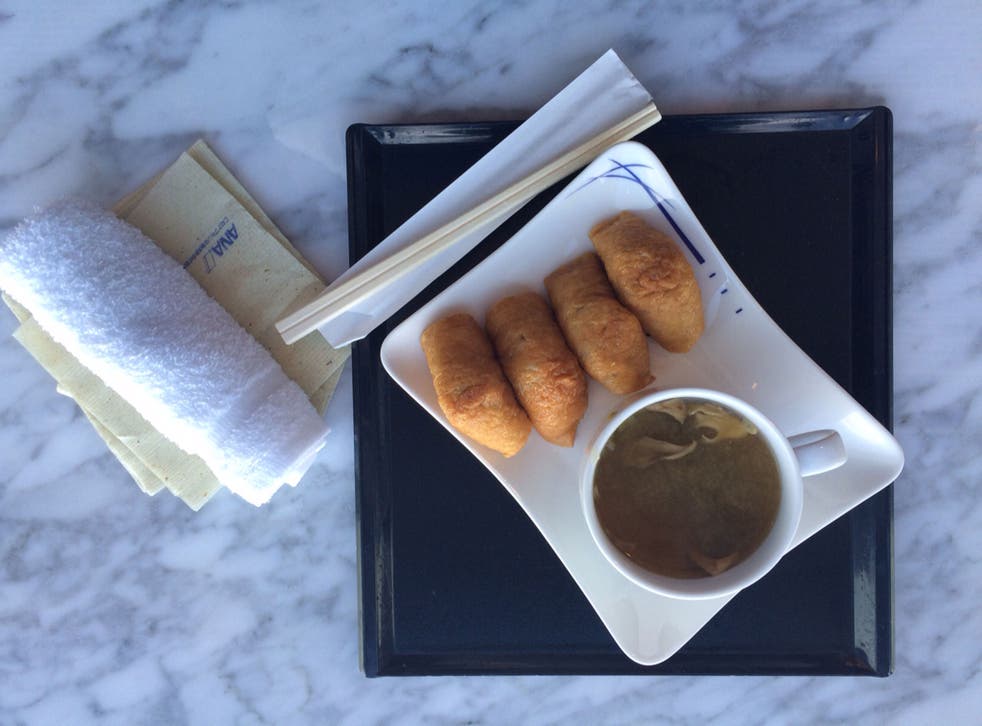 Airport greed: A liberating form of gluttony
Samuel Muston's body doesn't know why, how or in which time zone it's in
In the past week I have taken more flights than I have in the previous six months combined. I have folded myself on to planes that have whizzed from London to Tokyo, from Tokyo to Beijing, from Beijing back to Tokyo and then from there to Takamatsu in southern Japan, a seaside town in the mould of Torquay famed for its Udon noodles, from where I am writing this column (from a massage chair, since you ask).
That big loop of a travel plan has taken me nearly 9,000 miles. Aside from an overriding feeling of knackeredness, mixed with a soupçon of confusion, I have had another driving emotion: a desire to eat EVERYTHING. And eat everything all the time.
Of course that means in the cities where I arrive, but also in the airports that help get me there. Now, the times I eat are usually carved into stone. I have my breakfast in the office at about 10am, I have lunch with some colleagues at 12.49 in the canteen (never any earlier, even if the cycling-mad, ever-hungry Simon Usborne pesters us to), then a second lunch of perhaps a sandwich at about 2.30pm, and then dinner when I am home at about 7.30pm.
The five worst airports in the world

Show all 5
I eat at those times out of habit, yes, but also because they are the times when my body needs its sustenance. If I eat my breakfast at home, I find by the time it is mid-morning I am eyeing up our picture editor's sandwiches in the fridge; and if I eat dinner too late, I wake up in the night feeling like an over-inflated balloon. I have, in short, the constitution of a woman in a Jane Austen novel.
Or I did. Now my body doesn't know why, how or in which time zone it is living, so I am having the happy, novel experience of being able to eat anything, any time. I feel a man anew, I have rediscovered a liberating form of gluttony: airport greed.
Now airports are funny old places, existing in their own time zones and with their own norms of behaviour – and by that, yes, I do mean that you can get pissed in them at 9.30am. They are also cultural culinary microcosms. I love them. In Europe you pretty much know what you are going to get, but elsewhere it is a different story.
On my last trip to America, I felt the siren call of a pizza slice bigger than my head, despite the sign saying it was 1200 calories. And then followed it with "salad" which contained, I suspect, most of a chicken.
At Beijing airport yesterday, I literally gobbled up new experiences. I ate the most unspeakable pork sandwiches on anaemic white bread. I ate decent congee rice porridge and a Szechuan instant noodle affair, which was recommended to me in a series of hand gestures by a good party member.
On my way from Tokyo to Takamatsu at lunch time, though my plane had no business class, the kindly ANA staff let me into their lounge, perhaps taking pity on my withered, if swollen-bellied, form.
Reader, I ate them out of house and home: drinking deep of the miso soup and piling up the inarizushi (white rice in a fried tofu pouch) onto little rectangular plates (picture above). It was bliss.
Forget about the morning pint in the airport, eat yourself through the two-hour wait. You may need two seats on the way home, you may need a five-year gym membership after, but as Gordon Gecko so memorably pointed out, greed is good.
Register for free to continue reading
Registration is a free and easy way to support our truly independent journalism
By registering, you will also enjoy limited access to Premium articles, exclusive newsletters, commenting, and virtual events with our leading journalists
Already have an account? sign in
Register for free to continue reading
Registration is a free and easy way to support our truly independent journalism
By registering, you will also enjoy limited access to Premium articles, exclusive newsletters, commenting, and virtual events with our leading journalists
Already have an account? sign in
Join our new commenting forum
Join thought-provoking conversations, follow other Independent readers and see their replies