Alternative Christmas dinners: From roast venison with quince sauce to sundried skipjack tuna
Whether taking inspiration from Japan, Peru, or the Caribbean, chefs in 2018 are sacking off the traditional Christmas turkey in favour of something new. Julia Platt Leonard speaks to them about what they're planning on serving instead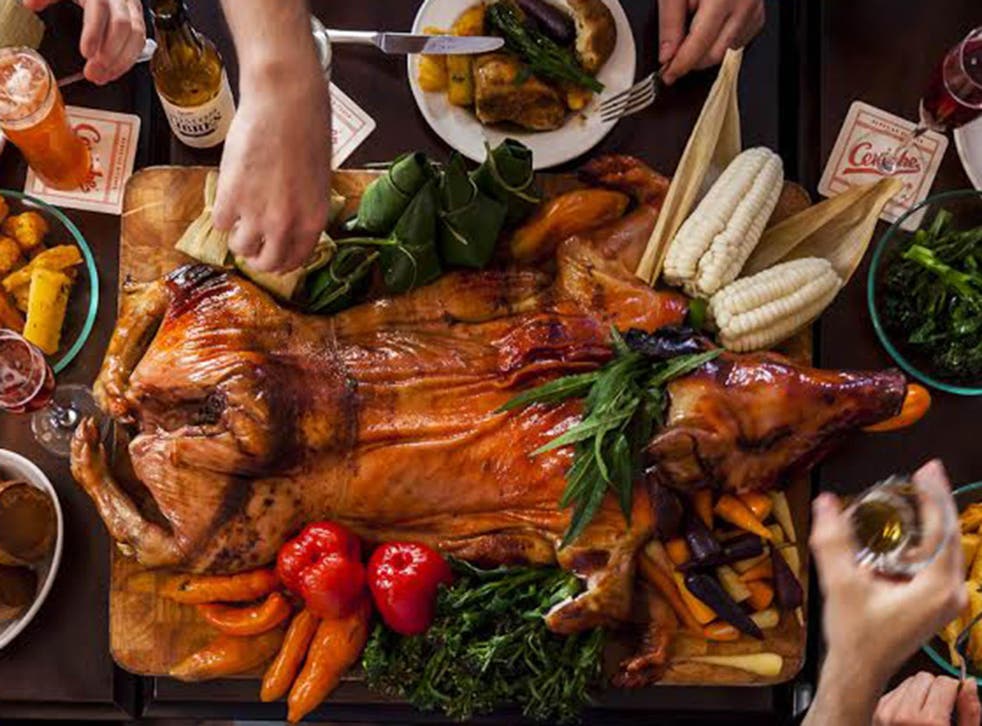 The Christmas menu is set firmly in stone. It's a meal we wouldn't dream of whipping up any other day of the year but nor would we think of making anything else.
It's close to heretical to suggest something other than turkey and all the trimmings, in fact, industry group British Turkey says we ate around 10 million turkeys at Christmas last year and that it was the main course for around 76 per cent of us.
But rules were made to be broken, weren't they? Maybe 2018 is the year of the alternative Christmas.
Start with turkey. If you think it's too dry or – be honest – it feels like more of an obligation than heartfelt desire then Zoe Adjonyoh, author of Zoe's Ghana Kitchen, has a suggestion.
"I love to make roast guinea fowl around Christmas time – it's such a fiercely rich and underrated cooked meat – simple and delicious and a great alternative to the ever-uninspiring turkey and much cheaper than goose! Cooked low and slow for two to three hours with just thyme and lemon and plenty of sea salt, it's so delicious."
Nancy Singleton Hachisu, author of Japan: The Cookbook, did the whole turkey and trimmings thing for years but now goes for something simpler.
"When our now young adult sons were children, I often served sit down meals for 20 kids and 20 adults. But as the years unravelled, the numbers decreased along with my desire to pull out the stops."
This year, she'll forgo dishes she made in the past such as foie gras-stuffed turkey and duck confit. "I will be serving my husband's sweet potatoes with green sansho (Japanese pepper) and black sesame oil-rubbed ducks. The sweet potatoes are oven-roasted whole until crispy skinned and fluffy inside, then dolloped with a liberal lashing of miso butter, chopped spring onions, and a handful of freshly shaved katsuobushi (smoked, fermented, sundried skipjack tuna)" – a method she borrowed from Travis Lett at his restaurant MTN in Venice, California.
For food writer Rachel Roddy, author of Two Kitchens: Family Recipes from Sicily and Rome, Christmas is spent alternately in the UK and in Rome, where she now lives.
When she's celebrating in Italy, she tucks in some of her favourite bits of an English Christmas for a meal that celebrates the best of both. "I am nostalgic, so I make English trimmings that we fit around the Italian events, so mince pies for all over the place and a traditional cake with marzipan and icing that gets eaten at the same time as the panettone."
When she's back in England, it's the other way around: a traditional British meal with Italian trimmings. "A panettone for Christmas breakfast; cotognata (a quince paste served with cheese); walnut and honey sweets called nociata for whenever. There is always an orange jelly at some point. I also bring lentils and chestnuts for soups," she says.
Of course, if you're a guest at someone else's this Christmas, you play by their rules. But that doesn't mean you can't add a bit of alternative Christmas. Take a page from Caroline Eden, author of Black Sea: Dispatches and Recipes – Through Darkness and Light. She'll bring walnut candies, inspired by Turkish confectioner Mehmet Gurbuz in Boyabat, Turkey, to her sister-in-law's this year. "Similar to a marzipan, these bite-sized treats are perfect for a mid-morning coffee – a good alternative to the usual chocs and mince pies," she says.
Plus she'll have in tow some 'Bus Station Breakfast Paste' for added spice – "heavy on sundried tomatoes, paprika and cumin and a loaf of dark rye bread to go with it. A ray of sunshine for the short days of Christmastime," she says.
For Shivi Ramoutar, author of Caribbean Modern: Recipes from the Rum Islands, Christmas has its own traditions with dishes like pasteles – a favourite in Trinidad and Tobago and other Caribbean islands – that she looks forward to each year. "It is a perfect parcel made up of a thin cornmeal outer casing, filled with minced meat (usually beef, pork or chicken), seasoned with coriander, scotch bonnet, pimento flavour peppers, raisins, capers and olives," she says. It's then steamed in banana leaves and served with chow chow – a version of piccalilli.
"I love to eat this at Christmas. It's a labour of love that is made at the start of Advent, so it really makes me feel like the festive season has arrived," she adds.
Darren Purchase, author of Chefs Host Christmas Too: A Cook's Guide to Blitzing the Holiday Season, freely admits that he isn't a fan of the traditional turkey lunch. A Brit living in Australia, he plans on spending the day outdoors enjoying Aussie summer sunshine and whipping up a meal with echoes of British favourites but with an antipodean vibe. "Seafood on the barbie (cliche but great) will form the main along with fresh salads, duck fat roast spuds and a brussels spout slaw." For sweets it will be his own sherry trifle, a Christmas pudding and mince pies for the traditionalists at the table and, "it's not Christmas over here without a passionfruit pavlova."
Martin Morales, the man behind the Ceviche family of restaurants, serves up a Peruvian-inspired take on Christmas. On the savoury side are dishes such as wild boar chifa style, in Chinese five spice and cumin with rice and apple cream; and roast venison Andina style with a quince sauce and amarillo chilli pearl barley. And for those who can't quite say no to turkey, he has a recipe in his Ceviche cookbook for a Peruvian Christmas turkey in an orange, honey and cinnamon brine.
But my money would be on his roast suckling pig marinated in vodka or pisco, orange and physalis, with an apple and brown sugar/yacon sauce. I can't think of a better reason to say no to turkey this year.
Mamita Naty's roast suckling pig
If you love pork, this simple suckling pig recipe which is inspired by my granny's version will make your wildest dreams come true. It's a sharing dish that can go very far, but do measure your oven before you buy the meat and ask your butcher to cut the pig in half if necessary. It's delicious with roast potatoes and veg, or simply shredded and served in a toasted bun.
1 whole suckling pig (about 5-7kg)
16 medium-heat red chillies
1 tbsp plain flour
Salt and freshly ground black pepper
For the marinade
300ml orange juice
30 physalis, puréed
125ml pisco or vodka
8 garlic cloves, crushed
5 tbsp ground cumin
Zest of 2 oranges
For the apple sauce
1kg cooking apples, peeled, cored and roughly sliced
2 star anise
2 cinnamon sticks
4 medium-heat red chillies, deseeded and finely chopped
3 tbsp yacon syrup or light soft brown sugar
Combine all the marinade ingredients and season with salt and pepper. Then, cut deep slits all over the pig, about 3-4cm apart.
Put the marinade and the pig into a large bag, then double bag for good measure and leave it in the fridge for 24 hours, turning the pig within the bag at least once during this time. Remove the pig from the fridge for 2-3 hours before you want to cook, to return it to room temperature. Just before you are ready to roast, preheat the oven to 220C/gas 7.
Put the suckling pig on a very large roasting tray and season heavily with salt. Wrap the head, trotters and tail in foil, then place in the oven for 15-20 minutes until the skin turns golden.
Lower the oven temperature to 150C/gas 2 and roast the pig for a further 3-4 hours depending on the weight (3 hours for a 5kg pig; 3½ hours for a 6kg pig; 4 hours for a 7kg pig). After the first 2 hours, check the pig every 30 minutes to make sure it isn't browning too quickly – if it looks in danger of burning, reduce the oven temperature slightly. Baste regularly throughout roasting.
Then, 30 minutes before the end of the cooking time, unwrap the head, trotters and tail and add the whole chillies to the tray. The pig is cooked when the juices run clear. Then, remove the tray from the oven, transfer the pig to a warmed serving platter, loosely cover with foil and leave it to rest. Spoon off any fat from the roasting tin and strain off the pan juices.
Support free-thinking journalism and attend Independent events
Sprinkle the flour into the tin, scrape up any brown bits, then gradually add back the juices to make a gravy over a medium heat. Check the seasoning and adjust if necessary.
To make the apple sauce, put the apple in a saucepan with the spices, chillies and syrup or sugar over a low heat, then add 150ml of water. Simmer for 5-6 minutes until the sugar (if using) has dissolved and the apples have collapsed into a sauce. Remove the spices just before serving alongside the whole pig.
This recipe is from 'Andina' by Martin Morales, founder of Ceviche and Andina restaurants, and is published by Quadrille
Register for free to continue reading
Registration is a free and easy way to support our truly independent journalism
By registering, you will also enjoy limited access to Premium articles, exclusive newsletters, commenting, and virtual events with our leading journalists
Already have an account? sign in
Register for free to continue reading
Registration is a free and easy way to support our truly independent journalism
By registering, you will also enjoy limited access to Premium articles, exclusive newsletters, commenting, and virtual events with our leading journalists
Already have an account? sign in
Join our new commenting forum
Join thought-provoking conversations, follow other Independent readers and see their replies