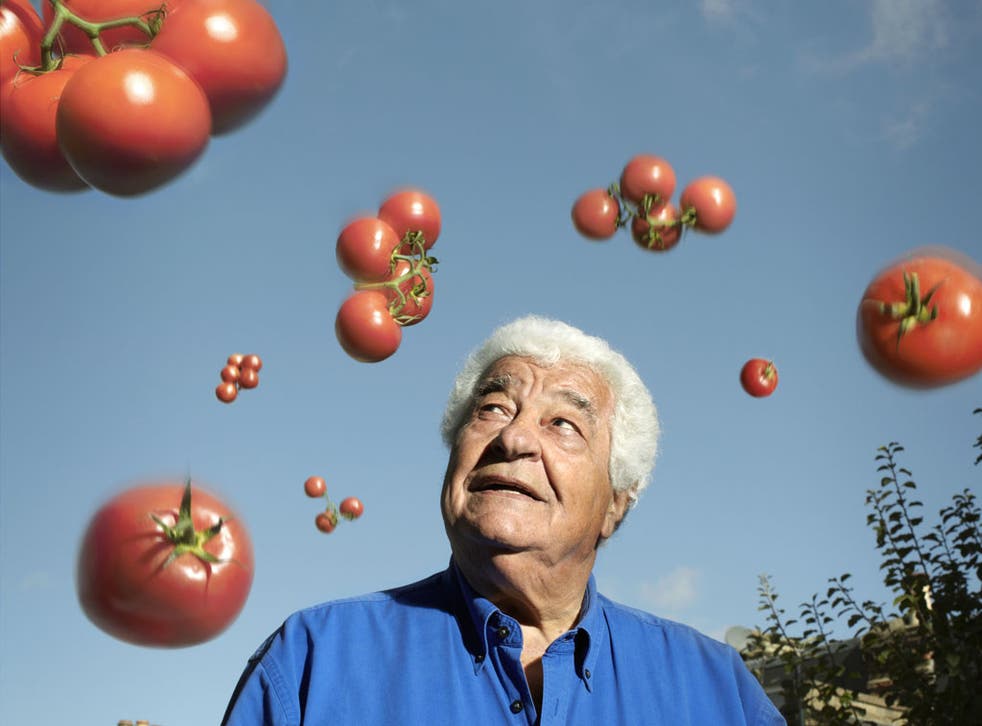 Antonio Carluccio: Getting back my appetite for life
The man who brought Italian cooking to the UK, talks candidly about how he has bounced back from depression to discover a newfound joy in food – and life
Nick Duerden
Friday 12 October 2012 01:12 Comments
On page 249 of his new autobiography A Recipe For Life, Antonio Carluccio describes the moment in 2008 when he attempted to end his life. He conjures up a vivid description of a man whose lifelong depression had returned, exacerbated now by the implosion of his third marriage, and the recent closure of his Neal Street Restaurant after two decades.
He attempted suicide with a pair of scissors and was thwarted when his personal assistant Anna-Louise burst in and called 999.
After being discharged from hospital, he checked himself in to The Priory. Arguably the UK's most famous exponent of Italian food – for which he was awarded an OBE in 2007 – Carluccio had reached his 71st year at his lowest ebb. Depression was nothing new to him, and he had attempted suicide before, but never with such clear-headed determination, such violence.
"Yes, but look – anyone can have depression," he says four years later, sat in his garden, and beaming the most disarming smile at me. "When things get really bad, you become prepared to abandon everything. And I was."
But for the press, a cover story needed to be concocted. It was suggested, by his office, that the incident had been an accident. He had been in his kitchen using sharp knives, and one of them had slipped. The media, however, remained unconvinced. Why, it was asked, did he then check himself into rehab?
For the first time publicly, Carluccio was forced to admit his ongoing battle with depression.
"It was something I hadn't spoken about before, with colleagues – even friends, really," he says. "I didn't want the burden of people asking me what I, a successful man, had to be depressed about. And so I concealed my real feelings, and I survived by telling jokes. I wanted people to know that I was jolly. Because that's how people who didn't know me very well always thought of me: jolly."
I have come to meet Carluccio at his home, located at the end of a fairly humble, if well-appointed, cul-de-sac under the flight path in south-west London. Any doubts of perhaps arriving at the wrong address are quickly dispelled by the front step's mosaic, which features the famous cursive-script logo of the restaurant chain that bears his name: Carluccio's.
He answers the door and beckons me inside, a ruddy-faced 75-year-old with a head of white hair so curly it resembles wool. "Come, come," he says, leading me k through the surprisingly modestly sized kitchen and into the garden, where he highlights with pride his fruit and vegetable patch, the pears and the apples, the blueberries and the blackberries, and the peaches, "which the bastard squirrels keep getting at".
He lights the first of many cigarettes, and starts to talk expansively, often answering my questions but just as frequently going off on tangents in the engaging manner of one who is used to an audience. He tells me about his recent travels – to Istanbul, for the opening of a branch of Carluccio's, and imminently to food festivals in Dubai and Australia – and about his latest hobby: carving ornately decorated walking sticks from branches he finds during country walks. He then segues into a professed adoration of Indian and Chinese food, but insists that to enjoy either at their premium, the chef that cooks it must be native.
"You can copy food from anywhere in the world. I can cook you a Chinese meal right now, but it will never be quite as good as having someone from that country preparing it for you. It's all in the detail, you see," he explains, a suggestion he would presumably make about his own style of Italian food, which is why he always strove to employ Italian chefs at his restaurants. "My aim has always been to create beautiful, authentic food," he says.
His motto is "mof mof": minimum of fuss, maximum of flavour. Too many chefs, in his opinion, overlook this. "They do! Look at El Bulli [the three Michelin-starred restaurant in Spain, which, until its closure in 2011, was regarded the best in the world, and chef Ferran Adrià the world's best chef]. A lot of fun, yes, but too much, too fussy. Heston as well," he adds, referring to Heston Blumenthal's Fat Duck restaurant in Bray. "Too many distractions. Many chefs are the same: a reduction of this, a jus of that. Why? For me, the main act should always remain the piece of fish, the piece of meat. If it doesn't need to be decorated, don't decorate it."
The architect of mof mof is publishing two books this autumn: his autobiography, and also The Collection, a weighty "greatest hits" cookbook comprising 30 years of simple, elegant Italian food, the very same which, when he first brought it to these shores 30 years ago, was considered so exotic, and so foreign, that many copycat chefs felt they had to anglicise it for the local palate.
"Going to Italian restaurants in the 1980s was very funny," he laughs. "I discovered so many Italian dishes that never existed in Italy. Pollo sorpresa, for example, which is a chicken kiev. Chicken kiev is not an Italian dish. Neither is spaghetti bolognese. In Italy, you would never eat spaghetti with a bolognese sauce. Only tagliatelle."
Ask him what the difference between spaghetti and tagliatelle is – aside from a few millimetres in width – and his eyes widen, the mouth drops, and the voice becomes grave. "Listen to me. There are 600 kinds of pasta, which diversify significantly depending on the sauce. Tagliatelle, trust me, works best with bolognese. Not spaghetti."
Born on Italy's Amalfi coast, but raised in the north, Carluccio grew up watching his mother at work in the kitchen, perpetually taking mental note. Though he would go on to cook widely for friends, he chose to specialise in the wine business – predominantly in Germany – until his late thirties. It was only upon arriving in the UK at the end of the 1970s, and marrying Terence Conran's sister Priscilla, that he moved into the kitchen, first becoming manager of Conran's Neal Street Restaurant, and then, in 1989, its owner. With Priscilla still by his side, they launched Carluccio's in 1999, an Italian restaurant/deli that, though upmarket (so, no pollo sorpresa), was competitively priced. It immediately took off, and though k he sold his shares in 2005, it remains true to its founder's vision today, right across its 57 branches nationwide. The man himself is only a consultant these days, but it is a role he takes very seriously indeed, wanting the restaurants that still bear his name to retain their quality.
I ask him what he makes of Jamie's Italian, a rapidly expanding chain and surely Carluccio's hottest competition, and he answers in a roundabout way, explaining first that he hired Jamie Oliver at Neal Street back in the day. "I also employed Gennaro Contaldo [fellow Italian chef, and co-presenter with Carluccio of the BBC 2 series Two Greedy Italians]. But then Gennaro decided to take himself away after 15 years of collaboration with me to open his own restaurant, and took Jamie with him, so…"
He shrugs wearily.
"I've never visited Jamie's Italian, though obviously it's copying Carluccio's. I don't personally want to say which is the best, because that's not up to me. But I do know that people say I am still the best." He puffs imperiously on his cigarette. "You know, I don't want to praise myself too much but I do think I've done quite a lot for Italian food in this country. And I have seen a lot of people jumping on the bandwagon ever since – Nigella [Lawson], for example. I see what she, what they all, cook, and I can see the origins. There is no copyright, of course, and a lot of the time these younger chefs wouldn't even say where they got their ideas from. But I know."
Surely, though, this is what cooking is all about: we take from others – as Carluccio did from his mother – and add our own twist. But if he seems intent on seeing only slight here when he should instead see compliment, then it could be argued that this has always been his primary instinct. He believes now that he was born with a bleak outlook, helplessly turning dramas into crises, and not just professionally. Each of his marriages has failed, and he produced no children. Whenever another relationship ended, his spirits plummeted, and he wanted to end it all – with pills, or by throwing himself off a bridge.
"I never met my full happiness during my life," is how he phrases it now. "So whenever bad things did happen to me, the depression quickly became worse. But when I did what I did last time [his 2008 suicide attempt], it was liberating for me, I think. And from that moment on, my mind changed."
He credits his stint at The Priory with the turnaround. "So many miserable people there. It made me take stock of my life, and appreciate all the good in it. Before, I didn't give a damn about my achievements, but now, when I travel the world and see that I am revered and respected… well, it's a lovely thing. I really believe that my future can be free, at last, from this horrible depression."
The secret to his happiness enduring, he says, is to keep busy. He tells me he has always equated retirement with death, which is why he never will. And so, at 75, he still potters on, doing TV, books, carving his sticks, and cooking, always cooking. "Cooking can be an incentive for living," he says. "You know, I've received a lot of letters from old men recently, widowers, wanting to know if they can improve the quality of their life through cooking. And they can! No matter the budget!" He beams now, evangelical. "Even, say, baked beans, fried in a little oil, with some salt, garlic and chilli, can transform an ordinary meal into something special, and can provide you with a sense of purpose, achievement. Hey, I should know."
Three of Antonio's finest
Filetto di capriolo al Barolo (Fillet of venison in Barolo wine)
Serves 6
Ever since I started cooking I have always used wine for the preparation of dishes. I don't understand why some people use cheap wine, as it is the quality of the wine itself that is essential to producing rich flavours. I would always suggest using a good dry white wine over a champagne, as the bubbles only evaporate once it goes into the dish, so there really is no point cooking with it.
800g/1¾ lb venison fillet from a large deer
Flour, for dusting
55g/1¾ oz butter
For the marinade
1 bottle of good Barolo wine
4 tbsp extra-virgin olive oil
A few juniper berries
A few bay leaves
A small sprig of rosemary
1 onion, thinly sliced
3-4 cloves
A pinch of freshly grated nutmeg
Salt and pepper
To serve (optional)
Polenta
A few slices of white truffle
Mix together all the ingredients for the marinade, trim the meat of gristle and skin, then add it to the marinade, cover and leave to marinate for at least 12 hours. Remove the meat and pat dry, then cut into medallions 2cm thick. Put the marinade in a pan and bring to the boil, then lower the heat and boil until reduced to a third of its original volume. Pass through a fine sieve and keep warm. Dust the medallions with flour and fry in the butter for 3 minutes on each side: they should be rare and tender. Serve very hot with the sauce, together with polenta sprinkled with a few slices of white truffle if desired.
Spaghetti aglio, olio e peperoncino (spaghetti with garlic, oil and chilli)
Serves 2
This is probably one of the most popular recipes for native Italians. They like to eat it at any time, but it's probably the prime dish to be eaten for a midnight feast, when they arrive home late and hungry. It takes only about 6 to 7 minutes to cook the pasta, while the "sauce" is ready in less than half that time. You don't even have to grate any Parmesan, as the pasta is better without.
Salt
180g/6oz spaghetti or linguine
6 tbsp olive oil
2 garlic cloves, peeled and finely chopped
1 small chilli (the strength is up to you), finely chopped, with seeds
Put plenty of water in a saucepan, add salt, bring to boil and throw in the pasta. Stir, then cook for about 5 to 6 minutes, until nearly done.
Now start the sauce by heating the olive oil gently in a deep frying pan.
Fry the garlic and chilli for a few seconds, or until the garlic starts to change colour, taking care not to burn it.
The pasta will be ready and al dente in those few minutes. Drain it well and put in the pan with the "sauce", adding a little salt and perhaps 1 to 2 tablespoons of the pasta cooking water. Stir a couple of times and serve (without Parmesan).
For those who think this is too simple, you could add a further burst of flavour by including a couple of anchovy fillets. Fry them along with the garlic and chilli, and they will melt into the oil. You could add a teaspoon of tiny capers too, if you like, or some very finely cubed green olives. Or, at the end, you could grate some bottarga (dried and salted tuna or grey mullet roe) over the top of each portion.
Fagioli grassi con prete (fat beans with purée)
Serves 4
This dish reminds me of meals eaten with my family. With the help of leftovers and some beans, my mother was able to turn a humble dish into a work of art. Next to spaghetti with sauce, this peasant dish – with its countless variations – is the most common meal in all 20 Italian regions. So you could say that Italy is in fact united by food!
Pork skin, enough to roll into a small sausage
4 tbsp parsley, finely chopped
2 garlic cloves, crushed
2 tsp grated nutmeg
Olive oil
3 carrots, finely chopped
3 celery sticks, finely chopped
3 medium onions, finely chopped
1 litre/1¾ pints of chicken stock or beef stock
400g/14oz borlotti beans
400g/14oz cannelloni beans
400g/14oz) flageolet beans
Salt and pepper
To serve
Bread
To prepare the skin, take off most of the fat with a thin sharp knife and roll it out flat with the skin facing down. Now generously salt and pepper your skin, also adding the parsley, garlic and grated nutmeg. Roll it up into a sausage and tie it together with string.
Heat a deep, non-stick pan with a lid and add a healthy dollop of oil then fry the carrots, celery and onions, stirring until they have softened. Add the stock, stir in all the beans and now add your roll.
Place the lid on top and simmer gently for about 2 hours. Serve with fresh bread.
All recipes taken from 'A Recipe for Life', by Antonio Carluccio, published by Hardie Grant, priced £20. 'Antonio Carluccio: The Collection' is published by Quadrille, priced £25
Register for free to continue reading
Registration is a free and easy way to support our truly independent journalism
By registering, you will also enjoy limited access to Premium articles, exclusive newsletters, commenting, and virtual events with our leading journalists
Already have an account? sign in
Join our new commenting forum
Join thought-provoking conversations, follow other Independent readers and see their replies