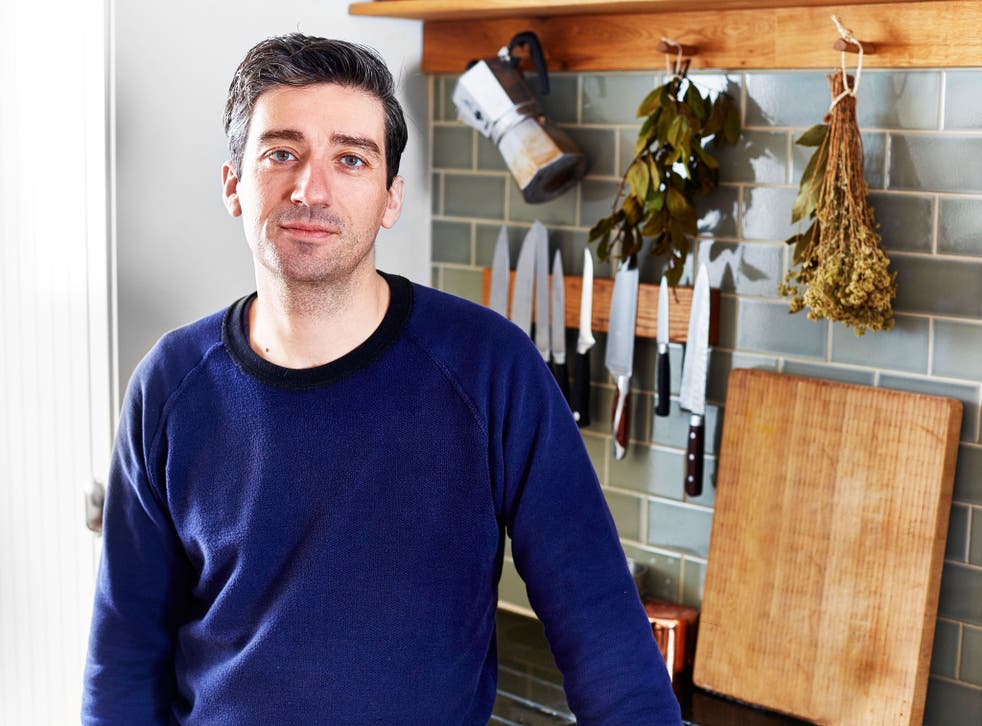 Ben Tish recipes: Feeling sluggish? Add some oranges to your January diet...
January has always seemed such an odd time of year for living abstemiously; I want to be feeling loved and cared for, wrapped up in delicious, exciting and comforting food, and forgetting the miserable, cold January blues. If there's one ingredient that naturally does that, it's the orange: the sight, feel and particularly the smell transport me to far-off climes.
I've always thought it can't just be a coincidence that one of nature's most vibrant fruits comes into high season right now, bringing with them a ray of sunshine, fun times and a pinch of the exotic; they also happen to be packed with cold-busting vitamin C. Great timing, indeed.
I've been eating the odd tangerine and satsuma over the festive period and while I've thoroughly enjoyed them, they seem more of a token nod to Christmas. Oranges have so much more to offer; they can be used in many sweet and savoury recipes and their zest adds a sublime fragrance to anything – Negroni, anyone? (There's my festive spirit kicking back in.)
And there's quite a choice out there in terms of variety: super-sweet clementines, psychedelic blood oranges (my favourite), sturdy navels and Jaffas, and bitter Seville oranges, which are the only ones to use for perfect marmalade.
The recipes here are dishes I love cooking at home and are easy to prepare. If, like me, you're not quite ready for the big detox, how does a blood-orange goat's cheese cheesecake with amaretti sound? Or perhaps succulent roast duck and orange?
I've decided to kick off with a healthy option, though, for those who are looking to ease up a little – and I have to admit, it's really quite delicious. Now, where's that Negroni?
Ben Tish is chef director at Salt Yard Group and a food writer; his second book, 'Grill Smoke BBQ', will be published by Quadrille in April. He also makes regular appearances on TV shows such as 'Saturday Kitchen', 'Sunday Brunch' and 'MasterChef'
Charred brassicas with clementines, chestnuts, rosemary and buttermilk
I love to cook cabbage leaves, broccoli and other brassicas on a griddle, lightly charring the edges while the rest stays succulent. Sweet clementines complement perfectly to make this a delicious winter salad.
Preparation time: 20 mins
Cooking time: 10 mins
Serves 4-6
250g mixed seasonal cabbages – hispi, Savoy or winter greens, cores removed and leaves pulled apart
50ml extra-virgin olive oil
Sea salt and black pepper
120g sprouting broccoli, stalks trimmed
3 clementines, peeled, segmented and pith removed
100g cooked chestnuts
100ml buttermilk
1 rosemary stalk, leaves finely chopped
Juice 1 orange
Set a griddle pan over a high heat.
Toss the brassicas with some oil, salt and pepper then char in two to three batches, turning as you go. While the edges should blacken, the leaves should retain a light crunch; this will take 4 to 5 minutes. Place the brassicas in a salad bowl and add all the other ingredients. Check the seasoning and transfer to a serving dish.
Roast duck breast with caramelised chicory and blood orange
This is a vague Italian twist on the retro combination of duck with orange. The sweet astringency of oranges is the perfect foil for a rich, fatty duck breast. A creamy parsnip purée or some honey-roasted parsnips work a treat as an accompaniment.
Preparation time: 20 mins
Cooking time: 30 mins
Serves 4
4 duck breasts, trimmed and skin scored (about 170g each)
Sea salt
Black pepper
Olive oil
2 large heads yellow chicory, cut in half lengthways
30g demerara sugar
2 blood or navel oranges, 1 zested and juiced, the other segmented
300ml chicken stock
Preheat the oven to 180C.
Season the duck breasts on both sides. Place in a sauté pan over a low heat, skin-side down. Tip off the excess fat that melts from the breasts as you go. Continue the process until the fat left on the duck is crisp and golden-brown; this will take about 6 minutes. Place the duck in the oven for about 8 minutes until cooked to pink and then rest.
Heat another sauté pan over a low heat, add a lug of olive oil and brown the chicory all over. Sprinkle in the sugar and toss the chicory to coat, and keep turning until caramelised. Pour in the orange juice, stock and then add the zest. Simmer until the chicory is tender and the juice and stock have reduced to a rich, sticky sauce consistency.
Slice each duck breast into three pieces and pour any resting juices into the orange gravy along with the segments. Serve the duck on top of the chicory then spoon over the sauce.
Goat's cheese cheesecake with blood oranges and amaretti
Fragrant oranges and amaretti are a match made in heaven, and incorporating them in a light goat's cheese cheesecake results in a truly decadent pudding. A mild goat's cheese adds a floral tang, and works brilliantly with the sweet oranges and almondy amaretti. You'll need a 25cm cake tin with a removable base.
Preparation time: 30 mins
Setting time: 2 hours
Makes 8-10 servings
260g amaretti biscuits
160g digestive biscuits
60g unsalted butter, melted
120ml double cream
250g cream cheese such as Philadelphia
130g mascarpone
100g soft, rindless goat's cheese
120g caster sugar
To finish
50g caster sugar
150ml orange juice
4 blood oranges
Wrap the biscuits in a tea towel and crush them with a rolling pin or blitz in a food processor until you have a fine crumb, then mix with the butter. Spoon the biscuit mix into the cake tin and press evenly into the base. Place in the fridge while you make the cheese mix.
Whisk the cream to form stiff peaks. Separately whisk together the cheeses and sugar until fully incorporated, then fold the whipped cream into this mix. Spoon the cheesecake mix into the tin and spread out evenly. Tap the tin firmly to ensure the mix has fully filled the mould.
Place in the fridge to set for at least 2 hours.
Boil the sugar and orange juice to make a syrup, then segment the oranges and stir into the syrup along with any juice. Cool at room temperature.
Take the cake from the mould, cut into wedges and spoon over the oranges and syrup.
Register for free to continue reading
Registration is a free and easy way to support our truly independent journalism
By registering, you will also enjoy limited access to Premium articles, exclusive newsletters, commenting, and virtual events with our leading journalists
Already have an account? sign in
Join our new commenting forum
Join thought-provoking conversations, follow other Independent readers and see their replies