Bill Granger recipes: Our chef has designed a picnic to win over al-fresco sceptics
A vegetable tart, a beautiful stuffed bread, sausage rolls…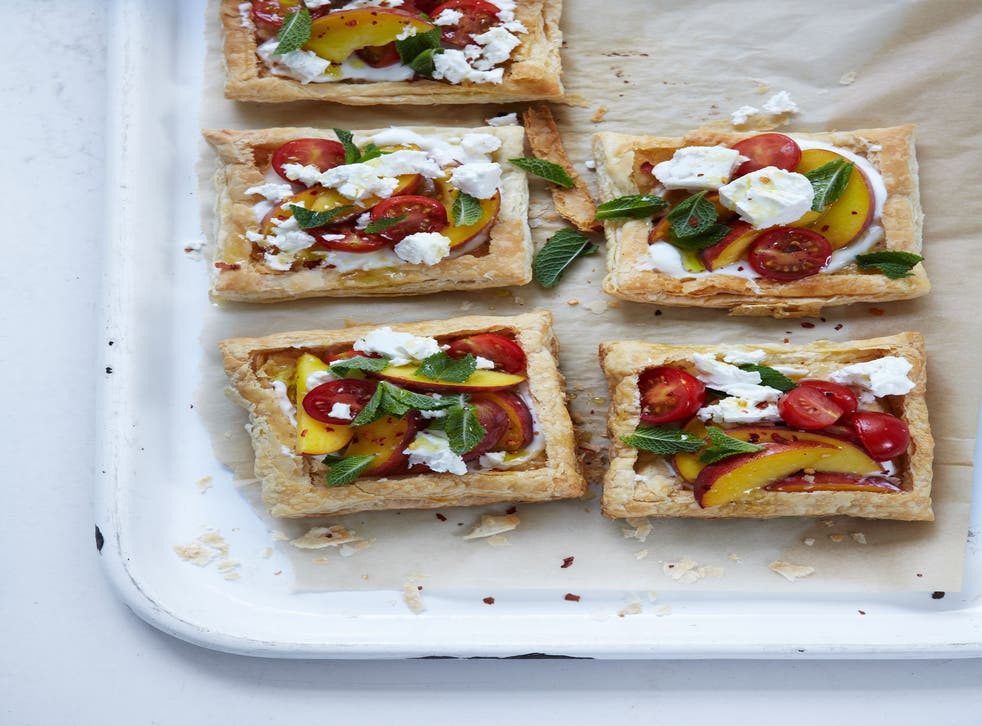 Picnics are a tricky thing in my family. My wife, Natalie, hates them. Too many flies, spilt drinks and the constant risk of showers.
I love the idea of them – as long as they're relaxed. We don't have a fancy picnic basket, nor do we do it often enough to have worked out exactly what we'll need. So, inevitably, something will be forgotten; as long as it's not the corkscrew, I can live with it.
The recipes here are the kind of thing I might make for lunch, whether we stay at home or venture to the park. There's a peach and tomato tart that could almost be mistaken for a salad on pastry, a focaccia stuffed with chard, raisins and ricotta – and, of course, a sausage roll. In my book, they're all best eaten cold – ideal if I can convince Natalie to give picnicking another chance…
Bill's restaurant, Granger & Co, is at 175 Westbourne Grove, London W11, tel: 020 7229 9111; 50 Sekforde Street, London EC1, tel: 020 7251 9032; and Stanley Building, 7 Pancras Square, London N1, tel: 020 3058 2567, grangerandco.com. Follow Bill on Instagram at bill.granger
Tomato, peach and feta tarts
These are great as you see them here, but also delicious if you bake them for 15 minutes after the topping has been added.
Makes 6
12 cherry tomatoes, halved
4 ripe peaches, cut into wedges
2 tbsp olive oil
Pinch chilli flakes
1 tbsp honey
325g packet ready-rolled all-butter puff pastry
5 tbsp Greek-style yoghurt
150g feta cheese, crumbled
Mint leaves, to serve
Combine the tomatoes, peaches, oil, chilli and honey in a bowl. Season with sea salt and set aside.
Preheat the oven to 200C/ 400F/Gas6. Unroll the pastry on a baking tray lined with baking paper. Use a sharp knife to cut it into 6 equal squares then mark a 1cm boarder around each one, being careful not to go all the way through to the base. Bake for 15 minutes, until cooked.
Spread a thick layer of yoghurt on the base of each pastry case. Top with the tomato-and-peach mixture. Crumble the feta over the top of the tarts. Top with mint and serve. k
Chard, raisin and ricotta focaccia
Once cut, this focaccia has a tendency to fall apart quite easily. The way around it is to cut it only once you're sitting on your picnic blanket, or pack it well in wax paper or foil before you set off on your picnic.
Makes 1 focaccia
1kg Swiss or ruby chard
1 tbsp olive oil, plus extra for glazing
2 garlic cloves, thinly sliced
¼ tsp chilli flakes
2 tbsp raisins
250g ricotta
For the dough
7g sachet instant yeast
500g strong white bread flour
115g strong wholemeal bread flour
1 tsp salt
1 tbsp sugar
3 tbsp olive oil, plus extra for greasing
Combine all the dry ingredients for the dough in a bowl and make a well in the centre. Mix the oil and 300ml of tepid water in a jug. Pour into the well, stirring, until the dough is soft. If it is too dry, add a little more liquid; if too wet, a little more flour. Turn on to a lightly floured surface and knead for 10 minutes, until elastic. Place in a lightly oiled bowl, cover with oiled cling film and leave to rise in a warm place for 45 minutes.
For the filling, cut the chard into 2cm pieces, keeping the stalk and leafy part separate. Heat the oil in a large frying pan over a low heat and add the garlic, chilli and raisins. Cook gently for a minute then stir in the chard stalks. Cook, stirring, for two minutes. Add the chard leaves and cook for another minute, until tender. Season lightly with salt. Set aside to cool.
Tip the risen dough on to the floured surface and knock back to its original size by punching it gently. Divide in half. Place half on a lightly oiled baking sheet and stretch out as thinly as you can. If the dough tears, pinch any holes together. Spread with ricotta then top with an even layer of the cooled chard filling. Stretch out the remaining dough to the same size and place over the chard filling. Pinch all around the edge of the focaccia to seal. Cover with lightly oiled cling film and leave to rise for another 30 minutes.
Preheat the oven to 220C/ 425F/Gas7. Make dimples in the dough with your fingertips. Drizzle with olive oil. Bake for 25 to 30 minutes, until golden and cooked through. Serve warm or at room temperature, cut into rectangles.
Lamb sausage rolls with chunky tzatziki
Who doesn't love a sausage roll? These harissa-spiked lamb rolls suit my chilli obsession perfectly. If you're also cooking for kids, leave the harissa out of the rolls and serve it on the side.
Makes 8 sausage rolls
500g good-quality lamb sausages, meat squeezed from the skins
Grated zest 1 lemon
Handful flat-leaf parsley leaves, chopped
Handful mint leaves, chopped
50g toasted pine nuts
375g packet ready-rolled all-butter puff pastry
Plain flour, to dust
2 tbsp harissa
1 egg, lightly beaten
Large pinch cumin seeds
For the tzatziki
½ tsp cumin seeds
½ cucumber, peeled and diced
200ml Greek-style yoghurt
Handful mint leaves , chopped
1 tbsp olive oil
Squeeze of lemon
Mix the meat, lemon zest, herbs and pine nuts. Set aside.
Unroll the puff pastry on to a lightly floured surface. Divide in half lengthways, brush each half with harissa.
Form two long sausage shapes with the meat and lay them down the centre of the pastry lengths. Fold one side over the sausage meat, brush with a little egg and fold the other side over the top. Place the sausage rolls on a baking sheet lined with parchment paper. Brush with egg and scatter with cumin seeds. Chill for 30 minutes.
Preheat the oven to 200C/ 400F/Gas6. Bake the sausage rolls for 25 to 30 minutes, or until golden, puffy and piping hot. Leave to cool for five minutes, then cut each length into four.
For the tzatziki, toast the cumin seeds in a small frying pan over a medium heat for 30 seconds, or until they release their aroma. Tip into a bowl with the remaining ingredients. Stir well to combine and season with sea salt. Serve alongside the sausage rolls.
Food preparation: Marina Filippelli; Props merchandising: Rachel Jukes
Register for free to continue reading
Registration is a free and easy way to support our truly independent journalism
By registering, you will also enjoy limited access to Premium articles, exclusive newsletters, commenting, and virtual events with our leading journalists
Already have an account? sign in
Register for free to continue reading
Registration is a free and easy way to support our truly independent journalism
By registering, you will also enjoy limited access to Premium articles, exclusive newsletters, commenting, and virtual events with our leading journalists
Already have an account? sign in
Join our new commenting forum
Join thought-provoking conversations, follow other Independent readers and see their replies