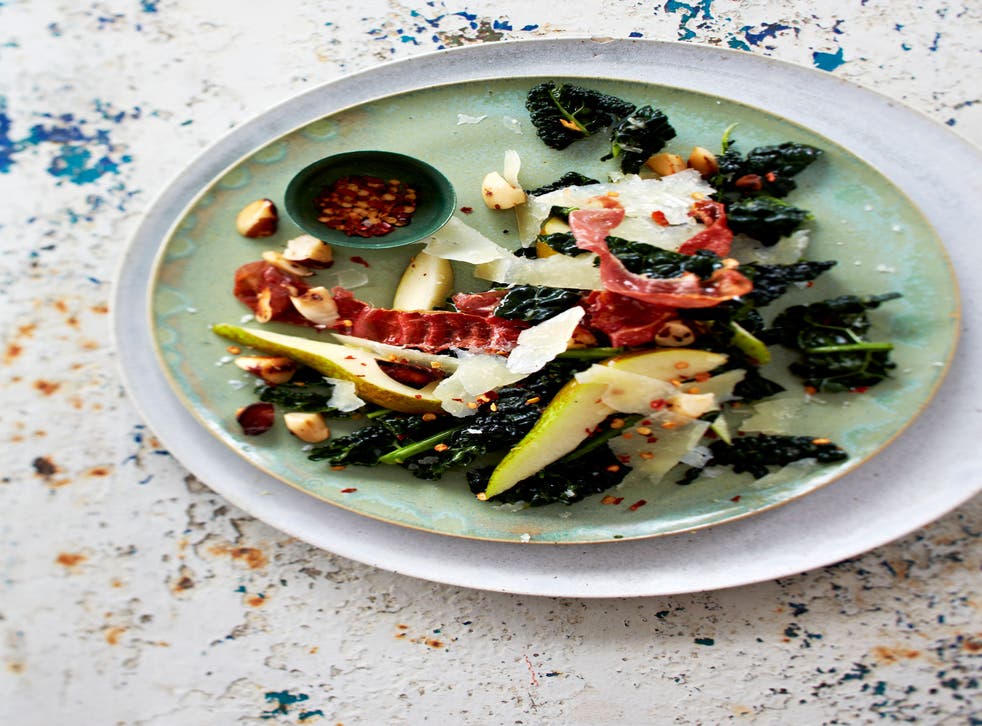 Bill Granger recipes: Our chef's winter salads will make you feel energised through February
Salads aren't just a bit on the side, says Bill Granger - their crunch, colour and natural goodness are perfect for a midwinter pick-me-up
Bill Granger
Sunday 01 February 2015 01:00 Comments
A friend who works in market research once told me that although we all make our New Year's resolution first thing in the year, most of us don't really dedicate ourselves to our new goals properly until the beginning of February.
I guess it makes sense. Getting back into the flow of things after the Christmas holidays is never easy. I find the cold, wet, dark days the worst for finding the motivation and drive to start a new routine. But by February, I start to feel more determined. Skiing holidays are on the horizon, the days are getting longer (if not warmer) and feeling energetic comes easier.
Putting good intentions aside, it's also when I start craving healthy salads again. OK, they aren't as warming as a stew or a soup, but often I want my meal to make me feel invigorated and revitalised rather than cosy, and salads are perfect for that.
Both filling and light, with their vibrant colour, delicious crunch and natural goodness they give me the get-up-and-go I need to face the remainder of the winter. Oh, and re-visit those life-enhancing New Year's resolutions, of course…
Bill's restaurant, Granger & Co, is at 175 Westbourne Grove, London W11, tel: 020 7229 9111, and 50 Sekforde Street, London EC1, tel: 020 7251 9032, grangerandco.com. Follow Bill on Instagram at bill.granger
Prosciutto, cavolo nero, pecorino, pear and Brazil nuts
This is robust and full of contrasting flavours and textures.
Serves 4
300g cavolo nero, tough stalks removed
Juice and zest 1 lemon
2 tbsp olive oil
Pinch chilli flakes
½ garlic clove, crushed
2 firm, ripe pears, cored and sliced
12 slices prosciutto
60g Brazil nuts, roughly chopped
Pecorino, for shaving
Tear the cavolo nero leaves into bite-sized pieces. Put in a large bowl with the lemon juice and zest, olive oil, chilli and garlic. Season with sea salt and toss to coat. Set aside for at least 10 minutes to soften the cavolo slightly. Toss through the pear slices.
Heat a large, non-stick frying pan over a high heat. Fry the prosciutto for 2 to 3 minutes on each side until golden and crisp. Remove from the pan and set aside. Return the pan to the heat, add the Brazil nuts and toss to coat in the fat from the prosciutto, toast for 3 to 5 minutes or until fragrant and golden.
Pile the cavolo-and-pear salad on to a serving platter, top with torn prosciutto slices, crunchy Brazil nuts and generous shavings of pecorino. Serve with extra crushed chilli, if desired.
Pumpkin, goat's curd and radicchio
Warm, spiced pumpkin, chilled, refreshing curd and bitter, crispy radicchio. Yum!
Serves 4
1kg pumpkin or butternut squash, halved, seeds scooped out
Olive oil, to drizzle
2 tsp smoked paprika
1 tsp chilli flakes
Knob butter
2 tbsp honey
50g pumpkin seeds
1 head radicchio, broken into leaves
250g goat's curd
Juice 1 lemon
Preheat the oven to 200C/400F/Gas6. Cut the pumpkin into thin wedges, leaving the skin on. Put in a large baking tray and drizzle with oil, sprinkle with smoked paprika and chilli flakes. Season with sea salt and roast for 20 to 25 minutes, until golden and cooked through. Stir halfway through.
Remove the squash from the oven, dot over the butter, drizzle with honey and add the pumpkin seeds to the baking tray. Return to the oven and cook for a further 5 minutes, or until the pumpkin seeds are toasted.
Divide the radicchio between serving plates, pile on the squash then dollop over the goat's curd. Finish with a squeeze of lemon juice and an extra drizzle of oil.
Salmon, fennel and two-cucumber salad
I love picking away at pickled cucumbers, and this crunchy salad, inspired by the flavours of Scandinavia, finally finds a use for the juice left behind in the jar…
Serves 4
1 lemon, halved
1 bay leaf
4 celery sticks, 2 halved lengthways, 2 chopped
1 fennel bulb, shaved, fronds reserved
1 tbsp coriander seeds, toasted and bashed
Small bunch dill, roughly chopped
4 salmon fillets, about 180g each
2 Lebanese cucumbers or ½ standard cucumber, cut into chunks
2 large sweet dill-pickled cucumbers, roughly chopped
1 small red onion, thinly sliced
For the dressing
1 tbsp Dijon mustard
Juice and zest ½ lemon
1 tbsp dill-pickle juice from the jar
3 tbsp olive oil
Squeeze the lemon into a large pan filled with 1 litre of cold water, drop the squeezed lemon in along with the bay leaf, the 2 halved celery sticks, fennel fronds, coriander seeds and half of the roughly chopped dill. Bring slowly to the boil. Reduce to a simmer, add the salmon and turn off the heat. Allow the salmon to poach off the heat for 6 to 8 minutes, or until just cooked but still a little pink in the middle. Remove from the poaching liquor with a slotted spoon and allow to cool slightly.
Whisk the dressing ingredients together until well combined, set aside.
To assemble the salad, toss the shaved fennel, chopped fresh and pickled cucumbers, red onion, and remaining chopped dill together in a large serving platter. Toss through the dressing. Break up the salmon and pile on top of the salad. Serve immediately.
Food preparation: Marina Filippelli; Props merchandising: Rachel Jukes
Register for free to continue reading
Registration is a free and easy way to support our truly independent journalism
By registering, you will also enjoy limited access to Premium articles, exclusive newsletters, commenting, and virtual events with our leading journalists
Already have an account? sign in
Join our new commenting forum
Join thought-provoking conversations, follow other Independent readers and see their replies