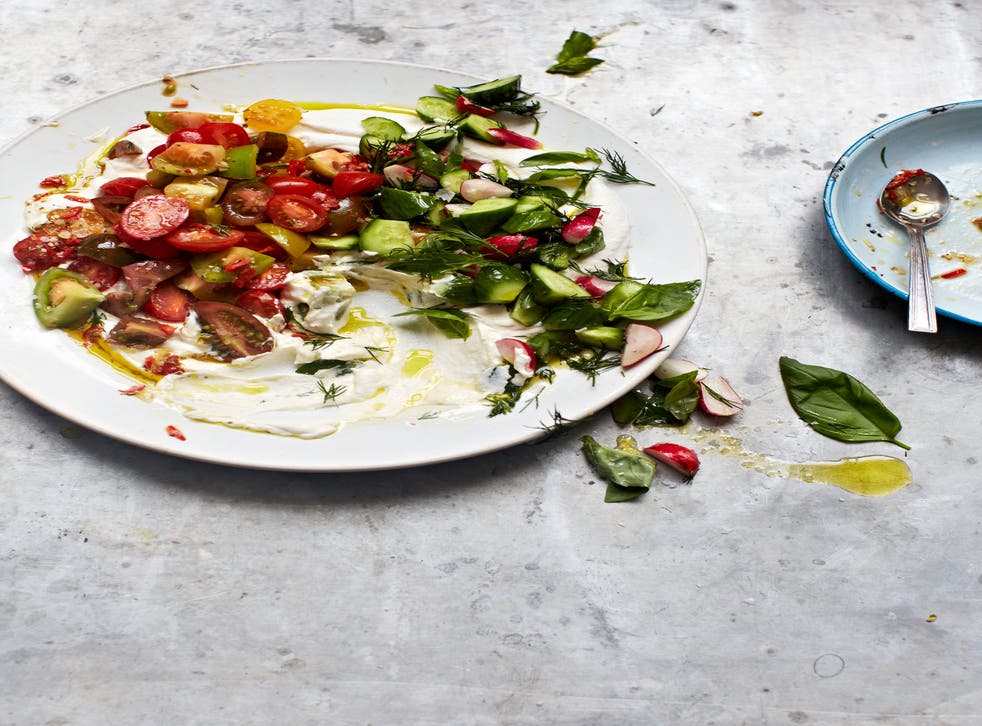 Bill Granger recipes: Our chef welcomes the al-fresco season with a surf-and-turf barbecue
Summer brings out the Aussie in Bill Granger, and no dish makes him more nostalgic than a surf-and-turf barbecue
Bill Granger
Saturday 13 June 2015 22:01 Comments
Summer has begun and I for one am already in full holiday mode. There's something about long days and bright skies that makes the incessant juggling of our everyday lives seem so much more manageable. Whether it's in nature, the clothes we wear or the food we eat, everything seems to be more colourful, have more energy, a greater joie de vivre.
Being Australian, the moment the sunshine comes out, the barbecue gets fired up. For the next couple of months I'd happily spend all my days barefoot, standing next to a grill, dishing out memorable, care-free meals to friends old and new.
Aussies love grilled lamb and I'm no exception. I like to use a large, boned shoulder – it's tastier than leg and cheaper than chops or cutlets. The trick is to leave it quite pink, to keep the meat moist and tender. Then there have to be prawns, of course. In my book, no barbecue is ever complete without sweet, juicy king prawns. And because barbecues always make me feel a little nostalgic for childhood summers, I'm finishing off with lamingtons, the most Australian of cakes.
Bill's restaurant, Granger & Co, is at 175 Westbourne Grove, London W11, tel: 020 7229 9111, and 50 Sekforde Street, London EC1, tel: 020 7251 9032, grangerandco.com. Follow Bill on Instagram at bill.granger
Barbecued prawns and shoulder of lamb with a fresh peach relish
I've always loved surf and turf. The peach relish is so punchy and flavoursome that you could even skip marinating the lamb and prawns if you're short on time.
Serves 6-8
6 garlic cloves, roughly chopped
2 red chillies, deseeded and roughly chopped
Zest and juice 1 lemon
Handful oregano leaves
4 tbsp olive oil
1½kg boned shoulder of lamb
18 tiger prawns, shells on
For the peach relish
2 tsp coriander seeds, toasted and pounded
1 red chilli, deseeded and finely sliced
½ garlic clove, crushed
1½ tbsp runny honey
1½ tbsp brown rice vinegar
4 ripe peaches, stoned and roughly chopped
Large handful mint, roughly chopped
Large handful coriander, roughly chopped
To serve
Lemon wedges
For the marinade, use a mortar and pestle to pound the garlic, chilli, lemon zest and juice with the oregano leaves and a good pinch of sea salt to a rough paste. Stir in the olive oil. Unroll the lamb, rub with half of the marinade. Toss the prawns in the remaining marinade. Leave both to stand for 30 minutes.
Get the barbecue hot. To make the relish, put the coriander seeds in a bowl with the chilli, garlic, honey and rice vinegar, and add plenty of seasoning. Gently fold in the peach. Leave to stand while you cook your lamb.
Put the lamb skin-side down on the hot barbecue and cook for 6 to 8 minutes on each side. Baste then flip the lamb back to skin-side down and cook for another 5 minutes. The lamb should be nicely charred but still feel springy to the touch. Transfer to a board, cover loosely with foil and allow to rest for 10 minutes.
Meanwhile, cook the prawns for 2 to 3 minutes on each side, or until pink and cooked through. Transfer to a serving plate. Toss the fresh herbs through the relish. Serve with slices of the lamb, the prawns and lemon wedges.
Chopped salad with whipped ricotta
You can't go wrong with this salad – refreshing and full of vibrant colours and textures. Perfect for this time of year.
Serves 6-8
750g ricotta
200g Greek yoghurt
650g mixed tomatoes, small ones halved, larger ones cut in chunks
3 tbsp extra-virgin olive oil, plus extra to drizzle
1 garlic clove, crushed
½ red chilli, deseeded and chopped
1 tsp dried oregano
4 Lebanese cucumbers, roughly chopped
200g radishes, roughly chopped
Handful dill, roughly chopped
Handful basil
Crusty bread, to serve
Beat the ricotta and yoghurt until smooth. Season with salt and set aside.
Put the tomatoes in a large bowl. Add the olive oil, garlic, chilli and oregano. Season well. Stir to combine, set aside for 10 minutes.
In a separate bowl, toss together the cucumber, radishes and herbs. Season.
To serve, spread the whipped ricotta on to a serving platter. Top with the juicy tomatoes on one side. Pile the crunchy salad on the other side. Serve with good, crusty bread for mopping up the juices and the creamy whipped ricotta, alongside the barbecued lamb and prawns.
Coconut and passion-fruit lamingtons
Lamingtons are an Australian classic and remind me so much of my childhood. I always add little twists, depending on the season.
Makes 20 lamingtons
250g butter, softened
225g self-raising flour
3 tbsp desiccated coconut
220g golden caster sugar
200ml coconut yoghurt
3 eggs, lightly beaten
3 passion fruits, seeds scooped out
450g icing sugar
175g white chocolate, chopped
20g unsalted butter
100ml milk
175g desiccated coconut
Preheat the oven to 180C/350F/Gas4. Grease and line a 20cm x 30cm, deep baking tray. Put the butter, flour, coconut, sugar, yoghurt, eggs and the pulp of 3 passion fruits into a large bowl and beat with an electric mixer until well combined. Scrape the mixture into the tin and bake for 25 to 30 minutes, or until a skewer inserted into the centre of the cake comes out clean. Remove from the oven and allow to cool.
For the chocolate icing, place the icing sugar, white chocolate, butter and milk in a bowl over a pan of gently simmering water. Stir constantly until melted and smooth. Set aside to cool.
Cut the cake in 4 across the shortest edge and 5 along the longest edge for 20 equally sized rectangles. Put the desiccated coconut in a shallow bowl. Dip each square into the icing then the coconut. Leave on a wire rack to dry completely before serving.
Food preparation: Marina Filippelli; Props merchandising: Rachel Jukes
Register for free to continue reading
Registration is a free and easy way to support our truly independent journalism
By registering, you will also enjoy limited access to Premium articles, exclusive newsletters, commenting, and virtual events with our leading journalists
Already have an account? sign in
Join our new commenting forum
Join thought-provoking conversations, follow other Independent readers and see their replies