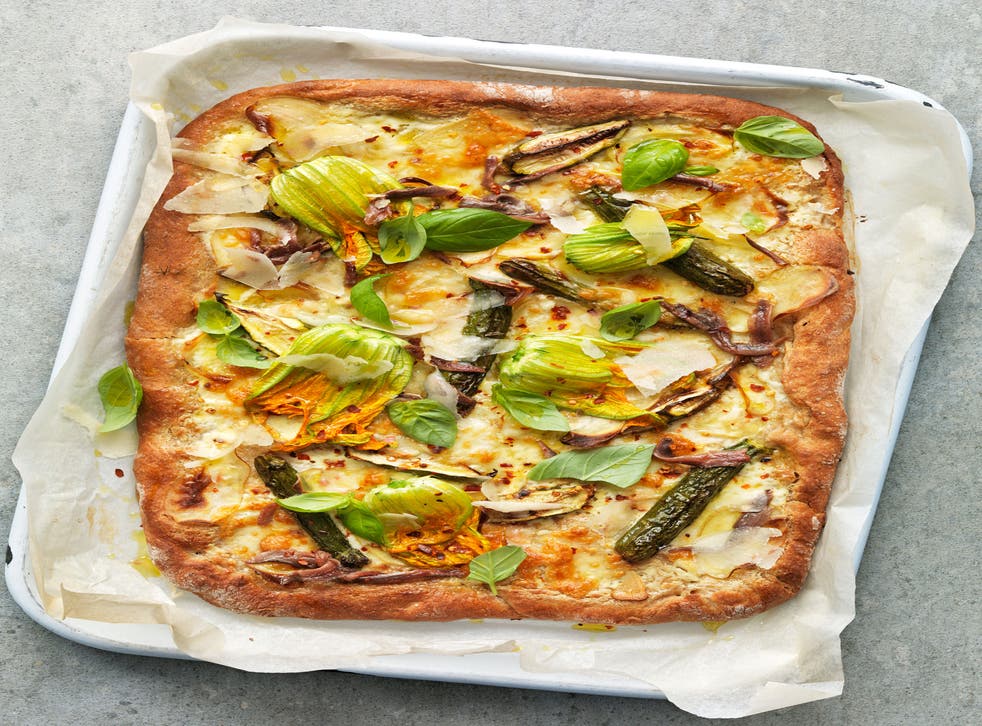 Bill Granger recipes: Quick dishes for an impromptu summer get-together
When an impromptu drink spirals into a get-together for a dozen or more, you need a few quick dishes at your fingertips to feed the masses
Bill Granger
Friday 03 July 2015 16:40 Comments
Looking back, many of my favourite get-togethers have been unplanned. A fortuitous meeting at the market on a Sunday morning leads to an invitation for a drink… with conversation flowing, it seems only natural to call around to see who else is free, and suddenly we've agreed to host an impromptu party for 12 or more.
The idea of preparing a meal for such a large group would normally raise my blood pressure, but when there's no time to plan, or stress, it all seems to come together with much more ease.
The trick is to make dishes that are not overly complicated or fussy. If there's one dish that takes a bit longer, such as the pizza here, make everything else so simple that you can delegate jobs to friends as they arrive.
I've written these recipes to serve 4 to 6 people; you can double, or triple them if you like, but I've found that by adding a large green salad, some cheese, sliced cold meats, olives etc, you can easily make them stretch to feed a hungry crowd.
Bill's restaurant, Granger & Co, is at 175 Westbourne Grove, London W11, tel: 020 7229 9111; 50 Sekforde Street, London EC1, tel: 020 7251 9032; and Stanley Building, 7 Pancras Square, London N1, tel: 020 3058 2567, grangerandco.com. Follow Bill on Instagram at bill.granger
Courgette, anchovy, potato and mozzarella pizza
I love the combination of courgette flowers with potatoes, mozzarella and anchovies, but I know the flowers can be difficult to find and anchovies aren't to everyone's taste. Increase the number of courgettes if you don't have the flowers. And if you have fussy eaters, or a large crowd, make double the pizza dough and bake a second pizza with a simple tomato sauce and mozzarella topping.
Serves 4-6
For the spelt dough
7g dried instant yeast
1 tbsp olive oil, plus extra for greasing and brushing
1 tbsp honey
225g plain flour, plus extra for dusting
150g spelt flour
1 tsp sea salt
For the topping
8 baby courgettes, halved lengthways
Olive oil, to drizzle
150g crème fraîche
50g new potatoes, very thinly sliced
2 balls mozzarella, torn
10 anchovy fillets
5 courgette flowers
1 tsp chilli flakes
2 garlic cloves, sliced
Few sprigs basil
Parmesan, for shaving
Pour 275ml of tepid water into a small bowl, sprinkle in the yeast, add the olive oil and honey and whisk with a fork until dissolved. Set aside.
Mix the flours and salt together in a large bowl. Make a well in the centre and pour in the yeast mixture. Bring together to form a soft dough, then turn out on to a dusted work surface and knead well for 10 minutes, until smooth and elastic. Place the dough in a lightly greased large bowl and brush the top with a little olive oil. Cover with oiled cling film and leave the dough to rise in a warm place for 45 minutes or until doubled in size.
Preheat the oven to 200C/ 400F/Gas6. Place the courgettes in a baking tray lined with parchment paper. Drizzle with oil and season with sea salt and black pepper. Roast for 10 to 15 minutes, until starting to colour.
Knock back the pizza dough and roll out on to a floured baking sheet approximately 40cm x 35cm. Leaving a 2cm border around the edge, spread the crème fraîche evenly over the dough.
Arrange the roast courgettes, potatoes, mozzarella and anchovies on top. Bake for 20 to 25 minutes. Add the courgette flowers and sprinkle with chilli flakes and garlic. Drizzle again with olive oil and bake for a further 5 minutes, until the crust is golden. Serve topped with basil leaves and Parmesan shavings.
Tomato, almond, caper, red onion and sultana salad
Make sure the tomatoes are at room temperature to get the most of their wonderful flavour.
Serves 4-6
75g almonds
1 tsp sea salt
1 tsp chilli flakes
2 tbsp honey
1kg mixed tomatoes of varying sizes and colours
2 tbsp capers
50g sultanas
1 red onion, thinly sliced
3 tbsp olive oil
2 garlic cloves, crushed
3 tbsp red-wine vinegar
Preheat the oven to 160C/325F/Gas3. Toss the almonds in salt, chilli and honey. Tip into a baking tray lined with parchment paper and toast for 5 to 10 minutes, until golden. Set aside.
Slice, halve or quarter the tomatoes depending on their size. Arrange on a serving dish. In a bowl, combine the capers, sultanas, onion, oil, garlic and vinegar. Season with salt and pour over the tomatoes. Top with the almonds and serve.
Instant berry and coconut sorbet with mixed berry salad and an orange and vanilla Chantilly
I don't think you could make a more low-maintenance dessert. The sorbet will start melting pretty much immediately, creating an irresistible mess of sloppy sorbet, juicy fruit and creamy Chantilly in your bowl.
Serves 4-6
For the Sorbet
2 ripe bananas, peeled and sliced
500g mixed frozen berries (we used blackberries, strawberries and raspberries)
150g dairy-free coconut yoghurt
1 tbsp honey
For the mixed berry salad
500g mixed berries (we used strawberries, raspberries and blueberries)
Juice 1 lemon
2 tbsp caster sugar
Few mint leaves
For the orange and vanilla Chantilly
200ml double cream
1 tsp vanilla paste
Grated zest 1 orange
1 tsp orange blossom water (optional)
Icing sugar, to taste
Place the bananas for the sorbet in a single layer on a baking sheet. Freeze for 3 hours, or until solid.
For the berry salad, hull and quarter the strawberries. Place into a large bowl with the other berries. Stir in the lemon juice and half the sugar. Set aside to macerate for 10 minutes. Just before serving, stir through the remaining sugar and the mint.
For the Chantilly, pour the cream into a large bowl and whisk until it holds its shape. Fold through the vanilla paste, orange zest and orange blossom water, if using. I like it just like this, but if you have a sweet tooth, fold through icing sugar, to taste.
To make the sorbet, place the frozen banana and berries in the bowl of your food processor. Pulse until the fruit starts to break up. Tip in the yoghurt and honey. Continue to whizz until completely smooth. Serve immediately with the fruit salad and Chantilly.
Lime, orange and ginger fizz
Deliciously thirst-quenching, whether you make it with prosecco or keep it straight with soda water.
Serves 6
8 limes
2cm ginger, sliced
100g sugar
2 blush or regular oranges, chopped
Crushed ice
Prosecco or soda water
Place the zest and juice of six limes in a pan. Add the ginger, sugar and 2 tbsp of water. Heat gently for 5 minutes, stirring occasionally, until the sugar has dissolved. Strain and set aside to cool.
Cut the oranges and remaining limes into chunks, leaving the skin on. Divide between 6 glasses, together with some crushed ice. Pour the syrup over and top with prosecco or soda water.
Food preparation: Marina Filippelli; Props merchandising: Rachel Jukes
Register for free to continue reading
Registration is a free and easy way to support our truly independent journalism
By registering, you will also enjoy limited access to Premium articles, exclusive newsletters, commenting, and virtual events with our leading journalists
Already have an account? sign in
Join our new commenting forum
Join thought-provoking conversations, follow other Independent readers and see their replies