The Independent's journalism is supported by our readers. When you purchase through links on our site, we may earn commission.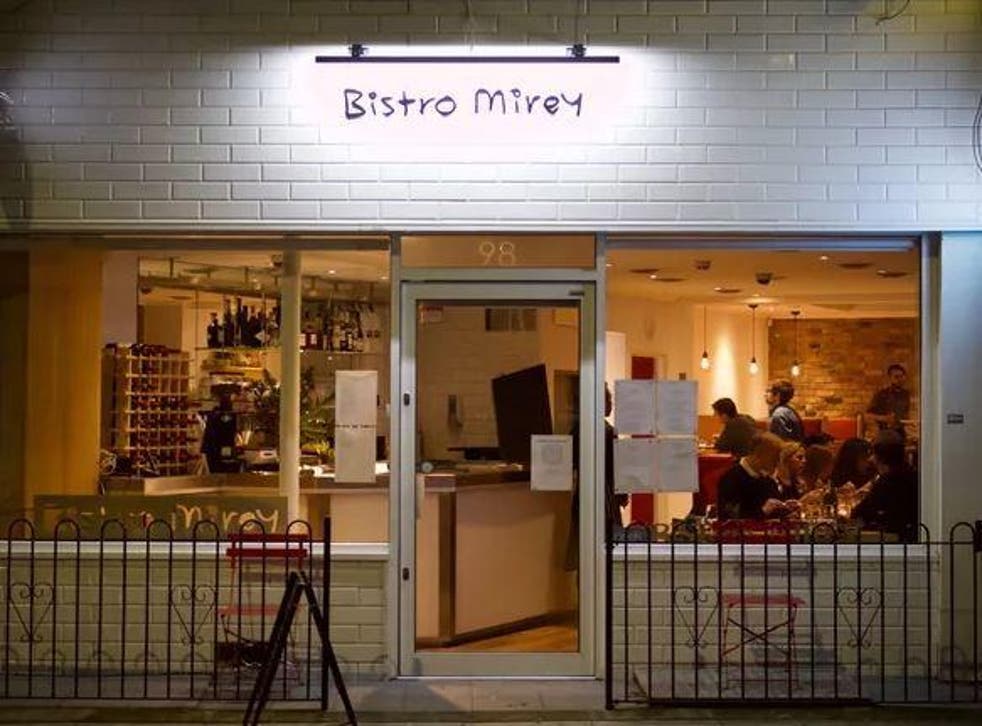 Brunch on Saturday: Bistro Mirey review and spicy baked eggs recipe
This week, Emma Henderson tries an unlikely cuisine combination at Bistro Mirey and we add beans, spicy red pepper and feta to our baked eggs at home
Brunching out...
Classic French food with a twist of Japanese is not something you come across often, but considering the owners are both French and Japanese – it's a combination of what each knows best.
The team behind Bistro Mirey, which opened in West London in mid-December, is Ko Ito and Gerald Mirey and you might recognise them from their supper clubs and residence days from around London.
Gerald is classically trained and previously worked at The Narrow, part of the Gordon Ramsay group, and has ambitious plans for their new permanent site, all serving only French or Japanese alcohol – including a sparkling wine from Japan.
It's essentially an all-day bistro, serving an a la carte winter evening menu, lunch, brunch, a children's menu and an aperitif and sake menu – as well as specials and a Sunday roast. They're leaving no stone unturned.
For some, this may be taking on more than you can chew, but it's well managed with concise menus.
Weekend brunch is served Saturday 9am-4pm and Sunday until 11.30am and is split into Classiques (croissants and fruit), Oeuf (omelette and eggs benedict) and Specialite – which I think is the best section.
With six options, this part of the menu is where the combination of the two cuisines is best observed. And considering its core is French, it's quite amazing there's two vegan and two veggie options. Luckily, Ko realises that not everyone will be an expert, are more than likely not to know their hojicha from their nori and is on hand to explain exactly what the hojicha pancakes ( £7.50) entail.
They're infused with a green tea, which gives them an ever so slightly darker hue of green/brown instead of their normal honey colour and a lightly smoked green tea taste. It's served with blueberries, raspberries, creme fraiche and a maple syrup to give it a creamy sweetness.
Aside from the pancakes, there's brioche French toast (£7.50), served with streaky bacon and miso butter, which is chunky, sweet and incredibly moreish, plus quinoa porridge, tofu-stuffed crepes and a French breakfast.
It's an exciting local restaurant that warrants visiting for all their occasions (a good ploy) and brings something a little different to an area mainly dominated with Middle Eastern cuisine. And it's very pocket friendly, a good few pounds per dish below its counterparts.
98 Lillie Road, Fulham, London, SW6 7SR, UK; 020 3092 6969; bistromirey.com; open daily
Brunching in...
Baked eggs and spicy red pepper beans with feta
Gorgeously sticky beans with soft, runny eggs and a crumbling of salty feta. Guaranteed to impress.
Prep: 5 minutes
Cook: 25 minutes
Serves 2
1 tbsp olive oil
1 small red onion, finely sliced
100g roasted red peppers from a jar, sliced
½ tsp sweet smoked paprika
2 tsp dark brown soft sugar
227g can chopped tomatoes
1½ tbsp cider vinegar
400g can mixed beans in water, drained and rinsed
​2 eggs
​40g feta cheese, crumbled
handful flat leaf parsley, roughly chopped
Preheat the oven to 200˚C, gas mark 6. Heat the oil in an ovenproof frying pan over a medium heat. Add the onion and cook for 7-8 minutes, until it starts to soften.
Add the roasted peppers, paprika, sugar and a good pinch of salt, then cook, stirring regularly, for a further 2 minutes. Stir in the tomatoes, vinegar and mixed beans, then simmer for 5 minutes, until thickened and sticky.
With a wooden spoon, make two wells in the beans and break an egg into each. Season and bake in the oven for 8-10 minutes, until the whites are set but the yolks are still runny. Scatter over the feta and parsley and serve with toasted sourdough, if liked.
Register for free to continue reading
Registration is a free and easy way to support our truly independent journalism
By registering, you will also enjoy limited access to Premium articles, exclusive newsletters, commenting, and virtual events with our leading journalists
Already have an account? sign in
Register for free to continue reading
Registration is a free and easy way to support our truly independent journalism
By registering, you will also enjoy limited access to Premium articles, exclusive newsletters, commenting, and virtual events with our leading journalists
Already have an account? sign in
Join our new commenting forum
Join thought-provoking conversations, follow other Independent readers and see their replies