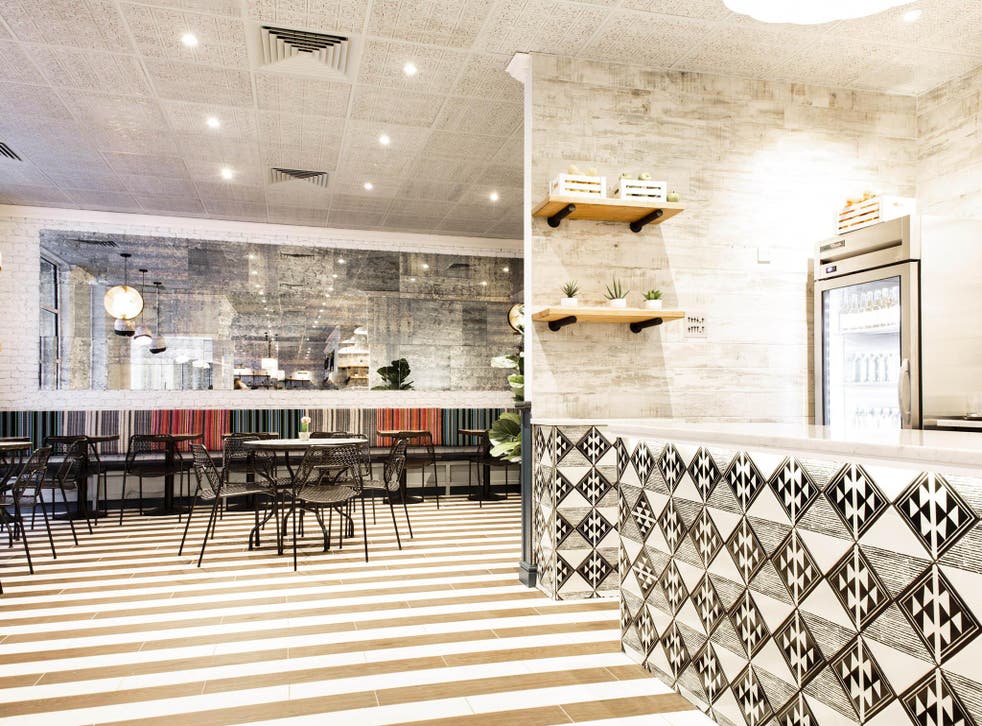 Brunch on Saturday: By Chloe review: Vegans need junk food too
The London outpost of this cult US eatery is a welcome departure from healthier-than-thou vegan restaurants
Brunching out...
Much fanfare greeted the announcement that cult US vegan restaurant By Chloe was opening a branch in London. And judging by the queues out the door on our Saturday visit, the capital's latest plant-based eatery is living up to the hype.
The concept is simple: fast comfort food, but vegan. Booking isn't an option – you simply order at the counter, collect your food on a tray and then sit down.
Trouble is, By Chloe is currently so popular that many people are left awkwardly standing and holding their trays at peak times, nibbling at sweet potato fries while waiting for a table.
The eatery certainly fills a gap in the market though – where most vegan places are very health conscious and, well, a bit holier than thou, By Chloe is fun and the food not always wholesome. That said, if you are in the mood for an açai bowl or a salad, they've got you covered.
The menu in the Covent Garden branch also features uniquely British dishes such as "fish" and chips (made from tofu), shepherd's pie (made from seitan) and sticky toffee pudding (with coconut whipped creme).
The London twist is also present in the decor – the restaurant features a highly instagrammable "guac save the queen" pink neon light on the wall. And the appeal to millennial women continues with "YASS QUEEN" on the bathroom mirror, sure to confuse the parents of anyone visiting with their offspring.
The brunch menu is served until 4pm, but the main menu is on offer at all times too. So if you fancy a burger or mac 'n' cheese for breakfast, there's nothing to stop you – and I highly recommend you get the mac 'n' cheese.
We started off with juices (all £4.80) – the cuckoo's nest which was tasty if overwhelmingly beetrooty, and the howl which had a nice kick from the cayenne pepper.
But on to the food, which comes served in traditional fast food packaging. The daily pancakes were very good – served as a duo they're both huge and fluffy, featuring chunks of chocolate and nuts, and plenty of maple syrup.
The mornin' glory burger – scrambled tofu, maple sausage, avocado and sriracha in a potato bun – is good and there was lots of filling, but the sausage patty was quite crumbly and the sauce was quite spicy, which may or may not be a good thing for you.
The guac burger (£9) isn't on the brunch menu but was certainly brunch appropriate – a patty made from black beans, quinoa and sweet potato, topped with corn salsa, onion, guacamole, tortilla strips and chipotle aioli in a whole grain bun. It's a delicious mix of flavours, but £9 seems quite steep considering sides are extra.
Much more affordable, however, and just a downright Godsend, was the mac 'n' cheese – conchiglie pasta smothered in creamy sauce made from sweet potatoes and cashew cheese, topped with shiitake mushroom pieces (that really tasted of bacon) and shavings of almond in place of parmesan, and at £4.80 it's a steal.
On the side, we share sweet potato fries which are quite frankly to die for, as are the quinoa hash browns, which turn out to be just one hash brown. It's very tasty and the quinoa adds a nice texture, but it should really be counted as a side – it's certainly not enough for a main dish.
There's no denying it, By Chloe does plant-based food very well. Why should vegans have to be healthy all the time?
But the food is so delicious any meat-eater would enjoy it too – I just hope you can get a table.
Brunching in...
Corned beef hash
Prep: 10 mins
Cook: 30 mins
Serves 4
675g smooth potatoes (e.g. Desiree, cubed)
2 tbsp sunflower oil
1 onion, chopped
​340g tin corned beef, diced
​195g tin sweetcorn, drained
Salt and pepper
2 tsp Worcestershire sauce
4 eggs (optional)
Place the potatoes in a pan, cover with boiling water, add a little salt, cover and simmer for 10 minutes or until just cooked. Drain. Heat the oil in a large frying pan and sauté the potatoes for 10 minutes until golden. Add the onion and fry for 5 minutes.
Stir in the corned beef, sweetcorn, seasoning and Worcestershire sauce and return to the heat for 10 minutes or until piping hot. Serve with a poached egg.
Recipe from lovepotatoes.co.uk
Join our new commenting forum
Join thought-provoking conversations, follow other Independent readers and see their replies