Chinese New Year recipes: Celebrate the Year of the Goat with amazing Chinese food
To celebrate Chinese New Year, our chef will be preparing his own dim sum before heading out to Chinatown to take in the dragon dancing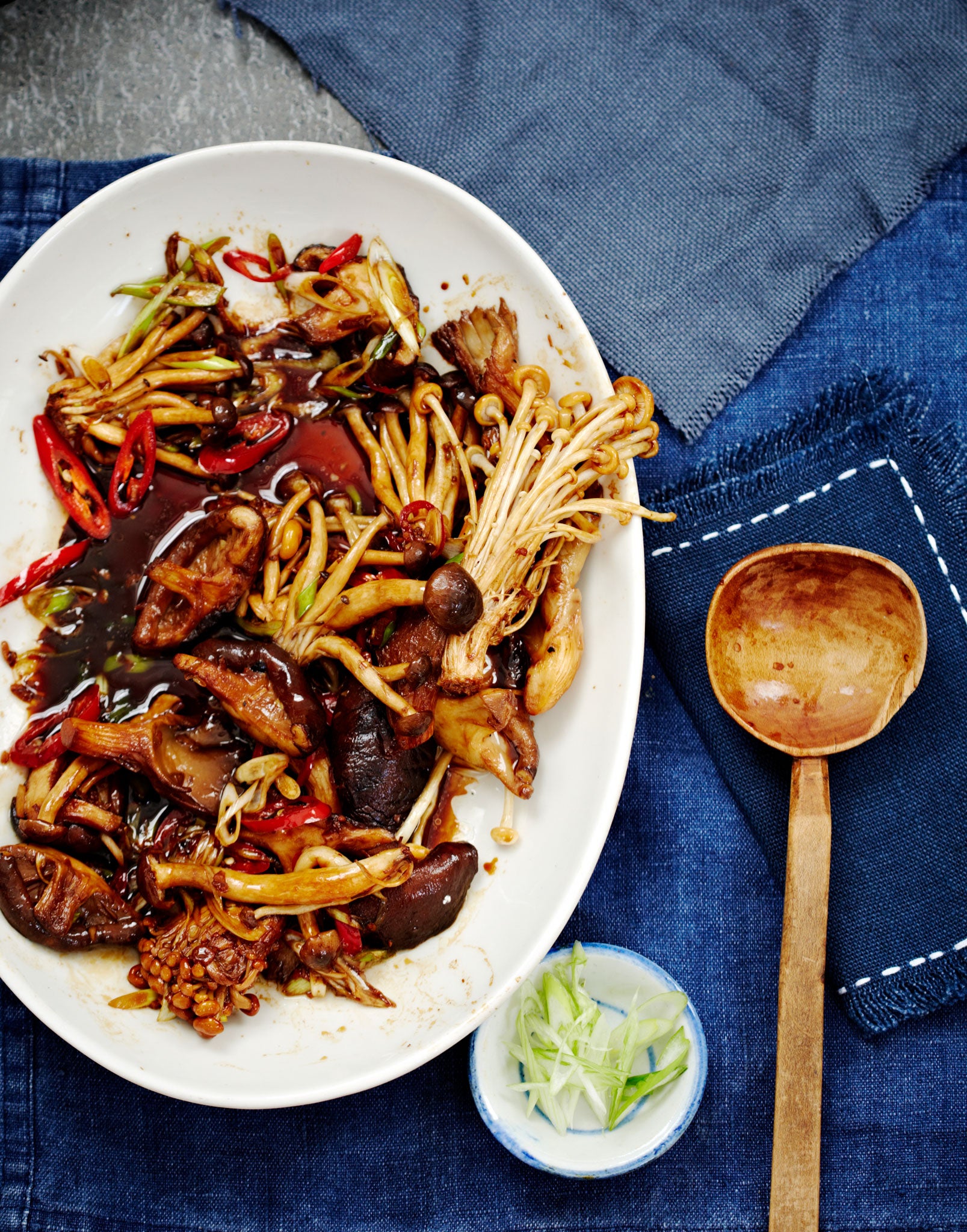 It's Chinese New Year today. I do love heading to Chinatown to see all the red lanterns and lion and dragon dances. And any excuse for a big dim sum meal sounds good to me!
At home, I'll mark the occasion by cooking some homely Chinese food: a humble welcome to the Year of the Goat, with easy-to-find ingredients and dishes that are effortlessly achievable. There is nothing too fancy here. I'll leave all that fiddly dumpling-making to my delicious local Chinese. They make some of the best in London, so why try to compete?
Bill's restaurant, Granger & Co, is at 175 Westbourne Grove, London W11, tel: 020 7229 9111, and 50 Sekforde Street, London EC1, tel: 020 7251 9032, grangerandco.com. Follow Bill on Instagram at bill.granger
Mixed mushrooms with black vinegar
I love the smoky, malty flavour that Chinese black vinegar adds to stir-fries and braises. I can get it at my local supermarket, but if you have trouble finding it, use a light drizzle of balsamic instead.
Serves 4
1 tbsp soy sauce
1 tbsp Chinese black vinegar
1 tbsp chicken stock or water
½ tsp caster sugar
2 tbsp light-flavoured oil
500g mixed mushrooms (we used oyster, chestnut, shiitake, shimeji and enoki)
2 garlic cloves, finely chopped
1 red chilli, sliced on the diagonal
2cm fresh ginger, finely chopped
4 spring onions, shredded
½ tsp sesame oil
In a small bowl, combine the soy, vinegar, chicken stock and sugar and set aside.
Heat the oil in a wok over a high heat. Add the mushrooms, garlic, chilli and ginger. Stir-fry for 1 minute then pour in the soy and vinegar mixture. Cook for another minute then stir in the spring onions and sesame oil. Serve immediately.
Chicken pilaf with pumpkin
Stir in a bag of baby spinach in the final few seconds and this could easily make an all-in-one meal.
Serves 4
4 skinned and boned chicken thighs
1 tbsp light-flavoured oil
3cm ginger, finely chopped
3 garlic cloves, chopped
4 spring onions, chopped
1 tbsp chopped coriander stems
1 tsp sesame oil
220g brown rice
350g peeled pumpkin, chopped
600ml chicken stock
For the topping
Handful coriander leaves, chopped
1 red chilli, chopped
1 tbsp soy sauce
1 tsp sesame oil
1 tsp caster sugar
Juice ½ lemon juice
To serve
Lemon wedges
Cut the chicken into chunks and season with sea salt and freshly ground black pepper. Heat the oil in a large, heavy-based pan over a high heat and brown the chicken. Lift from the pan with a slotted spoon and set aside.
Add the ginger, garlic, spring onions, coriander and sesame oil to the pan. Fry for a few seconds then add the rice and fry for 1 minute. Return the chicken to the pan. Stir in the pumpkin. Add the stock, bring to the boil then cover and simmer for 25 minutes until the rice is cooked through, adding a little boiling water if the rice dries out too much.
Once the rice is cooked, scatter with the coriander. Combine the remaining topping ingredients in a bowl then spoon over. Serve with lemon wedges on the side.
Mixed spiced nuts
Salty, sticky and utterly delicious!
Serves 4
200g mixed nuts
3 tbsp sesame seeds
2 tsp soy
2 tsp caster sugar
½ tsp Chinese five spice
1 tbsp lime juice
½ tsp chilli flakes
Preheat the oven to 180C/350F/Gas4. Place the nuts in an oven tray lined with parchment paper and roast for 10 minutes, stirring after 5.
In a large bowl, combine the sesame seeds, soy, sugar, five spice, lime juice and chilli. Tip in the nuts, stir well to combine, and return to the oven.
Roast for another 5 minutes, or until the nuts are golden and the aroma of the spices is released. Season with salt and set aside to cool.
Food preparation: Marina Filippelli; Props merchandising: Rachel Jukes
Join our commenting forum
Join thought-provoking conversations, follow other Independent readers and see their replies