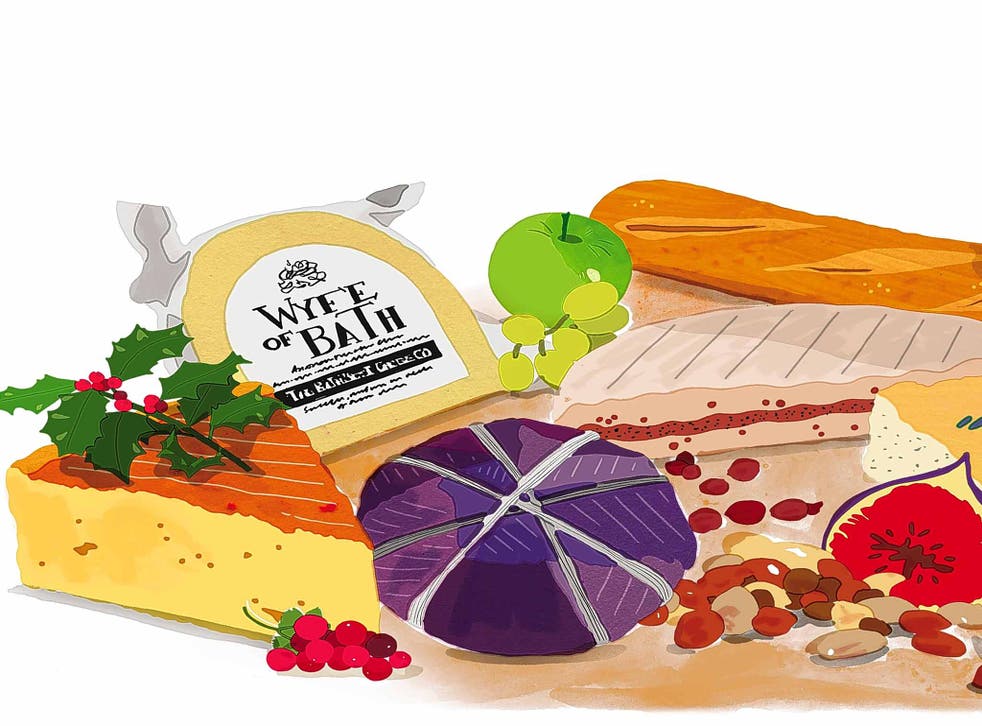 Christmas cheese: Delicious alternatives to encourage you to be more adventurous with the cheeseboard
 Sophie Morris suggests some less traditional choices that really take the biscuit
Sophie Morris
Tuesday 15 December 2015 19:31 Comments
There's something quite noble about the Christmas cheeseboard. Amid the overflowing bounty of festive food, where roast dinners are supplemented by mince pies, Christmas puddings and probably a Quality Street chaser, a few well-chosen cheeses make for a dignified interlude.
Stilton, cheddar and brie are classics, but this year we've been down to Borough Market to inspire you with a selection of alternatives to your traditional choices. Team with fresh fruit, crackers, good bread, a chutney or two and a glass of wine.
1. Ardrahan (Vegetarian)
Brie, camembert and many other soft cheeses are made using animal rennet, but if you're having a vegetarian Christmas, Ardrahan makes a great substitute.
Flavour-wise it offers something quite different to your typical soft and creamy cheeses: it is a strong, nutty, somewhat smoky and very savoury cheese with a thick orange rind that has been washed in salt water.
Mary Burns has been making Ardrahan on her farm in County Cork, Ireland, for more than 30 years, using pasteurised milk from her own herd.
nealsyarddairy.co.uk/product/ardrahan
2. Stichelton
Stilton lovers should make some space at the cheeseboard for Stichelton, a very similar cheese but made using raw milk. The natural flavours of the milk come through in the finished product, which is a delicate and creamy construction with strong and tangy blue veins.
It's been around for a decade now, ever since cheesemaker Joe Schneider and cheesemonger Randolph Hodgson decided to have a crack at reviving England's raw milk cheese legacy. It took them a year or so to find a farm producing the right quality of milk: Welbeck Estate in Nottinghamshire, near Sherwood Forest, met their standards and they now turn out around 30 cheeses a day that are sold after maturing for four months. The Stilton Cheesemakers Association decided that this cheese couldn't be named a stilton, hence the variation, derived from an alternative spelling in the Domesday Book.
Hodgson isn't just any cheesemonger, he's the founder of Neal's Yard Dairy and this year was awarded a lifetime-achievement award from the BBC Food and Farming Awards, in recognition of his work in helping to rebuild Britain's farmhouse cheesemaking industry.
nealsyarddairy.co.uk/product/stichelton
Food and drink news

Show all 35
3. Wyfe of Bath (V)
There are some very fine cheddars out there (Montgomery's, Keen's, Godminster) but for a hard cheese with a difference, try standing a proud wedge of Wyfe of Bath on your cheeseboard. It's a vegetarian cheese with a light, slightly nutty and somewhat fragrant flavour, which should provide some – relatively – light relief after a stream of rich Christmas dishes.
4. Truffled brie (V)
As one tester put it, "Is truffling a brie not the edible incarnation of gilding the lily?" Probably, but the sheer excess of this flavourful and downright pungent cheese is just the thing to turn an everyday cheeseboard into a truly festive one.
The producers Alsop & Walker – Arthur Alsop and Nic Walker – who work in East Sussex, use creamy and grassy local cow's milk to make a brie that they mature for 60 days. Then come the truffles. The cheesemakers mix Alba truffles with cream cheese, split the brie through its middle and add in a layer of the truffle mix, which slowly infuses through the cheese as it's left to mature further.
Warning: this one is quite the stinker.
5. Banon
For those who like a soft goat's cheese with a subtle but distinct flavour, Banon is a good choice. Made in the market town of Banon in the Rhône-Alpes, the unpasteurised cheese becomes something very special indeed by being drenched in eau-de-vie and wrapped in chestnut leaves, before being left to mature for a minimum of two weeks (and up to six weeks for the fullest flavour).
Banon is sold at Borough Market by Une Normande à Londres (actually two men from Normandy in London, who sell their rich selection of French cheeses around the capital's food markets). "It is a very traditional cheese – a version of which is said to go back to Roman times," says Ulrich Leblais from Une Normande à Londres.
"It is a cheese to relax with, and goes well with a crusty baguette, some fresh fruits and a glass of dry white wine." Thankfully, anyone who can't visit the market will find Banon at good specialist food or cheese shops.
6. Ellis (V)
Along with Ardrahan, Ellis is the cheese I'll be talking about, and eating, well past Christmas and through 2016. This semi-hard cow's milk cheese has only been going for a year and is a testament to the fruits of continued innovation in British cheesemaking.
Philip Wilton of producer Wildes Cheese describes its birth as a "moment of anarchy" which bridges the gap between a strong cheddar and a rich brie. "I got my hands on a great French brie and a great English cheddar, and I thought 'oh, what would happen if I combined them?' So we started experimenting and ended up coming up with a really very nice cheese."
Wilton uses pasteurised milk bought direct from a local herd in Sussex, and a combination of mothers (cultures used to begin the cheesemaking process, like bakers use starters); he then matures the cheese for three months. Try not to fight over it.
7. Blu '61
This ravishing blue and crimson hunk of a cheese will have your guests straining at their waistbands to pack yet more indulgence into their festive paunches.
Blu '61 is a soft Italian cheese made with pasteurised cow's milk, which is – wait for it – poured into vats full of Raboso Passito, a strong and sweet red wine. After maturing for three months, the rounds of creamy blue are topped with a layer of cranberries, wrapped and left to mature a little longer; during this time the flavour from the cranberries can seep through the cheese's thin rind, infusing it with the sharp, tangy notes of the berries. This cheese is very rich and is best paired with equally full flavours: red wine, port, Italian Passito or another dessert wine, rustic bread and figs.
boroughmarket.org.uk/lubriaco-drunk-cheese
8. Appleby's Cheshire
Don't forget the UK's grand tradition of brilliant cheesemaking when dressing your festive cheeseboard. Cheshire cheese can be forgotten in favour of its hipper, younger cousins. The Appleby family have been making cheese since the 1950s and its zesty, crumbly, pale red Cheshire is made with raw cow's milk, set in calico-lined moulds and then pressed. Enjoy it with a tangy chutney.
Register for free to continue reading
Registration is a free and easy way to support our truly independent journalism
By registering, you will also enjoy limited access to Premium articles, exclusive newsletters, commenting, and virtual events with our leading journalists
Already have an account? sign in
Join our new commenting forum
Join thought-provoking conversations, follow other Independent readers and see their replies