The Independent's journalism is supported by our readers. When you purchase through links on our site, we may earn commission.
12 perfect gifts for the wine lover in your life
Wine merchants, shops and supermarkets everywhere are positively throwing ideas at us for wine-related gifts this festive season. Terry Kirby gives us his favourites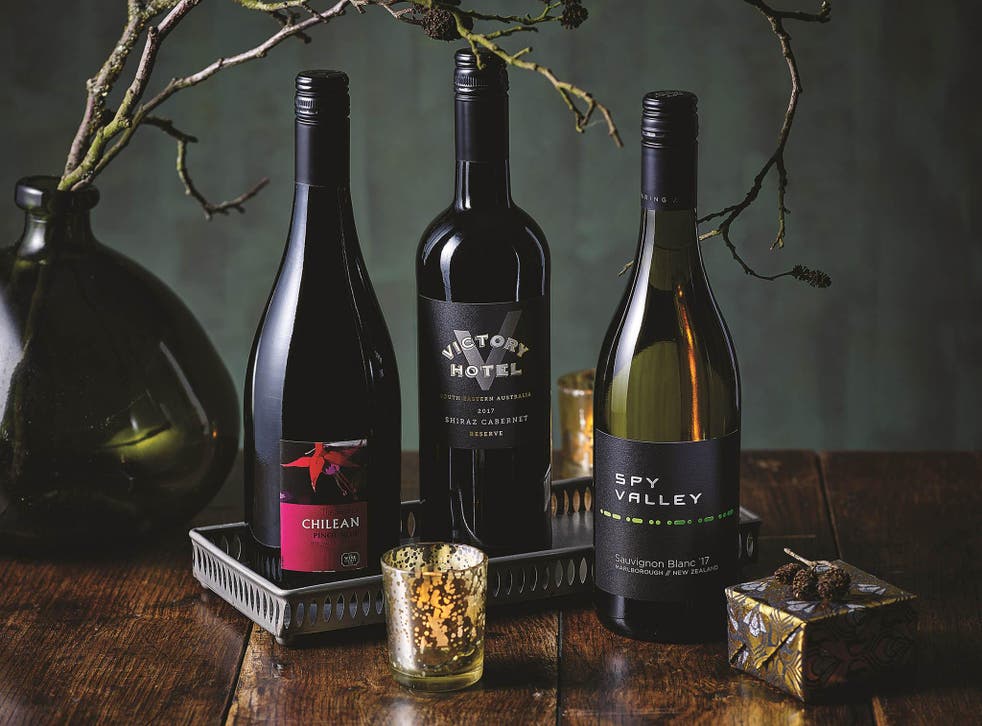 What do you buy the wine lover in your life? Well, wine, obvs. But there are many different ways and means to buy wine – and that the includes the cheap bottle of Aussie shiraz bought in the corner shop at 10pm on Christmas Eve. Just remember to stick a bit of tinsel or holly on it.
No, we can do better than that, can't we? Indeed, wine merchants, shops and supermarkets everywhere are positively throwing ideas at us for wine-related gifts this festive season. So, here are just some of them:
A bottle of champagne is always a nice gift, but it's even better to have it presented in an attractive way or with something that lasts beyond the final drop in the bottle.
There are many options to choose from: I really like the idea of the bottle and ice bucket with this Laurent Perrier Brut in Ice Bucket (£80.00 johnlewis.com) since ice buckets are an essential way to keep any wines cool. John Lewis also does a really attractive Hammered Stainless Steel Ice Bucket (£39.00 johnlewis.com).
As I said this time last year, please avoid any glasses that have gold sprinkles or embossed vine leaves as they are unbearably naff, but this combination of one of my favourite champagnes with two sparkling glasses would be a welcome gift in my house: Bollinger Special Cuvee Brut Champagne with 2 Flutes (£80.00 amazon.co.uk).
Those glasses are by Riedel, which also does a great range of stylish decanters here at various prices, including this extraordinary Curly Fatto A Mano Decanter (£250.00 riedel.com). Just the thing for that corner-shop shiraz.
Still on the subject of fizz, there are some lovely little stocking fillers such as the Moët Rose Imperial Christmas Cracker (£19.95 thewhiskyexchange.com) or the Moët Brut Imperial (£19.99 selfridges.com) or these cute 20cl bottles from Nicolas Feuillatte (£10.00 johnlewis.com). Not bling enough for you? Feed the prosecco addiction of your loved ones, at least for a short time, with the Bottega Gold Prosecco (£19.49 drinksupermarket.com; £20.95 ocado.com).
A £40 lifetime membership to the Wine Society is to my mind one of the best presents you can give at Christmas, and it also has a terrific range of gifts, including wine and food hampers, champagne and chocolate packages, or simple boxed sets such as this New World Trio Case (£30.00 thewinesociety.com) consisting of a shiraz/cabernet from Australia, a Chilean pinot noir and a New Zealand sauvignon blanc.
Not sure whether you want to give somebody still or sparkling, port or sherry? Do you want chocolates or glasses? There is a vast selection here on Bottled and Boxed, such as this boxed Taylors LBV Port and Truffles (£45.36 bottledandboxed.com)
When it comes to something to read while sipping your wine gifts, most wine buffs will appreciate the big reference works by experts such as Jancis Robinson or Hugh Johnson, but I'd like to highlight an engrossing little book given to me earlier this year, although it was published back in 2002: Wine and War: The French, The Nazis and France's Greatest Treasure (£9.99 amazon.co.uk) by Donald and Petie Kladstrup.
It details the relationship between the Nazis during their occupation of France and the French wine trade, and how they hid away some of their great vintages: it's full of human stories and is a fascinating read. And it's a really important reminder of how embedded wine culture is and was in those communities.
There are of course many different wine accessories on the market, from thermometers to bottle cradles and corkscrews that look like something constructed by a crazed torturer – there is a good selection here on Amazon – but, as I said this time last year and make no apologies for repeating it, my favourite wine accessory gift ever is also the simplest and a great little stocking filler – a foil cutter (£3.00 johnlewis.com), useful no matter how much the wine costs.
Register for free to continue reading
Registration is a free and easy way to support our truly independent journalism
By registering, you will also enjoy limited access to Premium articles, exclusive newsletters, commenting, and virtual events with our leading journalists
Already have an account? sign in
Register for free to continue reading
Registration is a free and easy way to support our truly independent journalism
By registering, you will also enjoy limited access to Premium articles, exclusive newsletters, commenting, and virtual events with our leading journalists
Already have an account? sign in
Join our new commenting forum
Join thought-provoking conversations, follow other Independent readers and see their replies