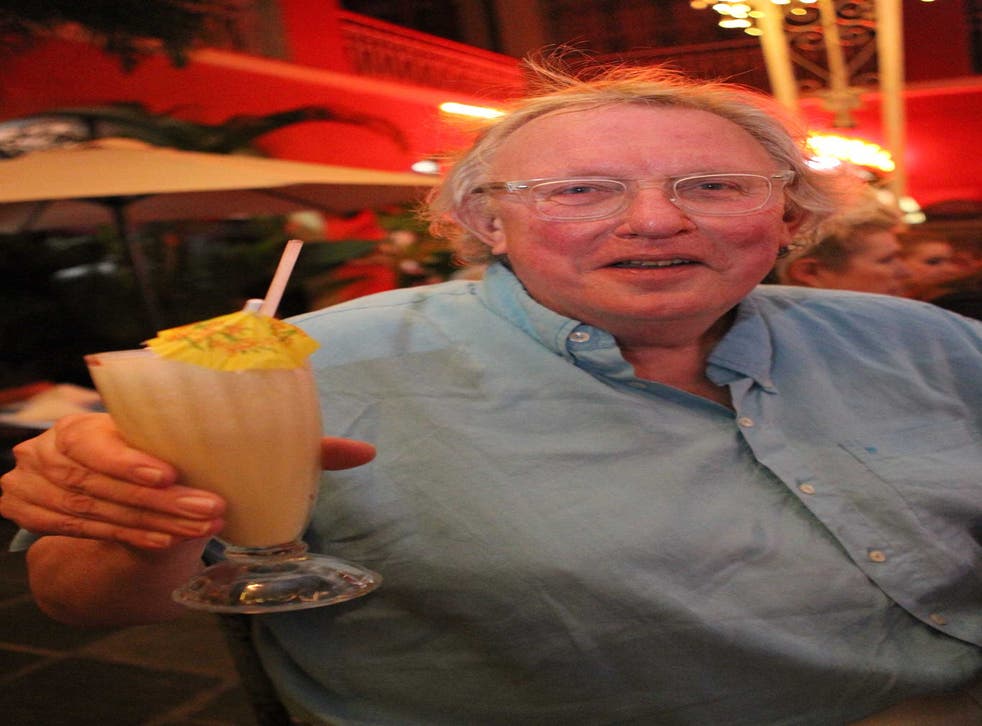 Christopher Hirst travels to Puerto Rico to test-drive their national cocktail, the piña colada
The exotic rum, pineapple and coconut concoction was made Puerto Rico's 'official beverage' in 1978
Christopher Hirst
Friday 20 June 2014 16:42 Comments
It must be 25 years since I last sipped a piña colada. Regarded at that time as the last word in exotic luxury, this rum, pineapple and coconut concoction fuelled a Caribbean cruise I was writing about. Having taken neither cruise nor piña colada since then, I presumed the drink had gone the way of big hair and lapels the size of spinnakers. Still, I remained open to persuasion, especially following an invitation to visit San Juan, Puerto Rico, in order to taste the piña colada at its place of invention. Or places to be precise, since two bars contend for paternity.
As with my previous encounter, the embarkation point was Miami. In the decades since I was last here, the city has soared, both skyscrapers and heels. It is a place where little is worn but in very high style. At Biscayne Bay, where Steely Dan maintained "the Cuban gentlemen sleep all day" (an erroneous view as we'll discover), the sunset in trademark Miami pink is one of the more amazing urban panoramas in the world. Close-up, the magic of Miami Beach is marred by a ubiquitous musical racket. In a resort so resolutely devoted to hedonism, the volume is never less than max. Two solemn DJs serenaded the outdoor swimming pool at my hotel. Called the Mondrian, there was not the slightest hint of the artist in its assertive post-modern decor.
I postponed having a piña colada until I reached the island of its birth. An expert on Miami libations advised me that it has been largely replaced by a refinement called Miami Vice in which piña colada is swirled with strawberry daiquiri. Put me down as a cocktail stick-in-the-mud, but the prospect did not appeal. Presented with the drinks menu in the extramural restaurant of the SLS Hotel (Ferrari-packed car park, platoons of bikini-clad blondes, more thumping music), I plumped for another rum-based drink entitled 'Hemingway's Mistress with an interesting twist'.
It turned out to be a classic daiquiri. Obliterate all thoughts of strawberries or bananas. The magnificent original consists of white rum, sugar and lime juice, shaken with ice. It was indeed a favourite of Hemingway, though he favoured a super-charged version known as the Papa Doble, containing four measures of Bacardi Superior white rum. (One rainy day in Havana, he and a companion sank 17 apiece.) Hemingway's Mistress is named after his third wife, Martha Gellhorn. Fortunately, perhaps, there was no sign of the 'twist', which I later discovered was "an edible frozen lime lipstick".
We were given a crash course on the cocktail's active ingredient at the voluminous archive in Bacardi's Miami headquarters. In the 1860s, the company's founder, a Spanish Catalan immigrant to Cuba called Facundo Bacardi, transformed the rough piratical grog known as aguardiente (literally 'firewater') into the first rum with table manners. His success has variously been ascribed to a secret recipe ("never written down") and a unique yeast strain used for fermenting the molasses ("Bacardi's biggest asset") but the most important innovation might have been charcoal filtration. In his fascinating book, Bacardi and the Long Fight for Cuba, Tom Gjelten explains that the Superior brand, introduced in 1873, was "the lightest and whitest rum ever sold in Cuba". It came as a surprise when a Bacardi distiller told me that Superior rum, which is matured for at least a year in barrel, is pale gold ("akin to chardonnay") before filtration. This not only removes the colour but also compounds called congeners that deliver both flavour and headaches.
The rollercoaster history of Bacardi encompasses bankruptcies, fires, earthquake, revolution and, oh yes, cocktails. The daiquiri is said to have been invented in 1898 by mining engineer, Jennings Cox, in the Cuban town of that name. The Cuba libre, a mixture of rum and Coca-Cola in which the sweetness is neutralised by a hefty squeeze of lime juice, emerged just after the Spanish-American war at the end of the 19th century. Bacardi claims that its white rum was "the crucial ingredient" in the earliest surviving recipes for the mojito (a diminutive of mojo, it means 'little spell'). All were avidly consumed in Havana by Americans enjoying an intoxicating escape from Prohibition (1919-1933).
Of all the hoard of Bacardiana in the archive, the most significant is a revolutionary broadsheet Ley Revolucionaria, published in Havana on 14 October, 1960. On page two, Bacardi heads a list of businesses slated for appropriation. This took place despite, according to Gjelten, Bacardi boss Pepín Bosch's "outspoken support for Fidel Castro's revolutionary government". Furthermore, Fidel's brother Raúl (now President of Cuba) married Vilma Espín, radical daughter of a Bacardi executive. More than half a century later, the nationalisation of the distillery and rum stocks in Cuba still rankles. "Though Bacardi also had distilleries in Puerto Rico and Mexico, it lost 75 per cent of its assets without compensation," said archivist Cassie Ganter. In recent years, the company has stressed its Cuban origins. Along with the bat trademark (a good-luck symbol inspired by the fruit bats that roosted in the distillery), each bottle carries the message, 'Casa fundada en Cuba'.
After flying to exile in Miami, the activity of the Bacardi family and their associates scarcely corresponded with Steely Dan's comatose Cubans. As Gjelten writes, "From the early Sixties to the late Seventies, Bacardi reported the greatest growth spurt of any liquor company". Today, its Puerto Rico operation is the world's biggest rum distillery and Bacardi Superior is the top-selling rum (19.5 million cases in 2012). Quite a bit never leaves the island. The piña colada was made Puerto Rico's 'official beverage' in 1978.
Two and a half hours by air from Miami, Puerto Rico is technically 'an unincorporated territory of the United States'. But the outskirts of San Juan are as messily American as anywhere on the mainland. The gung-ho brutalism of recent architecture climaxes in the new, fortress-like Metropolitan Detention Centre that, aesthetically at least, would gladden the heart of Jonathan Meades. However, the sprawl hides a charming surprise, a wonderfully preserved colonial old town of pastel-painted terraces. Unfortunately, the narrow streets of cobbles (originally from England) are often gridlocked. Though Puerto Rico is best known in this country for being the homeland of the Sharks in West Side Story, many emigrants today are doctors, architects and lawyers. "We got four law schools," a local tutted in disbelief.
In the outskirts of San Juan, the Caribe Hilton Hotel, an ambitious, modernist structure of 1949, sits on the edge of the Atlantic. Luxurious, spacious, glossy, it conveys the ambition and wealth of post-war America. A statement etched into one of the windows of the Beachcomber Bar celebrates the 50th anniversary of barman Ramon 'Monchito' Marrera introducing the piña colada to the world on 16 August, 1954. In fact, the name was applied to a rum and pineapple cocktail around 30 years before – piña colada simply means strained pineapple (hence the homely English colander) – but the coconut element, a sweetened product from Puerto Rico called Coco Lopez, only appeared in 1948.
To the urgent accompaniment of Annie Lennox ("Sweet Dreams (Are Made of This)"), a bartender mixed up a batch in a huge blender. He did not perform the careful measurement that bar manuals recommend, but sloshed in white rum, Coco Lopez, double cream and fresh pineapple juice (the recommended ratio is 2:1:1:6), along with a scoop of crushed ice. In his defence, it is possible that he may have made one or two piña coladas in the past. Previous imbibers at the Beachcomber include Elizabeth Taylor, John Wayne and Joan Crawford, who said it was better than slapping the face of Bette Davis (her on- and off-screen enemy). Mine went down very easily. Emollient and satisfying, the Hilton's piña colada is a splendid cooler if the outside temperature happens to be 31C. I was obliged to polish off at least two while being photographed for this article, an event that caused some stir in the bar. During my moment in the flashlight, I felt like Bill Murray doing his faux whisky advert in Lost in Translation: "For relaxing times..."
The alternative piña colada comes from Barrachina, a pleasingly unpretentious restaurant in Old San Juan. A sign declares it to be 'The house where in 1965 the piña colada was created by Don Ramon Portas Mingot'. Here the cocktail emerges readymade from a churning granita machine like a Slush Puppy. It was presented in a long glass embellished with a cocktail umbrella, which I don't think was meant ironically. I wish I could say that the humble beat the grand, but my head (or at least the palate part) outvoted my heart. It seemed far sweeter and, oddly, warmer than the Hilton version. The frothy tideline only dropped by an inch before I threw in the towel. Still, Barrachina has made a hefty contribution to the estimated (God knows how) 100 million piña coladas that have been consumed worldwide.
But how did the piña colada fare on another Atlantic island, where the local temperature was 8C? Unlike the Hilton's maestro, I carefully measured the constituents (you can get Coco Lopez from Amazon and other cocktail specialists) into the blender. The result went down OK with my wife. "An interesting succession of flavours – pineapple, coconut, then creamy rum – very tropical," she pondered. "But I still think it's an entry-level cocktail." Somehow it didn't seem quite as transporting as the brace I downed in the Caribe Hilton. Mulling on the problem, it struck me that my rendition lacked an essential ingredient: Puerto Rico.
Classic piña colada
By Giles Looker, Soulshakers
40ml golden rum (should be from Puerto Rico really, but any good golden rum will do)
20ml coconut rum (Koko Kanu is great, try and find one that is 40% ABV)
4 rings of fresh pineapple (can use pressed pineapple juice – 85ml)
20ml coconut cream (4 teaspoons)
5ml fresh lime juice (1 teaspoon)
Place all the ingredients into a blender and add one scoop of ice, blend until a lovely thick consistency. Pour into a Poco Grande, Squall or Hurricane glass, garnish with an umbrella (optional) and DRINK.
Soulshakers will be running the bar at The Beat Hotel at Glastonbury Festival next weekend
Register for free to continue reading
Registration is a free and easy way to support our truly independent journalism
By registering, you will also enjoy limited access to Premium articles, exclusive newsletters, commenting, and virtual events with our leading journalists
Already have an account? sign in
Join our new commenting forum
Join thought-provoking conversations, follow other Independent readers and see their replies