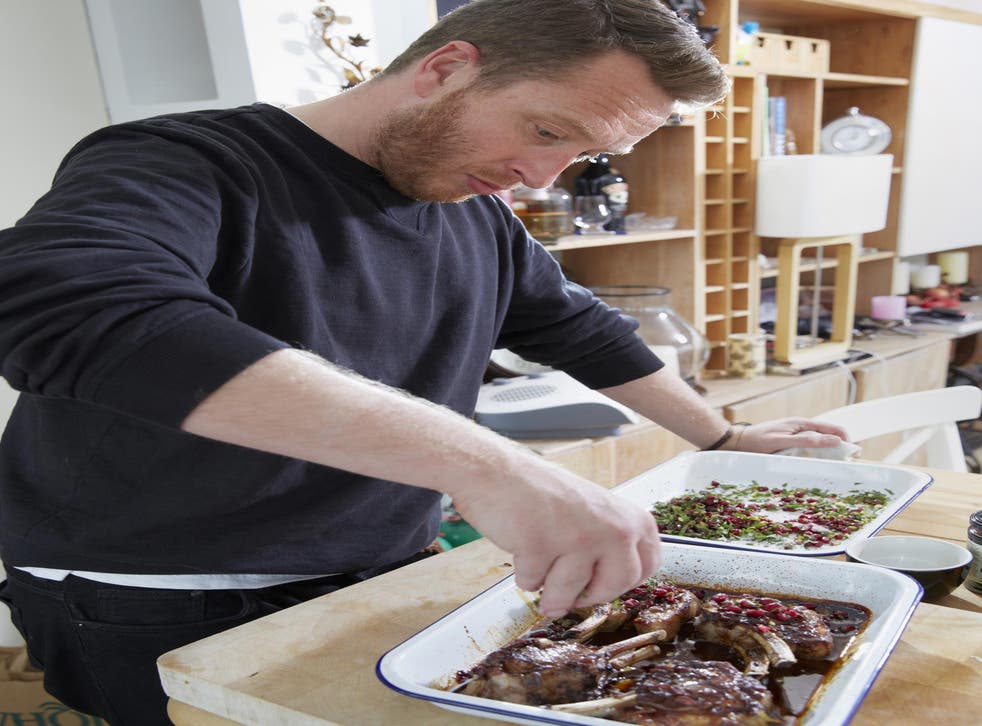 Cooking with coffee in savoury dishes: From baked beans to roast meats, a cup of joe can be a dark and delicious pick-me-up
Using coffee in the kitchen doesn't have to start and finish with desserts. Chef John Quilter shows Gareth May how it's done
"Think about the Wild West; think about being around a stove, on the ranch, with a pot of coffee, some beans, some water, and a knackered tomato. That's all you've got and you're going to throw all those ingredients in a pan and cook them down. It's a cowboy vibe with a coffee twist."
It's midday on a Monday and I'm standing in the white light of John Quilter's business partner's flat in Notting Hill. The award-winning chef and digital broadcaster, who appears on London Live's Food Junkies – known as JQ to his friends and burgeoning YouTube audience – is trying to convince me of the merits of cooking with coffee.
"Think about how coffee is made – it's roasted, and that gives dishes depth and complexity. Let's say you're making a gravy and you haven't got a very good stock; add some coffee and you'll get lots of flavour."
A thick and smoky steam blooms off the pan of "beautiful gloop" as JQ, complete with mad-professor grin, pours a cup of espresso over the cobbled faint-orange beans. One sniff and I could, indeed, be down on the ranch.
My inner child likes the "cowboy vibe" and my inner adult amateur chef sees the appeal of a culinary short cut, but I'm finding it hard to embrace the juxtaposition; I'm one of those "pick the pineapple off the Hawaiian pizza" people. Far from being enthusiastic, I'm mourning the sabotage of a perfect plate of baked beans.
JQ attempts to quell my fears by informing me that, originally, baked beans were cooked with a pig's trotter (the gelatin would thicken the sauce). When it's a toss-up between a cloven hoof and a cup of espresso, there's only one winner. I dive in.
In between the bite of the beans and the smokiness of the bacon there's a sweet heat, revving up my tastebuds. But it's not until the aftermath that the coffee kicks in – and it's not a coffee taste as such, certainly not one you associate with cakes or ice creams. This is deeper and darker, but without ever being bitter.
And it keeps coming. The depth of flavour is remarkable. It's almost as if the coffee is grabbing the other flavours by the scruff of the neck and making them stand up to attention. It's enough to make a cowboy blush.
By my fifth spoonful I'm eyeing up the Nespresso machine. But I'm no chef. Could a layman such as I utilise coffee in the kitchen?
"All the hard work's done for you. It's an incredible short cut to get depth into your food," JQ enthuses, before adding a word of warning: "But you've got to use the right beans."
The man from Wolverhampton, who turned his back on a restaurant career of nearly 25 years to cook for free on the streets of London in what would later become his Food Busker YouTube show (recently picked up by Jamie Oliver for his Food Tube channel), has been with UK coffee "every step of the way" – from working as a barista and serving 300 coffees in a day (something he calls "absolutely awesome") to sourcing coffee in the restaurants he's run and owned.
After the late-1990s American coffee-house wave of what he disparagingly describes as "vats of coffee-flavoured milkshakes", JQ became disenchanted and quit coffee, going on "a bit of a tea thing". That was until he walked into a Monmouth coffee shop in London about 10 years ago and tasted "speciality" coffee for the first time: the latest twist in the beans' tale, originating out of the "legendary" coffee scenes of Melbourne, Sydney and Auckland.
For speciality coffee, only arabica beans will do. Grown between 1,300 and 1,700 metres above sea level, the extremes of "super-hot days and super-cold nights" create a far more sophisticated flavour than the "big bitter smack" of the more ubiquitous (at least in consumption rather than production) robusta bean.
JQ wanted in and last month, with the help of a Kickstarter campaign, he and three business partners launched Cru Kafe – a Nespresso-compatible, organic and Fairtrade coffee, in a recyclable pod. There may be other coffee pods out there (the patent for the Nespresso pod ended its 10-year term this year) but Cru Kafe is the only one that's 100 per cent arabica.
"Arabica is an artisanal product," JQ says, and it's this complexity of taste which makes it ideal for cooking with."
JQ is preparing the next dish: lamb cutlets with a "Moroccan barbecue sauce". If the baked beans were inspired by the last-pour-in-the-coffee-pot American wilderness necessity, the lamb cutlets hark back to the origins of coffee.
The story goes that the first coffee was cultivated in Ethiopia by a monk who'd observed his goats "buzzing" – as JQ puts it –after chewing on some berries. Curious, the monk took the berries back to the monastery and coffee, in its earliest form, was born.
"This is a dish relating to that Ethiopian story, with the flowery and acidic notes of the arabica beans and the beautiful jewellery of the pomegranate," JQ says, before encouraging my first mouthful with a caveat: "Ribs with a coffee glaze isn't common, but it is the most well-known use of coffee in a savoury dish."
But I don't need convincing any more. I'm with the goats.
The London Coffee Festival (londoncoffeefestival.com) runs until Sunday. For more information about Cru Kafe, including how to make the perfect flat white, visit crukafe.com or johnquilter.com.
Ultimate Coffee Baked Beans on Toast
Ingredients to serve 4
1 chipotle chilli, diced
1 tin of haricot beans (in water)
4 cloves of smoked garlic,
smashed
1 cup of shallots, diced
2 tablespoons of molasses
Half a cup of smoked bacon
lardons
One and a half tablespoons of
muscovado sugar
1 tablespoon of mustard powder
2 over-ripe tomatoes, cut into halves
3 espressos
1 cup of water
Begin by lightly frying the shallots in a little rapeseed oil. Then add the lardons and lightly toss until the bacon begins to colour golden brown. Add the tomatoes, cut side down, the garlic and the mustard powder and fry for a further 2 minutes. Do not allow the shallots to burn.
Pour in the cup of water and scrape all the flavour up from the bottom of the pan.
Pour into an earthenware dish, add the remaining ingredients, stir gently and place in the oven at 180C for 40 minutes or until all the liquid has reduced.
Serve with griddled sourdough toast and top with a little grated Monterey Jack cheese if you like.
Lamb Cutlets with Sticky Coffee Gravy
Ingredients to serve 2
4 double lamb cutlets
2 espressos
Half a cup of pomegranate
vinegar
1 cup of red onion, finely diced
Half a cup of muscovado sugar
Half a cup of ketchup
4 garlic cloves
2 tablespoons of paprika
2 tablespoons of Worcester sauce
2 tablespoons of cumin powder
1 tablespoon of chilli flakes
Half a cup of runny honey
For the garnish
Coriander, chopped
Mint, chopped
Pistachio nuts, shells off and chopped
Pomegranate seeds
Start by sautéing the red onions in a little rapeseed oil on a medium heat. Once they begin to become translucent add the garlic, paprika, cumin and chilli flakes and cook for a further 2 minutes.
Add all the remaining ingredients to the saucepan and pour over the espressos. Bring to the boil and simmer for 10 minutes.
Meanwhile, heat a griddle pan on a high heat and smear the lamb cutlets in rapeseed oil and season with sea salt and freshly cracked pepper. Place the cutlets into the pan and sear on both sides for approximately 2-3 minutes.
Place the cutlets into an earthenware dish, pour the gravy over the cutlets and place in the oven for a further 5 minutes or until the cutlets are cooked. Rest the lamb for 5 minutes before serving.
Slice the cutlets in half, from double to single, and garnish with the chopped herbs, pistachio nuts and pomegranate seeds.
Register for free to continue reading
Registration is a free and easy way to support our truly independent journalism
By registering, you will also enjoy limited access to Premium articles, exclusive newsletters, commenting, and virtual events with our leading journalists
Already have an account? sign in
Register for free to continue reading
Registration is a free and easy way to support our truly independent journalism
By registering, you will also enjoy limited access to Premium articles, exclusive newsletters, commenting, and virtual events with our leading journalists
Already have an account? sign in
Join our new commenting forum
Join thought-provoking conversations, follow other Independent readers and see their replies