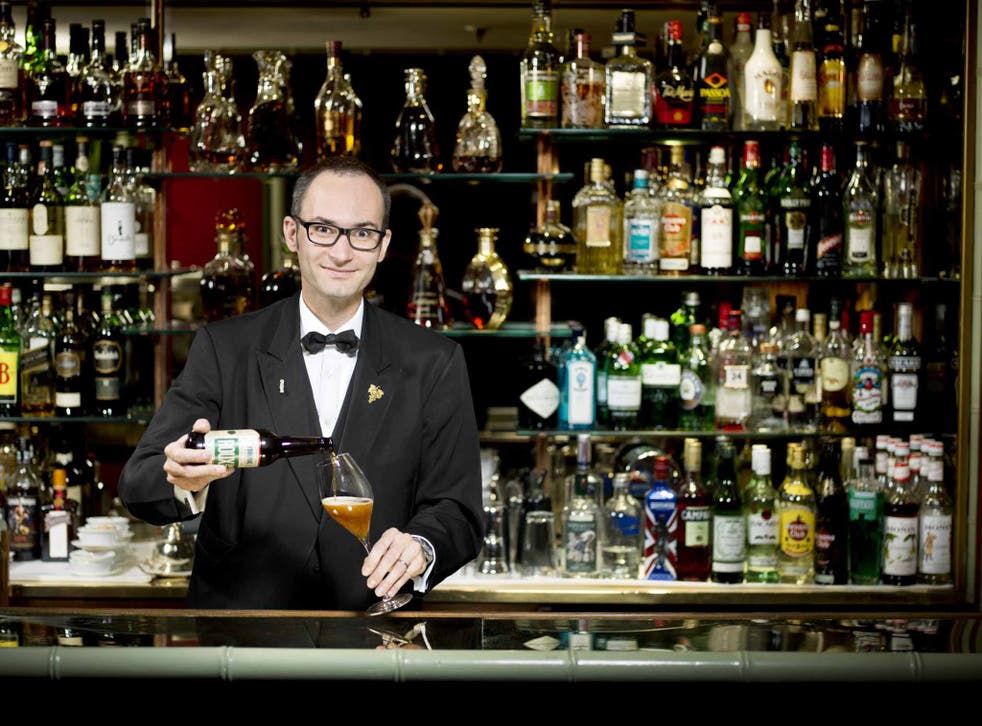 Could beer become as popular as wine in top restaurants?
Simon Gwynn meets the sommelier who put ales on the menu at Le Gavroche
Simon Gwynn
Monday 29 September 2014 11:00 Comments
You arrive in Mayfair at Michel Roux Jr's exclusive two Michelin-starred restaurant, Le Gavroche. You enter the plush, refined surroundings of the upstairs bar, hand over your coats, and are shown to your table, where a waiter arrives and says: "Good evening, sir, madam. Would you care to see the beer list?"
If the scenario seems a little absurd, well, we're not quite there yet. Le Gavroche, a true institution of classic French cuisine, offers a wine menu which at last count ran to 2,523 options, from a £7 glass of house white to a bottle of 1849 Château d'Yquem, at £19,450. But tucked away at the back of the weighty book is a single page of "Beer by the Bottle".
David Galetti knows this menu inside out. As head sommelier, he must be able to suggest a wine for every dish on the menu. But increasingly, he needs to cater to customers looking to try something different. In the past few years, he says, the demand for beer at the restaurant has rocketed: more than four times as many bottles were sold in 2013 as in 2011.
"We used to be very focused on wine only, but things change – as with gastronomy in general," says Galetti. Le Gavroche introduced its beer list in 2007, and it has grown, he says, in response to customer demand. "We're always very interested when people ask about a product we don't have," he explains. "Beer was one of those things."
The list now offers a relatively modest 13 choices, each a different style. The current bestseller, by some distance, is the house Roux Brew – a Belgian-style witbier made by the south London brewery Fourpure, which won a competition held by the restaurant this spring. "We have our own Cognac, our own Armagnac, our own Calvados," Galetti explains, "and people were asking if we had our own beer." The restaurant now plans to hold a fresh contest every six months, to allow it to offer a seasonal product.
Galetti hails from the eastern French department of Jura, and knew from a young age that gastronomy was his raison d'être. He's been at Le Gavroche for 13 years, and head sommelier for the past six. A glowing enthusiasm seeps out from behind his hushed persona, and extends equally to his beer – which he is adamant is as good a complement to the menu as wine. He adds that beer can actually be "more precise" than wine, thanks to the range of ingredients it is increasingly made with: fruit, chocolate, herbs and spices.
Galetti's tips for pairing beer are similar to those for wine. "It's flavours, contrast, balance," he explains. "So if you have a dish with a lot of bitterness, maybe you want to put it with something slightly smoother, to balance it." And taste isn't the only sense to care about: "Sometimes it's the visuals, too. I don't know if a vintage ale would go with scallops – the colours don't work together."
The changes at Le Gavroche reflect a food scene that is starting to take beer seriously. One organisation behind the push is education body the Beer Academy, which trains and accredits beer sommeliers – among them, Sophie Atherton, who calls them "beer ambassadors". "Beer still has a reputation problem," she says. "It's still frowned on in certain quarters – and there clearly are people out there who think they don't like beer because they don't know what it tastes like."
Reaching the level of certified beer sommelier takes quite some work. To get a taste of what's involved, I went along to the academy's one-day foundation course led by Tim O'Rourke, an experienced master brewer who co-founded the academy in 2003, at a venue that is very much of the minute – The Bull, a brewpub in Highgate, north London.
The sommelier programme, O'Rourke says, is designed to "put beer on an equal footing to wine". It teaches students about every aspect of the drink – the day provides a brief but packed history of beer, how it's produced, the ownership of the industry and, of course, how best to appreciate it.
O'Rourke talked us through the flavour notes you can expect to find in beer, where they come from, and how to pair them with food. We were treated to some magnificent examples, not least the rich and strong Robinson's Old Tom. But it was fascinating to learn that even something like Miller has a flavour profile that can be described in complex terms – and that there are reasons why it tastes good with nachos.
There are now 1,442 breweries in the UK, according to the British Beer and Pub Association – almost tripling in number since 2000 – and three of my fellow students aspire to set up breweries of their own. Truly, we are in the middle of a national mania for new and exciting beers, and now British gourmands have no excuse not to put down the Sancerre and pick up a saison. But there is one group of people whom David Galetti is fairly certain will never be able to hold beer in the same esteem as wine: his own countrymen. Aren't they missing out? "I think they are," he says. "I don't want to make any enemies, but they should be more open-minded!"
For more on the courses: beeracademy.co.uk
David Galetti's top food and beer pairings
Terrine of foie gras with...
Fuller's Honey Dew
The delicate sweetness of this honey ale balances the rich flavours of foie gras in exactly the same way as sweet wine, with which it is traditionally served in France.
Grilled scallops with chorizo crumb with...
Hoegaarden
A dish like this needs something that can stand up to the spice of the chorizo but not overwhelm. The citrusy notes of a white beer will do that, and lift the sweetness of the scallops too.
Braised pork cheek and red cabbage with...
Innis & Gunn
This beer picks up some vanilla notes from being oak-aged, and these contrast brilliantly with something that's both a little sweet and somewhat peppery.
Roast grouse with...
Fuller's Vintage Ale
Over several years of ageing, this ale picks up very rich chocolatey flavours and refined hoppy notes. Alongside the gamey notes of the bird, it's a boxing match of huge, intense flavours.
Chocolate truffle with poached cherries with...
Liefmans Cuvée Brut
Cherries, quite simply, go with cherries. There's a good bit of sweetness in this cherry beer, but not a sweet finish – it's fresh and crisp, and cleans away the rich and bitter chocolate.
Register for free to continue reading
Registration is a free and easy way to support our truly independent journalism
By registering, you will also enjoy limited access to Premium articles, exclusive newsletters, commenting, and virtual events with our leading journalists
Already have an account? sign in
Join our new commenting forum
Join thought-provoking conversations, follow other Independent readers and see their replies