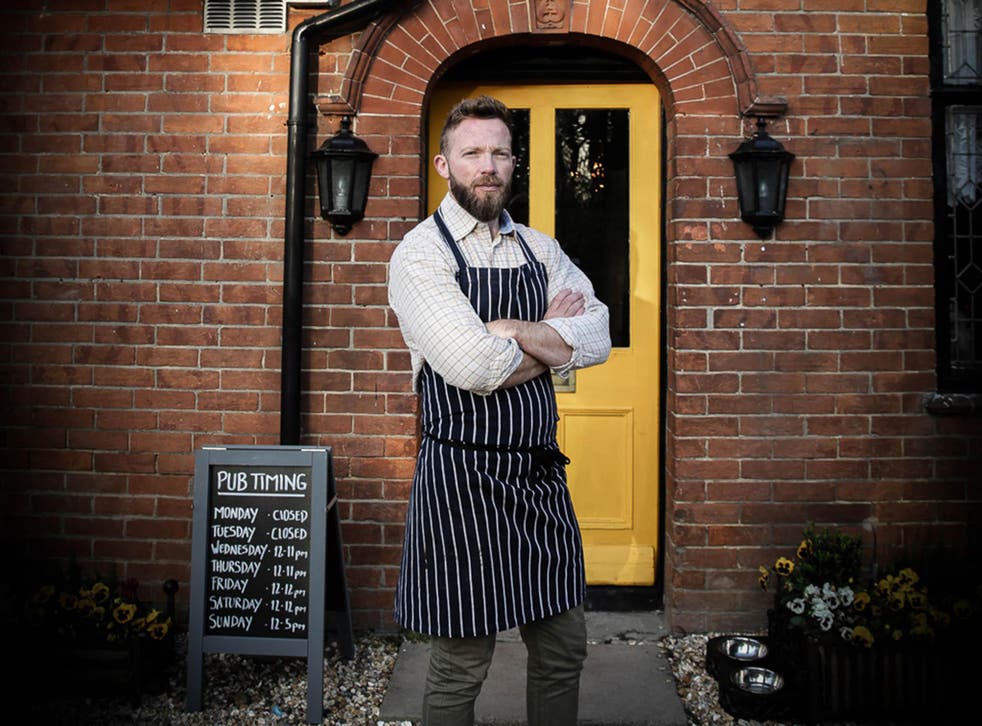 Dominic Robinson: The chef reinventing classic cuisine in a Berkshire village
'Cooking begins and ends in France. End of story.' So says the chef giving classic cuisine a renaissance in a cosy hamlet in Berkshire... but it's definitely not a gastropub
Emma Henderson
Friday 13 April 2018 16:48 Comments
What do you think of the term gastropub, and do you think it's become overused?
At one time it was but there have been so many restaurant trends and bandwagons since the gastropub movement first started that it's found its place. I don't like to use it for The Blackbird because we don't serve typical gastropub food, but that's just personal preference.
What's it like working in a hamlet like Bagnor in Berkshire? Is it still a local's pub too?
It's amazing. The pub is a big part of the local community and everyone has been super welcoming. We are very lucky to be in a lovely area where people use The Blackbird both as a pub and as a restaurant. I'd say at least 50 per cent of our clientele are locals and regulars. We love them.
What made you choose this pub?
I saw it online when I was in Dubai, so I searched the village on Google Earth. Love at first sight.
With the interior, you've definitely kept the traditional "cosy feel" to it, was this important?
Definitely. My wife and I share the same tastes in regards to the vintage homely look. We wanted it to be like stepping into an eccentric grandma's living room. It's not to everyone's taste but the people who get it seem to love it.
How would you describe your food?
Properly cooked, classical cuisine.
Do you think using overcomplicated techniques, or using things like gels, distracts from the taste of the food?
A lot of modern techniques aren't complicated, that's the issue. Anybody can follow the instructions on using fancy chemicals to replace eggs in ice-cream or cook steaks in a water bath. Something like boning out, braising and stuffing a pigs' trotter or making a gâteau opéra takes real skill. Food made by skilled cooks will inevitably taste better.
You say you've given classic cuisine a renaissance; why do you think it needed it?
Too many people trying to copy the new style of cuisine without knowing where it all comes from. Cooking begins and ends in France. End of story.
How do you make sure your menu is sustainable?
I have to keep the prices realistic. I'm not yet in a position where I can buy ridiculously overpriced ingredients and pass that cost on to the customer.
How do you balance serving quality local produce and keep prices affordable for locals?
We are lucky to be in a very foodie area, people tend to know that good produce isn't cheap and in general we don't have any complaints about our pricing.
Why have you chosen to use foie gras on the menu, considering its controversial status?
I have vegetarian and vegan guests as well as guests who like to eat wild game and also foie gras. We are all inclusive at The Blackbird and everybody is catered for, no matter their preferred diet or lifestyle choices.
It's refreshing to see wild boar on your menu and the absence of chicken. What's the reason behind that?
We actually had a chicken dish on the menu for a while but I got bored of it. We change the menu a lot.
Do you find an increase in veganism is changing the way your design your menus?
Not in the slightest, I've always had vegetarian dishes on my menus which can also be adapted for vegans.
What were the most important and memorable things you learnt while working for Adam Byatt, Tom Aikens and Anthony Demetre?
I've been lucky enough to have worked for some amazing chefs and have taken valuable lessons from each, as well as plenty of recipes.
Has running your own restaurant lived up to everything you wanted it to?
It's been the hardest yet most rewarding thing I've ever done.
What's been the best part of your career?
Opening my own restaurant.
Who, or where, do you look to for inspiration?
My family is my number one inspiration. I couldn't do any of this without them. Secondly I would say old books. I hadn't read a cookbook for many years until I started getting back into classical cuisine. Leafing through old books by the legends of cooking makes me feel as exited and inspired as I was the day I first day I stepped into a kitchen 20 years ago.
Dom Robinson is chef and owner of The Blackbird, Bagnor, Berkshire (theblackbird.co.uk)
Register for free to continue reading
Registration is a free and easy way to support our truly independent journalism
By registering, you will also enjoy limited access to Premium articles, exclusive newsletters, commenting, and virtual events with our leading journalists
Already have an account? sign in
Join our new commenting forum
Join thought-provoking conversations, follow other Independent readers and see their replies